Not so long ago I wrote an article where I argued that Mike Smith was the key player for the Phoenix Coyotes' playoff chances. It has to be said that I did not anticipate the incredible performance that the goaltender has put together since that article.
Mike Smith has stopped 136 shots in his last three games registering three consecutive shutouts. He capped that run off with a 54-save record setting performance on Tuesday night in a 2-0 victory against Columbus. No goaltender has ever made that many saves in an NHL game before and it was especially impressive given the quality of saves that Smith had to make to preserve his shutout.
When the Coyotes were forced to trade away star goaltender Ilya Bryzgalov last season, there were few writers who didn't write off their playoff chances. When GM Don Maloney signed Mike Smith, those writers felt vindicated. During six previous seasons split between Dallas and Tampa Bay, Smith had proven that he wasn't capable of holding down a starting job. Known as a good puck handler, the now 30-year old just didn't seem to possess the all-round game to perform consistently in the NHL. He was even demoted to the Lightning's AHL affiliate in Norfolk during the 2010-11 season and he finished the year backing up veteran Dwayne Roloson during Tampa's playoff run.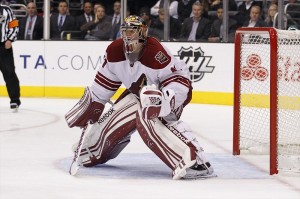 Little could it have been known that it was a match made in heaven. It's tough to know why it has kicked off so well for Mike Smith in Phoenix. Dave Tippett is a coach that enjoyed success with Smith during the goaltender's stint in Dallas and he is also a coach that is used to coaching athletic, puck-handling goaltenders.
The system employed by the Coyotes naturally benefits the goaltender. However, those factors can hardly explain a .929 save percentage and 2.25 GAA. His shutout on Tuesday gives him eight for the season, which ties a franchise record held by his predecessor Bryzgalov.
Mike Smith has quite literally dragged this team into the postseason. Phoenix has played a couple of really bad games in a row and yet they are somehow on a three-game winning streak. He has made himself the team's unquestionable MVP and he has kept pace statistically with the league's top goaltenders all season long.
For most of the season, Smith's name hasn't been thrown into Vezina Trophy talk too much. Jonathan Quick, Henrik Lundqvist, Tim Thomas, Pekka Rinne and even St Louis' partnership have been the main netminders discussed. However, articles are starting to mention the man between the pipes in the desert more and more. His save percentage ranks fifth overall, his GAA ranks 10th and he is tied for the third most shutouts. He will probably just miss out on the award, but the simple fact that a career back-up has turned himself into a Vezina contender is impressive enough.
Carrying a team through a playoff run won't be easy, especially for a goaltender, who has just 120 minutes of playoff experience. Tippett's system doesn't seem to be quite as effective in the post-season either. He has enjoyed only limited success in the playoffs compared with his tremendous regular season performances. However, the Coyotes will still be feeling pretty confident about their chances of causing an upset thanks to owning one of the hottest goaltenders in the entire league.
Smith is big, athletic and generally possesses a great all-round skill set. The questions surrounding his game have almost always been psychological and those questions may rear their head again at some point in the future. For now, Mike Smith is arguably the best signing of the off-season by any GM. He is the reason that Phoenix will make it three consecutive playoff appearances this spring.