In today's NHL rumors rundown, the Chicago Blackhawks have announced that they will not be re-signing Jonathan Toews next season. Meanwhile, the Edmonton Oilers are reportedly hoping to get a bridge deal done with Evan Bouchard. Are the Los Angeles Kings hoping to re-sign Joonas Korpisalo?

What is the offseason plan for the St. Louis Blues, and does it include a Ryan O'Reilly return? Finally, the Toronto Maple Leafs have signed another ATO goalie. How messed up is their goaltending situation?
Blackhawks Say Toews Won't Be Back Next Season
General manager Kyle Davidson made a statement on Thursday noting that tonight's game will be the last for Jonathan Toews as a member of the Blackhawks. Davidson noted that they've had multiple conversations with Toews over the season and that they've informed him they won't be re-signing him. If he plays next season, it will be elsewhere.

The idea in making the announcement to was to ensure that fans give Toews the proper send-off during the game this evening. Tonight will definitely be the end of an era in Chicago where the last remaining member of their Championship core will now be moving on.
Related: Jonathan Toews: Beyond the Glory
TSN's Pierre LeBrun writes, "The plan is for Toews to take some time after the season and see how he feels, etc. If a Cup contender comes calling July 1, does that interest him? Or does he pack it in after a terrific career. TBD."
Are Oilers Hoping to Do a Bridge Deal With Bouchard?
On Wednesday, Tyler Yaremchuk and Frank Seravalli from Daily Faceoff spoke about what the Oilers intend to do contract-wise with Evan Bouchard. Seravalli says he's thinking the Oilers are aiming for a bridge deal with the defenseman and pending RFA.
---
Latest News & Highlight
---
He explained:
"I don't see a path as currently constituted for a long-term deal. I think they (Edmonton) are thinking and hoping to bridge. If it gets to the point where is not willing to sign a bridge and only wants long-term then it is not out of the realm of possibility that he (Evan Bouchard) gets traded this summer. I don't think it is something the Oilers want to do; however, they are dealing with a tight salary cap.
It was noted that the Oilers did talk to Bouchard this past summer about a bridge deal but the blueliner chose to wait to see how his season unfolded. He believes the two sides will talk again and come to an agreement worth that is around two years and $3.5 -$4.5 million per season. He notes, "You put that in your pocket and then work for that $8 million deal after that."
Blues Will Not Make All Their Picks This Summer
It was also reported that the St. Louis Blues are not likely to use all of their picks at the draft this summer. They accumulated a number of them in trades but Blues GM Doug Armstrong is not planning to rebuild his roster and has shown in the past a willingness to flip picks for immediate help.
It was also reported that Armstrong had a very constructive conversation with Ryan O'Reilly before he was traded to the Toronto Maple Leafs and the door was left wide open for him to return.
Are Kings Going to Try to Re-Sign Korpisalo?
LeBrun noted recently that the Los Angeles Kings have an interest in extending pending unrestricted free-agent goaltender Joonas Korpisalo. He reports, "There have been a couple of short conversations with his camp, agent Markus Lehto, and Kings' management where both sides agreed not to go down that path right now with the playoffs right around the corner."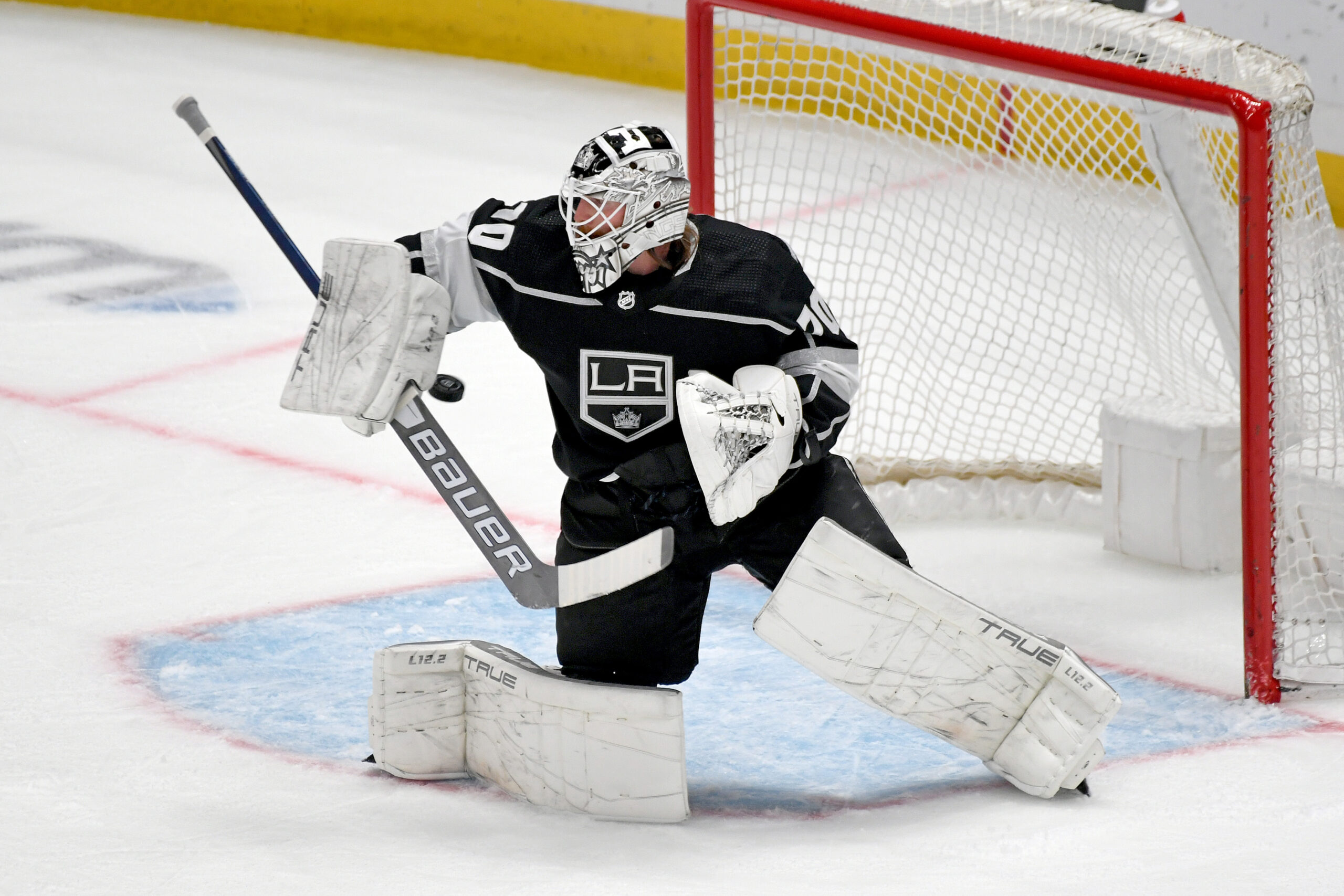 LeBrun added that the team doesn't want to add a distraction while the netminder is playing so well, but said, "I think it's fair to say, depending on how the playoffs go, the two sides intend to speak again after the playoff season and certainly before July 1."
Maple Leafs Sign Samuel Richard
The Toronto Maple Leafs have signed goaltender Samuel Richard to an amateur tryout. This is the fourth-straight game the Leafs have had to use this route to back up a goaltender as Ilya Samsonov is out for Thursday's game versus the New York Rangers. Joseph Woll will start.
GM Kyle Dubas declined to get into specifics on Samsonov's injury. Joshua Kloke of The Athletic writes:
Leafs assistant GM Brandon Pridham worked the phones with the league, making their case. Samsonov was unavailable with an injury. The Leafs needed Woll to play. "(The league) has been very good for us to deal with. There have been some difficult conversations as we've gone through our priorities, which are different from what theirs would be," Dubas said.

source – 'Maple Leafs' goalie drama gives young netminders opportunity of a lifetime' – Joshua Kloke – The Athletic – 04/11/2023
If Matt Murray remains concussed, Woll will likely be Samsonov's backup when the playoffs start. Samsonov's injury will be a storyline to continue watching.