In today's NHL rumors rundown, Michael Bunting has a hearing with the NHL DoPS. Meanwhile, the St. Louis Blues have given Jordan Kyrou a mandate over the offseason. Patrice Bergeron is questionable for Game 2 and the Chicago Blackhawks have a free agency plan going into the offseason.
---
---
Finally, if Ryan Reynolds is successful in becoming part owner of the Ottawa Senators, how large a role will he play in their front office?
Michael Bunting Facing Suspension
After an elbow to the head of Erik Cernak, Toronto Maple Leafs' forward Michael Bunting has a hearing with the NHL's Department of Player Safety. It is very likely he faces some kind of suspension and that could lead to questions about what moves the Maple Leafs make next.
Joshua Kloke of The Athletic writes that there may be trust issues moving forward for the Leafs when it comes to Bunting. Could that affect how much he plays, even if he's not suspended or his suspension is short? Kloke writes:
"But given how unnecessary the penalty was and how much the loss of a top-six forward could hurt the Leafs, it's worth wondering equally how much Keefe and the Leafs coaching staff feel they can trust Bunting throughout the remainder of the series."


source – 'Michael Bunting cost the Maple Leafs dearly in Game 1. Can they trust him going forward?' – Joshua Kloke – The Athletic – 04/19/2023
While some believe the Leafs might call upon Wayne Simmonds — especially if the physicality rachets up in the series — this might be an opportunity to get Matthew Knies his first look in the playoffs. Calle Järnkrok will likely be moved up to the top line.
Jordan Kyrou Told to Make Improvements this Summer
Jeremy Rutherford of The Athletic writes that the Blues have identified a disconnect with young players on the team. It's something the club needs to address over the offseason, specifically when it comes to someone like Jordan Kyrou. GM Doug Armstrong says he'll be personally trying to figure out "what makes guys tick" and was scathing of the younger generation when he said, "They'll play 18 minutes (in a game) to get an 18-second shift that can go on YouTube and get a million likes and think that that was a good night.
Specifically, when it comes to Kyrou, there's some growing that needs to take place and some homework heading into the summer.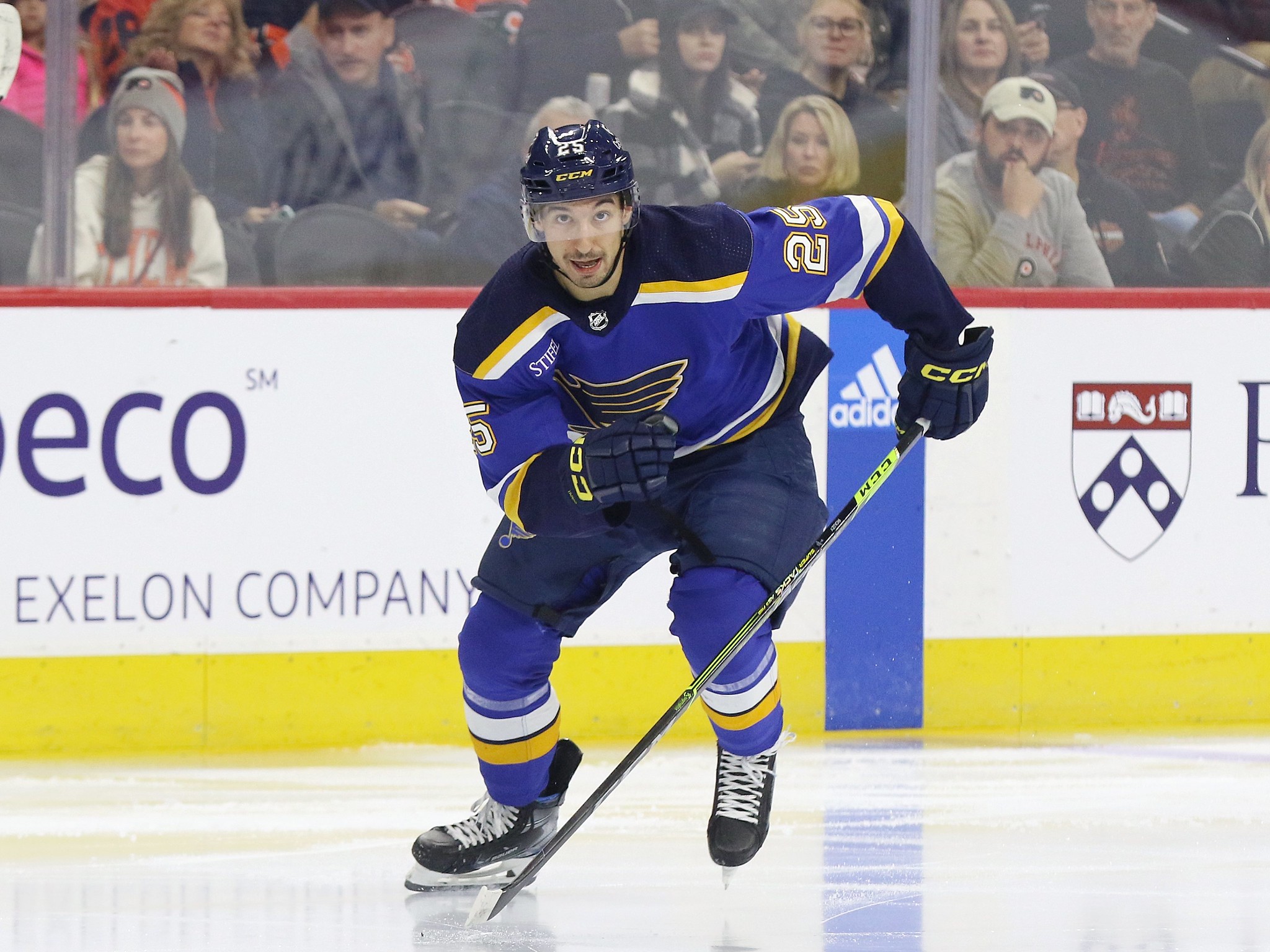 The Blues want Kyrou to work on his urgency and willingness to play a more 200-foot game. He scored a career-high in goals but was on the ice for more goals against than goals by a hefty margin. That isn't sitting well with the organization, and it may have ruffled the feathers of some of his teammates. Rutherford writes:
"Did the big contract play into how Kyrou played? The Athletic reported early this season that teammates were frustrated that he had gotten the big payday before really proving himself… Armstrong also said it was much ado about nothing when Berube and Kyrou had a dust-up late in the season in Nashville as they were headed to the locker room for the second intermission."

source – 'Blues give Jordan Kyrou an offseason mandate: Commit to winning hockey — 'This is the NHL. It's not junior' – Jeremy Rutherford – The Athletic – 04/19/2023
Blackhawks Will Look at One-Year Free Agents
While the most important next step for the Chicago Blackhawks is seeing where they wind up at the NHL Draft Lottery, the organization already knows what approach they'll take during the offseason with free agents. Ryan S. Clark and Kristen Shilton of ESPN said the team's approach to free agency will be similar to last year's.
---
Latest News & Highlights
---
They'll be looking for some players to help get them to the salary floor. Some that they bring in could be potential trade deadline chips – like they did with Max Domi last season. That means, expect a number of useful pieces that should have value later in the season to be targeted by Chicago. Considering there's not a lot of extra cap room to go around the league, the Blackhawks might have a decent pool of UFAs to choose from.
Is Bergeron Going to Miss Game 2?
Patrice Bergeron missed Game 1 of the series between the Bruins and Florida Panthers (injury and illness) and could miss Game 2. He skated on the ice this morning prior to the team's morning skate. He also skated yesterday – not with the team. Dan Roche of WBZ-TV believes: "This would indicate that he's most likely not to play tonight – but the progress made."
** Update: Head coach Jim Montgomery confirmed that Bergeron would be out for Game 2.
Will Reynolds Take a Large Front-Office Role in Ottawa?
As Postmedia has reported, if Ryan Reynolds is part of the new ownership group of the Senators, he plans to play a leading role in the front office. If he's successful in his bid to become part owner of the club, fans should expect to see his face around the team an awful lot.
Bruce Garrioch of the Ottawa Sun writes:
Reynolds' plan with the Senators includes a Welcome to Wrexham-style reality series giving people a glimpse of what makes the organization tick, in conjunction with his Los Angeles-production company Maximum Effort….He also noted he wouldn't meddle with the hockey operations because he and McElhenney have been hands off with Wrexham FC as well.

source – 'Ryan Reynolds is determined to make the Senators a global brand' – Bruce Garrioch – Ottawa Sun – 04/18/2023