With the Calgary Flames unfortunately not partaking in the NHL playoffs this season, players and fans alike are in for a long offseason. Not many things went right after last summer's roster overhaul where many felt the team got better on paper. Nevertheless, 2022-23 should be in the rearview mirror and the focus should start to shift to building a stronger team for next year. While plenty of buzz will be garnered toward which big-name NHL free agents the Flames should chase, another avenue that should be explored is signing some of the smaller names. In particular, they should look to players that have aged out of the Canadian Hockey League (CHL) or graduated from the NCAA.
The Flames will have holes in their lineup from the probable departures of Milan Lucic, Trevor Lewis, and Michael Stone as well as the potential for newly-acquired Nick Ritchie and Troy Stecher to leave via free agency. They will also likely be keeping American Hockey League (AHL) regulars Jakob Pelletier and Walker Duehr up with the big club. Therefore, there will be spots to fill for the Calgary Wranglers as well. Luckily, there is a multitude of young players who are too old to continue in their leagues and weren't drafted to another club, thus they are hungry for professional opportunities. This article will analyze five young CHL players that Flames management should look into signing.
Riley Fiddler-Schultz, Forward, Calgary Hitmen
First up on our list is a name that may be somewhat familiar to Flames fans. Twenty-year-old Riley Fiddler-Schultz has played his entire 246-game Western Hockey League (WHL) career with the local Calgary Hitmen, scoring 77 goals and 189 total points in that time. Another common reason that he is recognized is that his father is retired NHL veteran Vernon Fiddler, who played 14 seasons in the league with the Nashville Predators, Phoenix Coyotes, Dallas Stars, and New Jersey Devils. The elder Fiddler got his start in the WHL and was also undrafted, signing with the Predators at age 22.
Fiddler-Schultz is more than just a famous offspring, however. His 75 points in 64 games this season were 15 more than any other Hitmen skater and tied him for 28th league-wide. For his efforts, he was named a First-Team All-Star in the Central Division. His team unfortunately bowed out in the first round of this year's WHL Playoffs, effectively ending his junior career. His strong play throughout the season largely carried his team to a playoff spot in the first place and showcased his skills as a two-way player capable of slotting in at all forward positions. It helps that he is a great person as well, showcased by his 2019-20 award for WHL's Humanitarian of the Year which he has again been nominated for this year.
Ben Zloty, Defense, Winnipeg ICE
The fact that Benjamin Zloty has gone undrafted in multiple years is eyebrow-raising. He is an immensely capable offensively-minded defenseman for the Winnipeg ICE in the WHL. He is a big reason why they had such a dominant 2022-23, as his whopping 81 points led all blueliners in the league. He also impressively does more of his damage at even-strength, where over 60 percent (53) of his points were recorded. This season wasn't a one-off, either, as he recorded 64 points in 2021-22. In total, he ironically has the same amount of career points as Fiddler-Schultz at 189 but he scored them in just 207 games.
Related: 3 Flames Prospects Who Are Excelling in the AHL
---
Latest News & Highlights
---
Such elite offensive play cannot be glossed over by amateur scouts, and the Flames would do no harm whatsoever by inviting Zloty to camp next year at the very least. Furthering his case, he is a hometown kid hailing from Calgary and played all of his hockey previous to the WHL in the area. His ICE are currently in the second round of the WHL Playoffs and have high hopes to come out of the Eastern Conference after finishing with the league's best record in the regular season.
Samuel Mayer, Defense, Peterborough Petes
Shifting to the Ontario Hockey League (OHL), for whatever reason hulking defenseman Samuel Mayer also went undrafted. While he is not an overager and still has one year of junior eligibility remaining, he makes our list nonetheless. The 6-foot-3, 200-pound rearguard recorded 48 points in 68 games this season for the fourth-seed Peterborough Petes. Compared to Zloty, his numbers are impressive but don't pop, however, Mayer is stronger in his own zone as more of a two-way defender. His plus-24 rating was tops among his team and no other defenseman on the Petes recorded 20 points, showing how heavily Mayer was leaned on this season.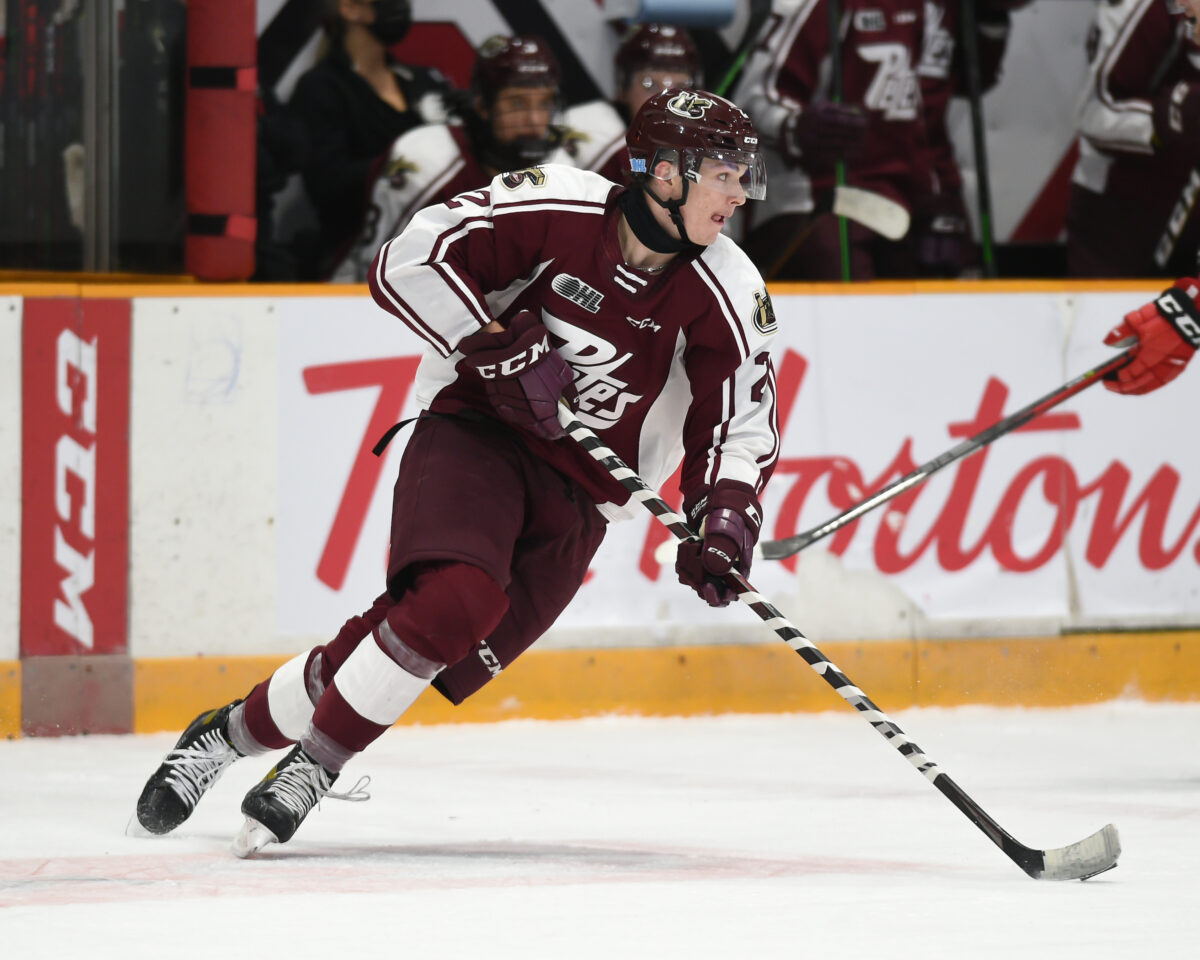 Mayer's Petes are also still alive in the OHL Playoffs, having swept the Sudbury Wolves in the first round. As mentioned previously, he doesn't have to seek pro opportunities just yet with one more year left in junior. However, nothing is stopping the Flames from signing him and letting him go back or sending an invite to camp. It likely wouldn't shock many Petes fans if the 20-year-old cracked the Wranglers' roster.
Théo Rochette, Forward, Québec Remparts
Heading over to the Quebec Major Junior Hockey League (QMJHL), highly-skilled playmaker Théo Rochette is in his last year of junior eligibility. He has served as captain of the Québec Remparts for the last two seasons and scored at well over a point per game. In 2022-23 he took his game to another level, finishing sixth in league scoring with 42 goals and 106 points in 65 games. The team finished with the league's best record and has Rochette to thank for much of their success. He finished his regular season career fourth all-time in scoring and second in assists for the storied Remparts franchise, showing consistency over his five-year QMJHL career.
Now, Rochette finds himself in the second round of the QMJHL Playoffs after his team swept the Charlottetown Islanders. The Remparts have a great chance at going far in the playoffs, so future after junior hockey is likely not on his mind at the moment. However, the Flames have had good success with drafting from the QMJHL (see Pelletier and Jérémie Poirier for reference). Rochette would get a strong chance at a regular role with the Wranglers and could effectively take Pelletier's place if he stays with the Flames full-time.
Brett Brochu, Goaltender, London Knights
Let's finish our list with a goaltender and head back to the OHL for a moment. London Knights netminder Brett Brochu went 28-17-2 with two shutouts in 2022-23 and no NHL team currently holds his rights. This is made all the more shocking when you look at his previous two seasons when he finished 29-11-2 (2021-22) and a whopping 32-6-0 (2019-20). He won international gold as the third goalie on Team Canada for the 2022 World Juniors, playing one game which was a win against Austria. His Knights are also in the second round of the OHL Playoffs after sweeping the Owen Sound Attack. He is a remarkable 7-1-0 in the postseason with three shutouts as of this writing.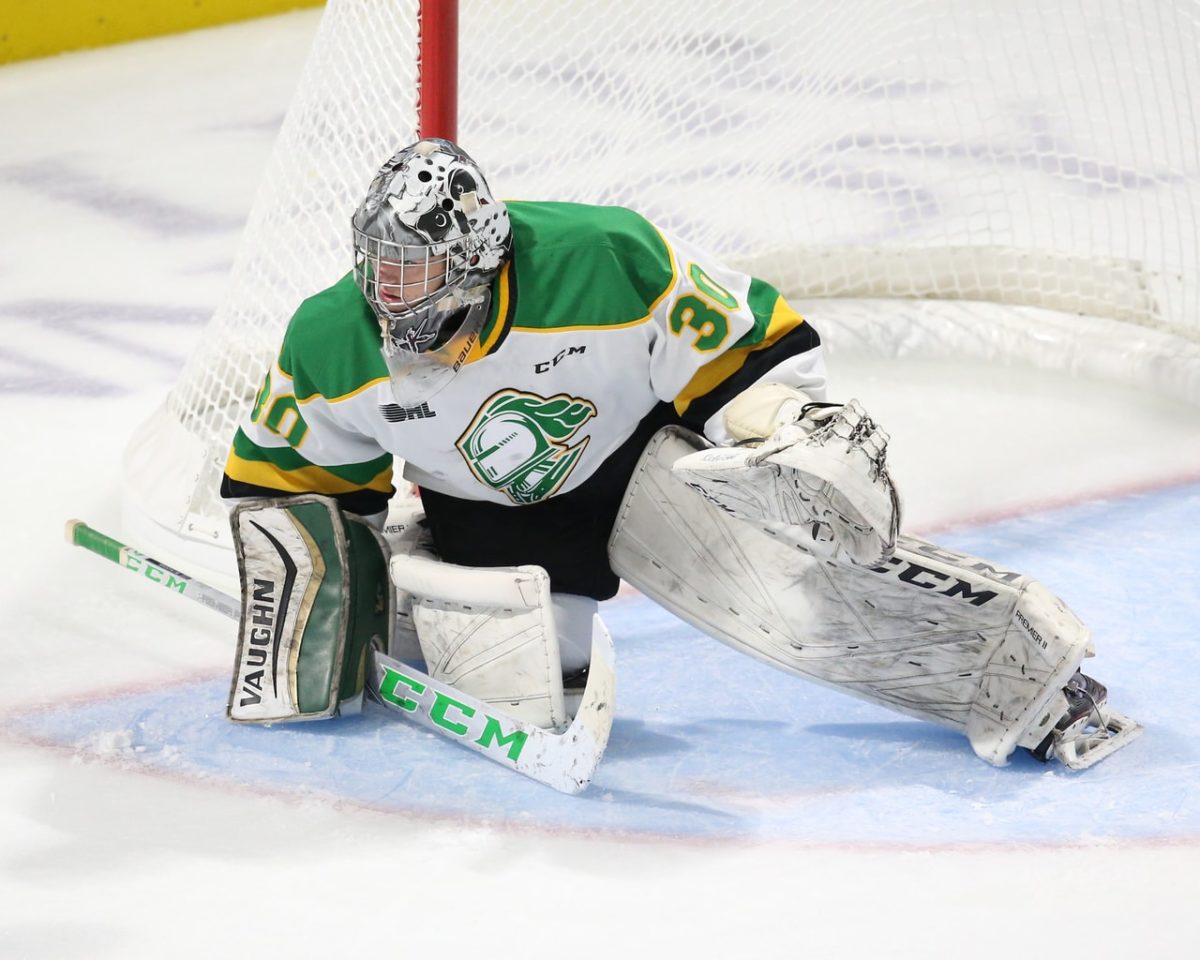 Interestingly, Brochu already has professional experience. With the OHL on pause due to the COVID-19 pandemic, he got into a game with the AHL's Wilkes-Barre/Scranton Penguins, unfortunately surrendering five goals in a loss. Being that he is the second-winningest goalie in Knights history, he has proved that he is ready for the next step regardless. With Wranglers All-Star Dustin Wolf potentially coming up to the Flames next season, there could be an opening for Brochu in the AHL.
The Flames know they have to do some soul-searching this summer. To sign any one or multiple of these fine young men to entry-level or simply tryout contracts would do the team no harm. Even if they don't make the Wranglers, there would be some seasoning opportunities in the ECHL with Flames affiliate the Rapid City Rush.