In today's rumor rundown the Patrick Maroon deal that was supposed to be announced on Monday may not actually be done. Maroon's camp might be waiting just a little longer before taking a discount to go home. Also, Artemi Panarin appears to be the next big name on the trade block and his agent seems to think Columbus would be wise to make that move right away. A heated debate has revolved around the status of Milan Lucic in Edmonton and the Penguins may move on from one of their depth centers.
Patrick Maroon a Done Deal or Not?
It was expected the signing of Patrick Maroon in St. Louis would be announced on Monday. There are many that still believe this to be the case and that the financial term might be a one-year deal worth $1.7 million. While that seems low compared to the numbers that were speculated, Lou Korac who cover the Blues for NHL.com said, Maroon may have agreed to the deal so that he could play in his hometown and a promise from the Blues organization was that the two sides would immediately talk contract extension when Maroon was eligible to do so on January 1, 2019.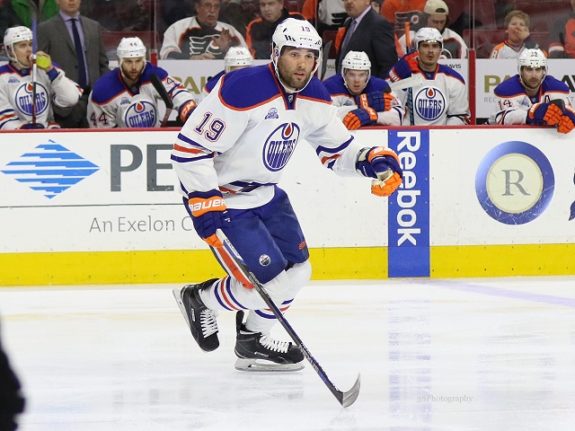 Not long after that tweet, Jeremy Rutherford of the Athletic tweeted "Ben Hankinson, Maroon's agent, said that no decision had been made and that the Blues are still a "strong option" but they aren't the only team still interested in signing Maroon" This is not Rutherford saying a deal isn't coming, but that it's not officially done and Maroon's side could be making one final pitch to see what else comes in the final hours before he signs. Logic would think a team like the Edmonton Oilers would be able to beat the $1.7 million and they were rumored to be interested. The New Jersey Devils might still be in the mix for that kind of money as well.
Rutherford did admit the Blues and Maroon were close on a contract and Blue's GM Doug Armstrong met up with the player in person. Perhaps the Blues offer to talk extension right away was their way of saying 'let us deal with our current cap issues — which includes re-signing RFA defenseman Joel Edmondson, who filed for salary arbitration — and we'll sort you out as soon as we can.'
Related: NHL Rumors: Maroon, Karlsson, Seguin, More
Artemi Panarin the Next Big Name to Move
Aaron Portzline of The Athletic interviewed Artemi Panarin's agent, Dan Milstein and got some very interesting inside information on what's happening between the Columbus Blue Jackets and the star winger. Milstein confirmed Panarin did, in fact, tell the Blue Jackets prior to the 2018 NHL Draft that he was not interested in discussing a long-term extension and that if he were the Blue Jackets organization, he would trade Panarin who he doesn't think will choose to stick around.
ICYMI, The Athletic: "Does he want to spend the next 8 years in Columbus?" | A brief, pointed Q & A with Artemi Panarin's agent #CBJ https://t.co/VpqSA21fuK pic.twitter.com/xpxtzd6hsw

— Aaron Portzline (@Aportzline) July 9, 2018
Milstein said:
"… (Panarin's) biggest thing is … he loves the team, he loves the coach. It's not the team or the way they treat him. It's about, does he want to spend the next eight years in Columbus? That's the only thing at stake right now. If it was a two-year deal we probably would have done it. But it isn't a two-year deal. It's gonna have to be an extended, seven- or eight-year deal put in place."

source from "Does Artemi Panarin want to spend the next 8 years in Columbus? A Q&A with agent Daniel Milstein" by Aaron Portzline – The Athletic – 07/08/18
As a result, the Blue Jackets see the writing on the wall and have been entertaining trade offers for the winger. While Jackets GM Jarmo Kekalainen has not asked Panarin's side if they want to speak to other teams, it seems logical the Blue Jackets would try to get the best deal available for Panarin now so as to not risk an in-season injury, him getting off to a poor start during the season or it coming out publicly that Panarin does not want to stay long-term, all of which would lower his trade value.
Milstein agrees that perhaps the best move for Columbus is to move on. He added, "He doesn't want me to negotiate yet, so you know … if I was the Blue Jackets, I would do the same thing (consider trades)." If the agent of the player is suggesting the team trade the player, it will only be a matter of time before Panarin is moved.
Related: NHL Rumors: Karlsson, Duclair, Maroon, More
Latest on Lucic
Over the weekend there was a heated debate between TSN Insider Frank Seravalli and blogger David Staples who were not on the same page in terms of the status of Milan Lucic in Edmonton. Seravalli had called the situation in Edmonton with Lucic "almost untenable" suggesting that despite the quieting of Lucic being traded, there was still pressure by the player to get him out of town. Staples took that comment to task, especially Seravalli's comparison of the Lucic situation to Erik Karlsson's in Ottawa citing the comments made by Lucic's agent Gerry Johansson that Lucic has not asked to be traded nor have the Oilers asked him to waive his no-movement clause.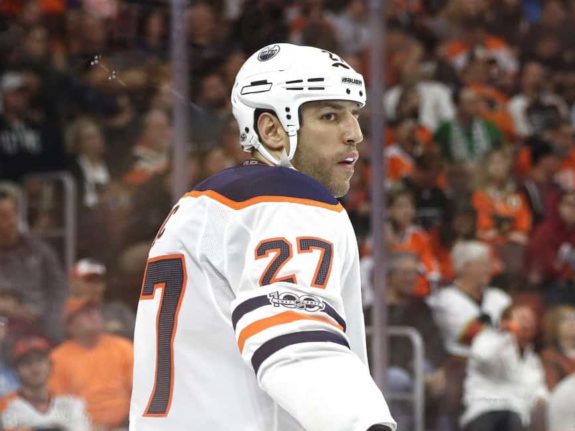 While there were plenty of people supporting both sides of this debate, the Karlsson situation and Lucic's situation are not the same, even though speculation is that Lucic's wife is not happy with how much flack Lucic has received after having a poor season. There are indications Lucic can bounce back and if he does things will settle in Edmonton. But, Seravalli is an "insider" and if his sources tell him there's something still going on, there just may be.
Related: NHL Rumors: Karlsson, Weber, Parayko, More
Derick Brassard Being Traded?
Paul Zeise of the Pittsburgh Post-Gazette writes that he doesn't think the rumors of Phil Kessel being traded are accurate, he does see the Penguins moving on from center Derick Brassard. The Penguins have too many centers and Brassard is the most expendable and also holds a $3 million cap hit which, if moved, would help the Penguins alleviate some of their cap concerns.
Brassard did have 21 goals and 46 points in a total of 72 games split between Ottawa and Pittsburgh last season. He could definitely be a nice depth center for an NHL organization happy to take on a one-year contract.