The NHL Entry Draft is over. Several major trades have been completed. And while technically the free agency window remains open, it's pretty much done. Teams have had to budget for the year, and, in part, for next year. They know what they have left versus the salary cap.
It's the perfect time to snare a player via an offer sheet.
The unrestricted free agent (UFA) market included John Tavares atop a stable of quality players. However, the restricted free agent (RFA) market is ripe with talent, especially at the wing position where league scoring is thin. Only 10 of the top 40 point totals last year came from right-wingers, and only seven from left wingers.
Offer sheets are rarely used in today's NHL but the idea of them is intriguing for both fans and media. Speculation around them being used is common, but the reality is that they rarely happen. There are two reasons for this. The first is that the cost of prying a stud from another team not only includes the large contract sum that must be offered but also the steep, mandated remuneration defined by the CBA. The other reason is the that NHL general managers won't do it because of an unwritten code of courtesy to one another. Supposedly, offer sheets are made by bullies and only create enemies.
Imagine that… a little competition, rivalry and contention in a business setting.
Offer Sheet Rules and Compensation
Once a team has targeted the RFA it wants, it writes a proposal of salary, term, signing bonus and reporting bonus, then the offer sheet is submitted. It must include the corresponding compensation as per the table below.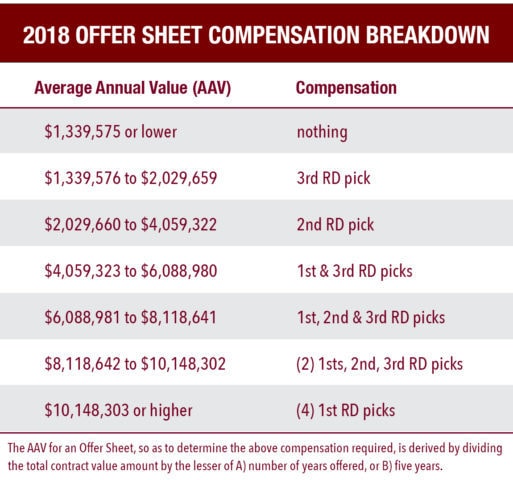 Assuming the targeted RFA accepts the offer sheet, the team who controls his rights has seven days to choose one of two options.
The first option, if the team wants to keep the player, is to exercise their "right of first refusal." This means that they can match the salary, term, signing bonus and reporting bonus of the offer sheet, and the player is considered re-signed. Additional terms such as no trade/no move clauses or performance bonuses are NOT included, but they can be negotiated separately. If a team exercises this right, they cannot trade the player for one full year.
The second option is to let the player walk away and then collect compensation from the team that submitted the offer sheet. Compensation comes in the form of draft picks awarded to the targeted player's team and is based on the amount of the contract's average annual value (AAV).
A team making an offer sheet must use their own draft picks–their original ones; they are not permitted to use ones that have been acquired from other teams. For example, the Buffalo Sabres sent their fourth-round pick in 2019 (that could become a third) to the Penguins as part of the Conor Sheary trade, so they are prohibited from making any offer that would include a third rounder as compensation. In other words, the Sabres are prohibited from making any offer from $4.05 million through $10.14 million.
There are seven tiers of compensation.
Low Tiers
It's possible to offer sheet a player for up to roughly $4 million before having to surrender a first-round pick. These players will only cost a second rounder. Or a third. Or nothing at all. It's not a lot of currency to give up or money to spend for a player that is worthy of plucking. It's so obvious, it should be a routine process and done all the time.
Middle Tiers
Snagging a player at the next level–up to roughly $6 million dollars will cost a team its first and third-round pick. History has shown that a third-round pick is borderline meaningless. Giving up a first-round pick for a $6 million player is something most teams would jump at, every day of the week. The only reason not to would be in the event a team believes they're likely to finish near the bottom of the league and have a better shot at the top picks (No. 1, 2, or 3 overall).
The next tier is between $6 million and $8 million. It calls for a first, a second and a third-round pick as compensation. This is also what it cost the Vegas Golden Knights for Thomas Tatar at the deadline.
In Ryan O'Reilly terms, if he were an RFA, a team could have offer sheeted him at $7.5 million. If the Sabres didn't match it, he would have left and Botterill would have received a first, a second and a third rounder. In the recent trade with the St. Louis Blues, the Sabres received a first-round pick, a second-round pick, a player who was a first AND two more NHL players, even if they aren't great. Many point to this whopping return as the evidence that the Sabres won the trade with the Blues.
The Elite Tier
Four first-round picks is a massive haul by any measure. Short of extenuating circumstances, if a player is that good, the team that has his rights is probably going to keep him. There haven't been too many offer sheets of this kind. If a GM thinks an elite player like Auston Matthews of the Toronto Maple Leafs might make his team a legitimate Cup contender for many years, it might be worth the semi-tractor trailer of cash that would have to be offered.
The Lottery's Impact on Offer Sheets
When the NHL Draft lottery was opened up to give every non-playoff team a chance at the No. 1 overall pick, it put a damper on offer sheet potential. Many teams make trades that are 'lottery protected.' This means that team misses the postseason and winds up in the lottery for one of the top overall three picks, they get to keep their pick. In some cases, a pick may be top-10 protected, which means the team who originally owned the pick gets to keep it if the pick ends up being in the top 10. In either of these instances, the team then receives the team's following year's first rounder, with no stipulations.
The fact that a compensatory pick cannot be lottery protected poses an interesting dilemma for some of the weaker NHL teams. While not impossible, these teams would have to make a monumental jump of 20-30 points to make the playoffs over last season. Without such a leap, they'll be in the lottery next year. If one of these teams extends an offer sheet, they run the risk of losing their unprotected first round pick as compensation.
Negotiating with an RFA
It can be dangerous to play the waiting game with RFAs and not sign them before their final contracted season ends. A player can simply disengage from the negotiating position and say they don't want to talk about it anymore until the season is over. Then teams risk losing their players altogether. Exhibit A: Tavares, John.
Leon Draisaitl of the Edmonton Oilers was a prime offer sheet target last year. Afraid to lose him, Peter Chiarelli eventually signed the versatile forward to an 8-year, $68 million contract. Draisaitl may have been able to fetch a little more on the open offer sheet market, but it was enough for him to sign and stay with the Oilers.
Salaries are driven up for sought-after players by offer sheets and by teams that are desperate to keep them. GMs will almost always match an offer sheet so players always win.
RFAs Worth Plucking
William Nylander, RW / C
Toronto Maple Leafs
2017-18 salary cap hit: $832,500
Age on July 1: 22
Toronto is an organization that's ripe for an offer sheet. In the next two years, the Leafs will have to line up extra-large Brinks trucks for a number of players including Auston Matthews, Mitch Marner and William Nylander. And that's not including John Tavares' freshly inked seven-year, $77 million deal. They cannot afford three more mammoth contracts and still have money to pay a supporting cast that will allow them to compete.
Nylander, with back-to-back 61 point seasons, is likely worth a contract for $4-6 million per year. That would cost a team its first and third round picks.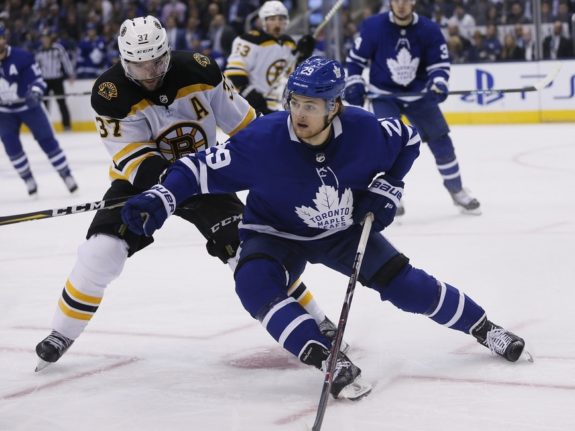 Newly-minted Leaf's GM Kyle Dubas has been quoted recently as saying, "We can and we will," when asked about retaining Matthews, Marner and Nylander. A crafty general manager of another team would do well to test that claim. Native first-round and third-round draft picks are a low-risk gamble–Nylander is well worth it. The chance of a first round pick even having an NHL career if not selected in the top ten are 50-50% at best. Nylander is a proven top-two line guy who could come in and contribute right away for any team.
Jason Zucker, LW / RW
Minnesota Wild
2017-18 salary cap hit: $2 million
Age on July 1: 26
The versatile winger will be looking for a raise after consecutive 20-goal seasons. Decision time is approaching the Wild who also have to reconcile with RFA Matt Dumba.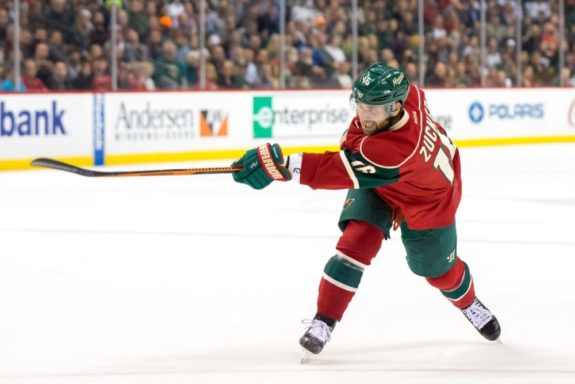 Mark Stone, RW
Ottawa Senators
2017-18 salary cap hit: $3.5 million
Age on July 1: 26
Stone is the most productive RFA in this year's class. He's had four consecutive 20-goal, 30-assist seasons. He left some money on the bargaining table three years ago and is due for a significant raise.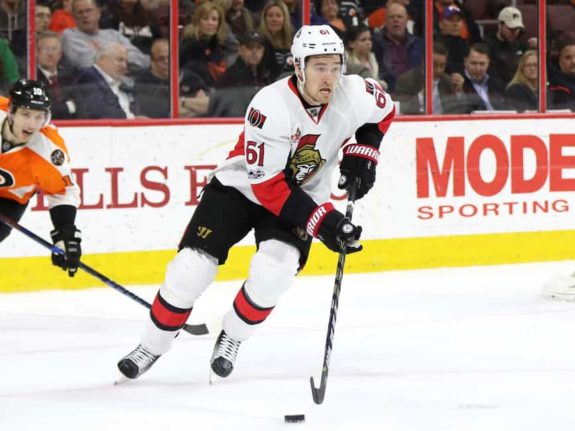 Miles Wood, LW
New Jersey Devils
2017-18 salary cap hit: $995,000
Age on July 1: 22
Wood, born in Buffalo, he scored 19 goals last season while playing only 12 minutes per game. He's full of speed, competitiveness and isn't afraid to drop the gloves to defend his teammates. He's a dead-ringer for James Franco to boot.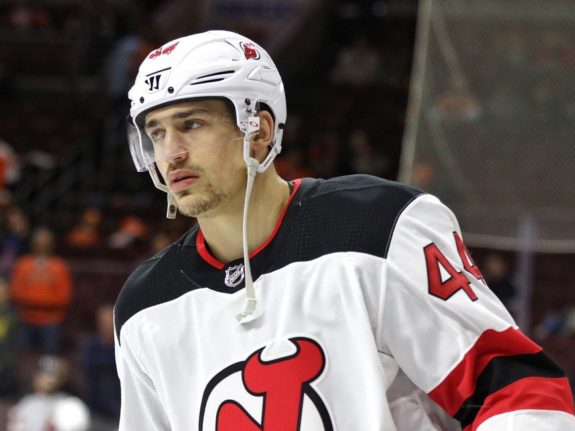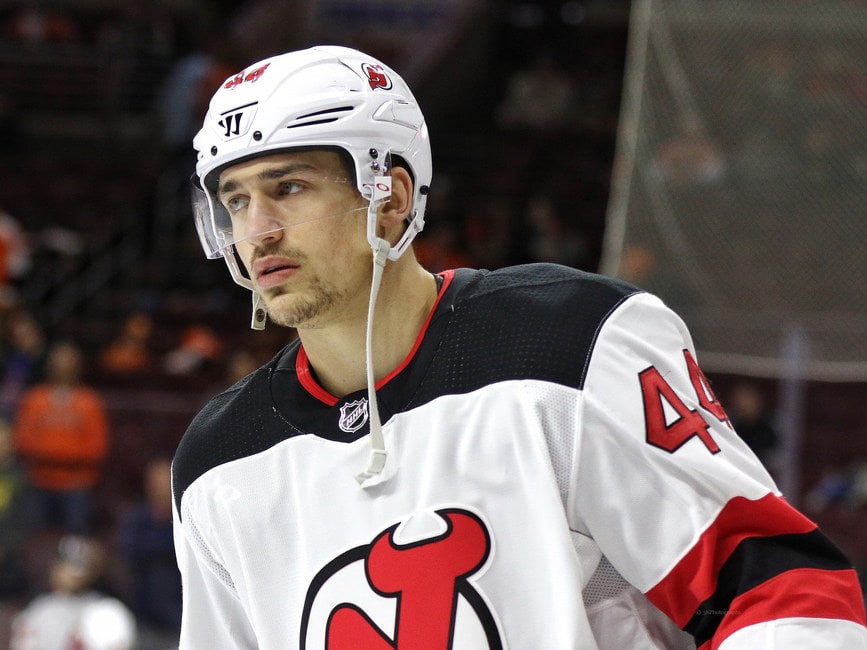 Ryan Spooner C / LW
New York Rangers
2017-18 salary cap hit: $2.9 million
Age on July 1: 26
Spooner, a Boston Bruins 2010 second-round draft pick, was flipped to the New York Rangers as part of the Rick Nash trade at the deadline last season. He has 45 goals and 113 assists in 271 games.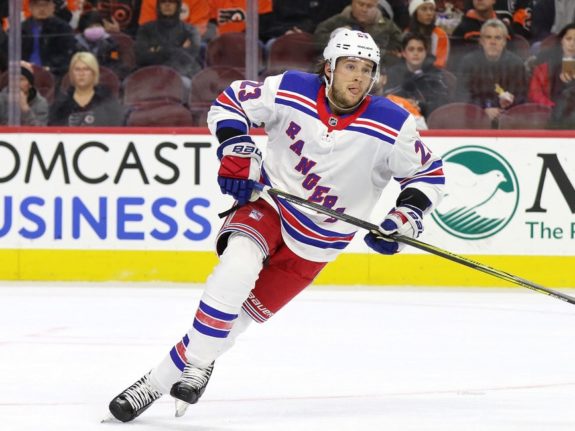 Sampson Reinhart, RW / C
Buffalo Sabres
2017-18 salary cap hit: $894,167
Age on July 1: 22
Reinhart has found some success in his first three years in the NHL, pitching in 42, 47 and 50 points. He's proven to be more productive on the wing and last year finished red hot with 37 points in the second half of the season. His next contract is up for grabs.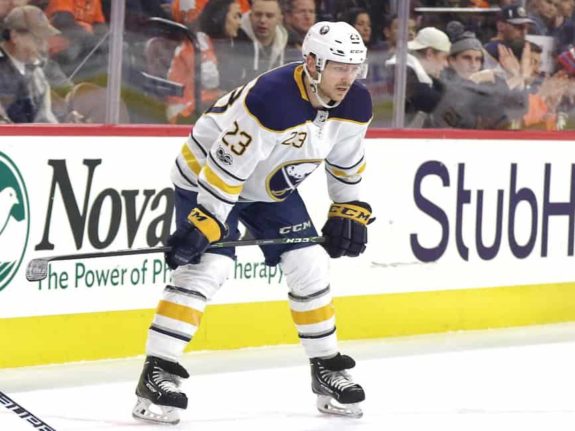 Anthony Mantha, RW
Detroit Red Wings
2017-18 salary cap hit: $863,333
Age on July 1: 23
The Red Wings have a little over $6 million of cap space available but still have not signed Mantha or Larkin. Mantha followed up a 36-point season in 2016-17 with a 48 point season last year. He's a dangerous scorer with a very good shot and quick release.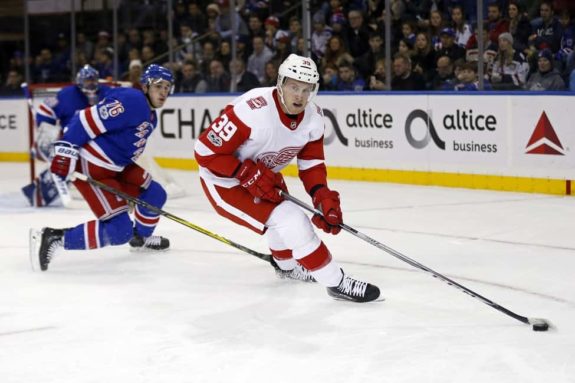 Dylan Larkin, C / LW
Detroit Red Wings
2017-18 salary cap hit: $925,000
Age on July 1: 21
Larkin, a 2014 first-round pick had his best season last year, putting up 63 points in 82 games. The speedy, versatile player is due a sizable payday.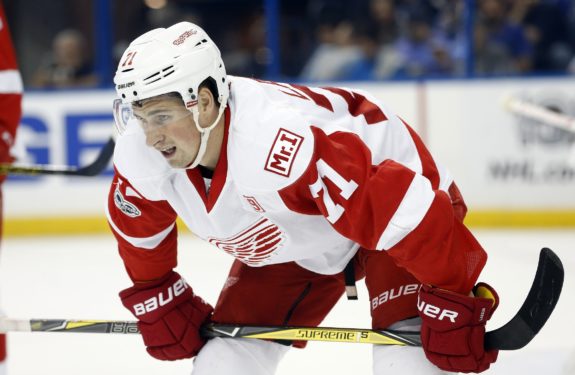 Ondrej Kase, RW
Anaheim Ducks
2017-18 salary cap hit: $670,000
Age on July 1: 22
Kase had a breakout season, more than doubling his production in 2017-18. He scored 20 goals and 18 assists in 66 games. The Czech native has beat the odds by establishing himself as an NHL player despite being selected in the seventh round in 2014.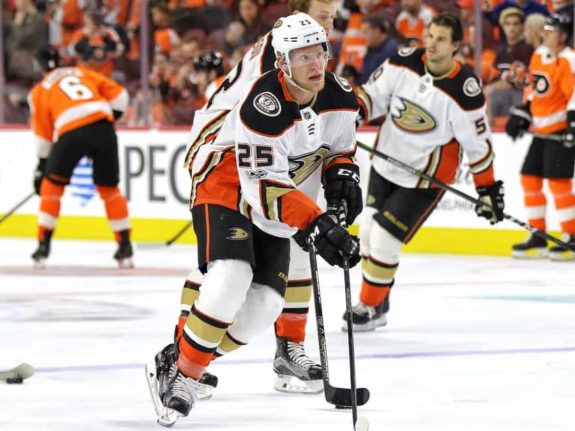 Three Teams Ready to Extend Offer Sheets
Several teams have plenty of cap space and picks at their disposal to make legitimate offer sheets: the New York Islanders, the New Jersey Devils and the Dallas Stars.
The Isles, now without John Tavares, have a boatload of cash to spend. Though they'd have to re-acquire some of their original picks, never count out GM Lou Lamoriello to make a move and help get his new team back on track.
The Devils have plenty of cap space and are trending upwards after making the playoffs last year. They only have three skaters inked past the 2019-20 season.
The Stars are on the cusp of making the playoffs. They've been in rumored talks about acquiring Erik Karlsson from the Ottawa Senators, and lost out on the Tavares sweepstakes, both are evidence of their desire to make a bold move forward.
Offer Sheets Not Likely
Though the silly season of free agency is over, the RFA offer sheet season is wide open for teams. The right pickup can be a value-added puzzle piece for the right roster, helping to step in to contribute right away.
It's been years since the last offer sheet was signed in the NHL. The last was by Ryan O'Reilly in February 2013. The Calgary Flames offered him a two-year, $10 million deal that was matched by the Colorado Avalanche. Before that, in 2012, Shea Weber signed a 14-year contract with the Philadelphia Flyers, but it was matched by the Nashville Predators. It's about time a general manager demonstrated some courage by using an offer sheet to improve his team.