The National Hockey League is known for its speed, skill, and intensity. And, now more than ever, the NHL is also known for its elite young talent which has come to dominate the ice on a nightly basis.
In fact, young stars have come to define the game, as blazing speed, incredible skill, and tantalizing talent have become increasingly commonplace in a league whose average age has continued to dip. Led by the likes of Connor McDavid, Jack Eichel, Auston Matthews, and Nathan MacKinnon, the NHL has quickly transitioned from a tough and rugged workplace to one shining brightly with puck mastery and electrifying expertise.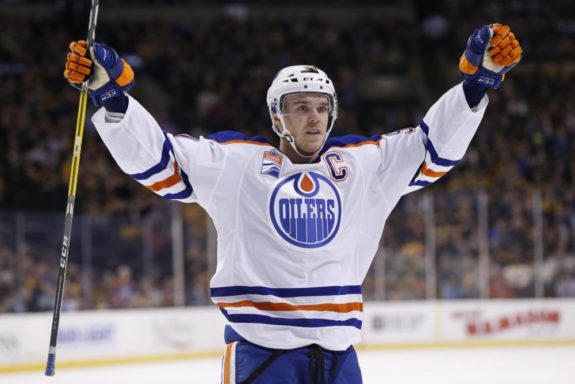 And, while those mentioned above have certainly earned their standing amongst the NHL's best, there is a bounty of other elite young players who have continued to quietly develop in recent years. Although they aren't necessarily household names nation-wide, these rising stars play a crucial role within their respective organization's and, in time, will be recognized for their tireless work.
For a number of these youngsters, that time is quickly approaching, as a vast number of the league's top young talent stands poised to cash in through major contract extensions. Although most are slated to become RFAs, these youngsters are nonetheless deserving of massive raises owing to their proven and impressive play at the NHL-level.
So, of those in need of new contracts come to the end of the current season, who is the most deserving of a significant pay raise?
Dylan Larkin
Although his NHL career to date has endured its fair share of ups and downs, Dylan Larkin stands poised to earn a significant raise in his next contract, which will likely be signed during or come to the conclusion of the 2017-18 season.
A tantalizing talent given his blazing speed, terrific hands and ability to generate lethal scoring opportunities at maximum velocity, Larkin has quickly become a player of immense importance for the Detroit Red Wings, who find themselves in the midst of the re-tooling process. In desperate need of competent young talent, Larkin currently stands as a sturdy pillar for the Red Wings, and a player set to lead his team into their somewhat uncertain future.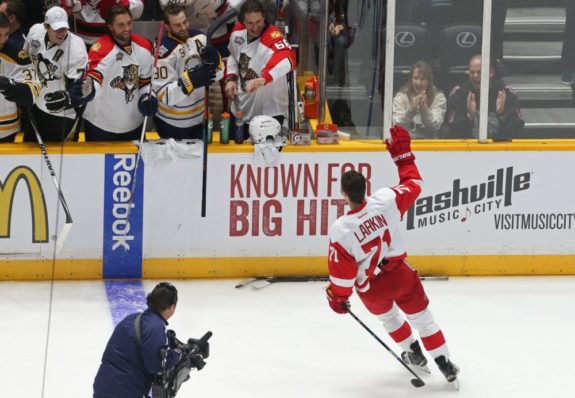 With this being said, Larkin's offensive production this season and growing leadership role combine to make him an asset of incredible value for Detroit, who will need to concoct a new deal for their speedy forward. Currently playing out the final year of his three-year entry-level contract, Larkin carries a $925K cap hit and one largely unreflective of his on-ice abilities.
RELATED: Dylan Larkin Needs Some Help
Given his clear organizational value, Larkin should net a lengthy contract extension in the near future and one which will see him earn a hefty raise over his current price tag. In reality, Larkin should fetch an annual average salary in the range of $3.5-4 million given his proven production and continued growth. The major question regarding this new deal, however, will be the contract's term, as the Red Wings could opt to offer Larkin a bridge-deal as opposed to a contract of significant length.
William Karlsson
Originally drafted by the Anaheim Ducks and following 165 games played with the Columbus Blue Jackets, it appeared as though William Karlsson had finally found a long-term home. However, come the NHL Expansion Draft, Karlsson found himself unprotected by Blue Jackets and susceptible to selection by the incoming Vegas Golden Knights.
And, on Jun. 21, 2017, Vegas made it official, nabbing Karlsson from Columbus. As a tremendously skilled player of incredible speed, the Golden Knights' decision to select Karlsson was, in reality, a simple one. A proven goal scorer and elite offensive player throughout his young career to date, Karlsson's raw puck skills and immense potential combined to make him a valuable building block for a Vegas team desperate to define its direction.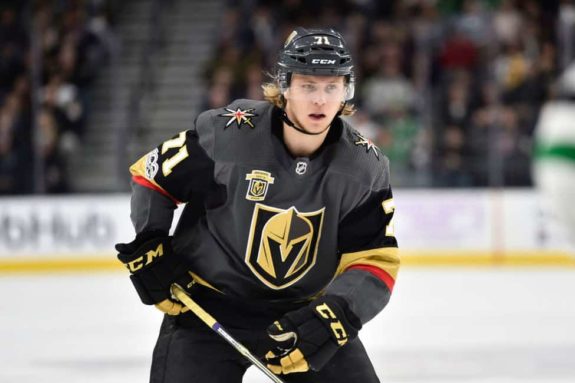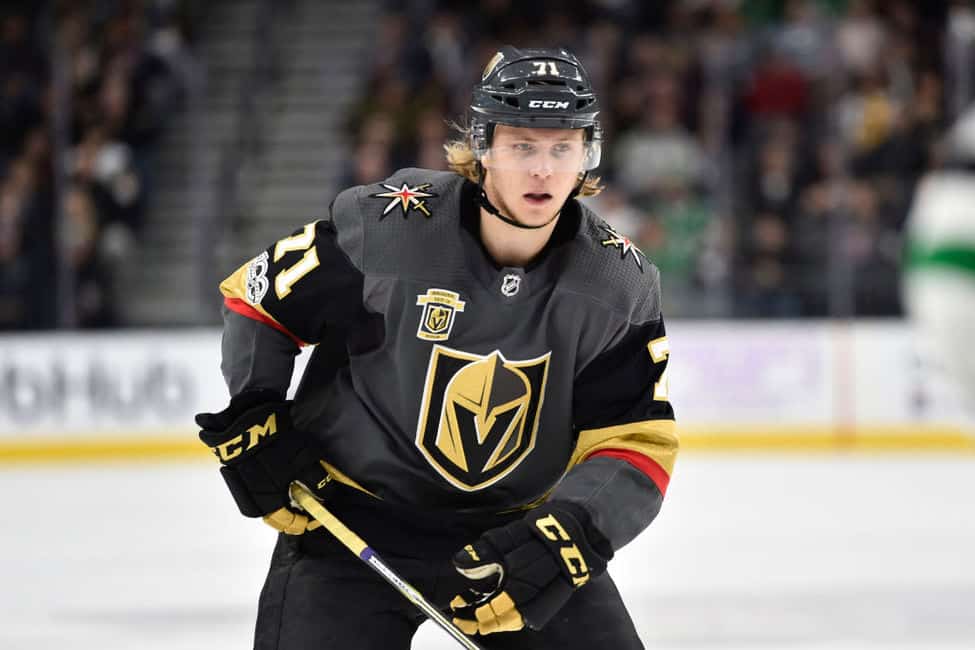 Fortunately for both parties, Karlsson's presence thus far with the Golden Knights has been overwhelmingly successful, as the native of Märsta, Sweden has been downright electrifying. Having shattered his previous career-highs in both goals and points, Karlsson has quickly become a crucial and versatile member of Vegas' offensive attack. Skating in multiple situations, Karlsson has bulged the twine with startling regularity and, in the process, become an offensive catalyst for a fast-paced and dynamic Golden Knights team.
On pace to tally over 40 goals and 70 points, Karlsson is well deserving of a raise, and especially so given the fact that he stands poised to become an RFA at the end of the current season. Skating in the final year of a two-year contract worth $1 million annually, Karlsson, 25, is a talented young player who could very well become a crucial cog in Vegas' electrifying roster.
RELATED: The NHL's Most Underrated Trio
Surely in search of a long-term deal, the Golden Knights would be smart to offer Karlsson a contract in the three to four-year range worth $3-4 million per season, as such a deal could prove to be a steal given the current trajectory of Karlsson's career.
Anthony Mantha
Although he has slowed since his white-hot start to the 2017-18 season, Anthony Mantha remains a player of massive importance for the Red Wings. Having finally cemented himself as a full-time player at the NHL-level, Mantha's next major hurdle will be to prove that he can contribute offensively on a regular basis.
As a towering winger who stands 6-foot-5 and weighs well over 220-pounds, Mantha is an intimidating offensive player. However, unlike many individuals of significant size, Mantha skates incredibly well given his massive frame and boasts the speed necessary to overpower opposing defenders. Further, Mantha owns a wicked shot and soft hands in the goal-mouth — two traits which allow Mantha to impact the game in a variety of different forms.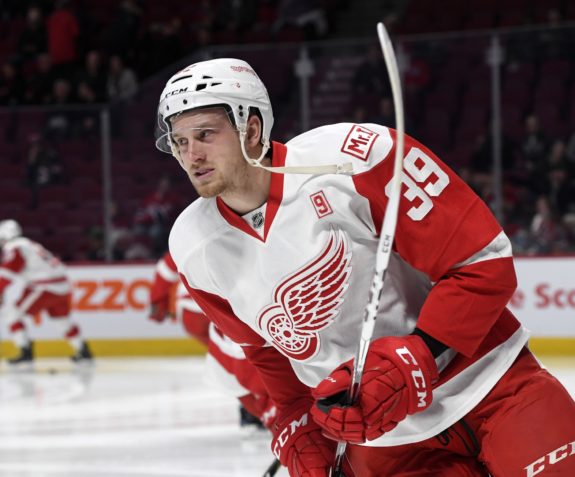 Now 23 years-of-age and in possession of greater than 100 career NHL games played, Mantha finds himself in need of a new contract which will ensure his presence within Detroit's lineup long into the future. Currently skating in the final year of his entry-level contract and earning $863K, it would appear as though Mantha is in line for a hefty raise given his contributions to his team to date.
Although Mantha would surely love a long-term deal, his new contract will more than likely fall in the two-to-three year range, as he not played with enough consistency to warrant a long-term commitment. Financially, however, Mantha will surely see a significant increase. Ideally, the Red Wings will be able to come to an agreement with Mantha on an annual salary in the $3.5 million range — an AAV which accurately reflects his point production and progression to date.
William Nylander
An insanely skilled winger who skates like the wind and boasts a scorching shot, William Nylander is a critical piece of the Toronto Maple Leafs' rebuild who is in need of a new contract. Skating alongside Auston Matthews, Nylander has quickly developed into a quality complimentary player whose presence could prove crucial to the Leafs' future success.
RELATED: Leafs Need More From William Nylander
A speedy and agile skater, Nylander uses shifty movements to keep opposing defenders off balance before either blowing past them or stopping short in order to pass the puck to a teammate. In fact, despite his sizzling shot, Nylander has slowly become a potent playmaker rather a than goal scorer, as his ability to rifle the puck has forced defenders to close off shooting lanes and, in turn, open passing opportunities instead.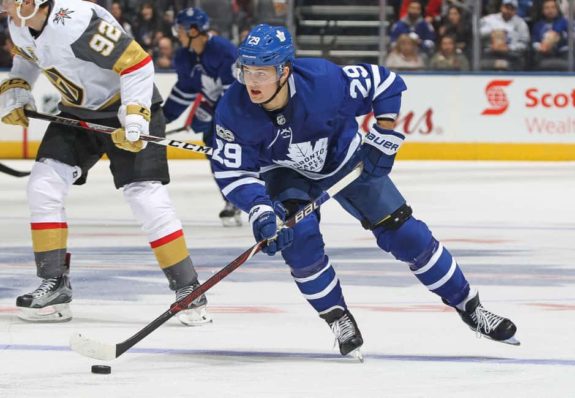 As a first line player for the Leafs, Nylander's long-term presence within his organization is of undeniable importance. As such, Toronto will have to seriously contemplate which type of deal to offer their sensational 'Swede following the conclusion of the 2017-18 campaign. Currently skating in the final year of his entry-level contract, Nylander's consistent play will afford him a substantial raise, however, the term could prove to be more valuable in this situation given the Leafs' financial situation.
In the end, the perfect deal for Nylander and Toronto could be one which meets both parties half way. Although Nylander could certainly demand a contract worth roughly $6 million — similar to David Pastrnak's new contract with the Boston Bruins — a deal which instead pays Nylander $4.5-5 million per season over the course of four to five years would likely be much more enticing. If completed, the Leafs would save significant money which could then be allocated towards other contracts (Matthews, Mitch Marner) while also illustrating their appreciation of Nylander's services.
Jacob Trouba
When Jacob Trouba requested a trade out of Winnipeg in May of 2016, it appeared as though the dynamic defender's time with the Jets was coming to a rather unexpected and abrupt end. However, following a contract dispute to begin the 2016-17 season, Trouba ultimately re-signed with the Jets, inking a two-year deal which effectively erased any and all quarrels between him and his organization.
RELATED: Jacob Trouba Due for Pricey Extension
Now, with the 2017-18 campaign more than half completed, Trouba and his expiring contract are once again gaining attention. In need of a new deal, Trouba, 23, stands poised to become an RFA and is arbitration eligible given the wealth of experience he has accrued despite his young age. However, in this round of contract talks, it appears as though chatter between Trouba and the Jets will hold a much different tone.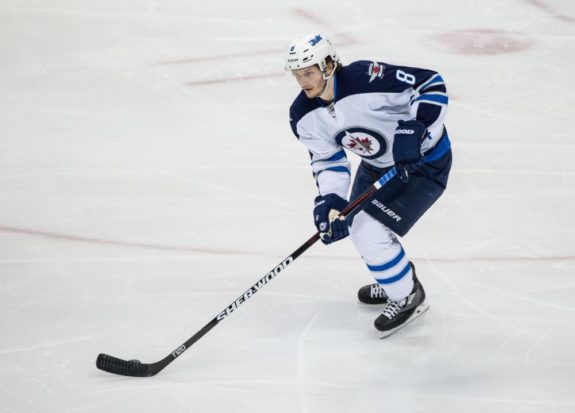 Although Trouba could miss up to two months as the result of an ankle injury, his value in Winnipeg has arguably never been higher. Logging well over 22:00 of ice time per game, Trouba has played a versatile role for the Jets in 2017-18, and one which has seen him become a staple on both the power play and penalty kill. As an important two-way threat, Trouba has also matched solid defensive play with potent offensive production, as the Rochester, Michigan native was on pace match his career-high in points which he set last season.
So, what will the Jets and Trouba be looking for in a potential contract extension?
Well, assuming that Trouba still wishes to play in Winnipeg, a deal worth $6 million per year over the course of five seasons should not be out of the question, as his play to date has certainly justified such an investment. Now, although contract term itself could fluctuate depending on the personal interests of both parties, an AAV of $6 million or greater should be expected, as right-shot defenders of Trouba's quality are extremely rare in the modern NHL.
Brett Slawson is a four-year veteran of The Hockey Writers who covers the Toronto Maple Leafs, NHL prospects, and the OHL's Mississauga Steelheads.
Contact Brett on Twitter @brettslawson92, or by email at brett_slawson@hotmail.com.