As the NHL Draft is merely hours away, news and rumors of possible trades and signings keep coming across the rumor wire. The latest includes a likely trade of Jeff Skinner, two Oilers not going anywhere, Columbus still discussing what happens with Artemi Panarin and one team expected to make some moves staying relatively quiet.
Skinner Talks Heating Up
The notion of Jeff Skinner getting traded out of Carolina appears to be at an all-time high as talks have picked up and at least three teams seems keenly interested. The three-time 30-goal man has been in the rumor mill for some time and recently linked to the St. Louis Blues, Pittsburgh Penguins, and Los Angeles Kings. Darren Dreger of TSN reports that the Carolina Hurricanes are "inching closer" to a deal and are in "late stages of discussions." Something should get done before or during Friday's NHL Entry Draft.
Sounds like Carolina is inching closer to moving Jeff Skinner. 3 teams believed to be in the mix in the late stages of discussions.

— Darren Dreger (@DarrenDreger) June 22, 2018
Which team is narrowing in and what pieces are being offered is still unclear but Skinner could make an immediate impact for a team before he becomes a free agent next summer. He's just one of many players eligible for an extension come July 1 and the team that acquires him will likely work toward that end.
Milan Lucic and Cam Talbot Not Leaving Edmonton
Despite all the rumors that Milan Lucic was being shopped by the Edmonton Oilers, it appears he's not going anywhere. Reid Wilkins of 630 CHED is reporting that "Lucics's agent, Gerry Johannson, on @OilersNow says Lucic hasn't requested a trade. Says, "Milan is 100% going to come back and play."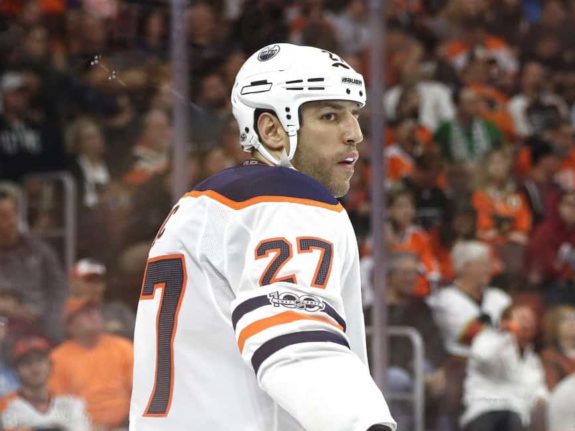 This falls in line with news that came out this morning that Lucic might not be leaving when Oilers' GM Peter Chiarelli expected Lucic would be back in Edmonton next season. Some had believed that meant the value wasn't there for Lucic on the open market or that sending him elsewhere meant moving out a good asset, but it could be a combination of that and that the story got blown out of proportion with the two sides realizing that Lucic can and likely will have a bounce-back season in Edmonton.
Meanwhile, the Oilers are still actively shopping the No. 10 pick in tonight's draft for some help on their blueline. One player for Edmonton that is not being moved, despite rumors of his name being out there, is Cam Talbot.
Related: NHL Rumors: Kovalchuk, Nash, Pacioretty, Draft Hits, More
Columbus Still Listening on Panarin
Despite not wanting to and saying "it's his job to do so" Jarmo Kekalainen has said he's still listening to offers on Artemin Panarin and will not rule out anything if it makes the Blue Jackets better. He mentioned that the goal is to convince Panarin to stay in Columbus but that if he's going to trade him, it might be more likely at the NHL Draft than the Trade Deadline simply because at the deadline teams are dealing with mostly "futures" not wanting to remove something significant from their lineup.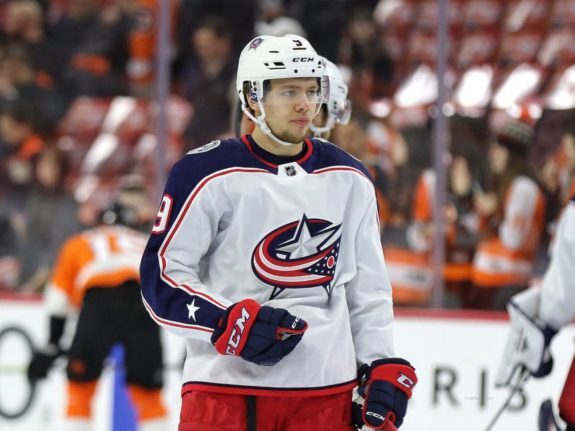 Related: NHL Rumors: Lindholm, Kessel, O'Reilly, More
Blackhawks Likely Staying Quiet
Mark Lazerus is reporting that Blackhawks GM Stan Bowman has noted on the prospect of any trades for Chicago at the NHL Draft, "Last year came together pretty quickly. We're not close to doing a deal right now. I've learned to never try to predict the future, so I can't say for sure that we're going to be making significant moves."
The speculation was that the very least, Chicago was going to try and move Marian Hossa's contract to a team looking to make the salary cap floor.
Capitals Trying to Get a Deal Done With John Carlson Today
TSN's Pierre LeBrun is reporting that Washington and Carlson's agent are actively talking on the draft floor about an extension and making it work for Carlson to stay with Washington and not test free agency. LeBrun tweeted, "Caps GM Brian McLellan and agent Rick Curran have chatted a couple of times over the past 24 hrs, each exchanged their positions on what a contract for John Carlson would look like.. my sense is Caps discussing internally how they can do it… must create cap space."