It may still be hot outside but the new NHL season isn't that far off. The 2014-15 season promises to be another exciting race, featuring defending Cup Champion Los Angeles Kings hoisting a new Stanley Cup banner in their season opener October 8 against San Jose. A Luc Robitaille statue will be unveiled in Star Plaza at Staples Center March 7 when Pittsburgh comes to town. Luuuuuuuuuuc!
The Kings and the Sharks will meet again February 21 in Santa Clara in the NHL Stadium Series. The teams will play outdoors at the San Francisco 49ers' new Levi's Stadium. After last year's successful game at Dodgers Stadium in Los Angeles, the league has proven very efficient at hosting games in warm weather.
The NHL Winter Classic will again take place January 1. Washington will host Chicago at a site to be announced. Fans will also have to get used to calling the Phoenix Coyotes the Arizona Coyotes.
New Faces in New Uniforms
On the ice, there will be many faces in new uniforms as teams try to improve their lineups. Here is an NHL team-by-team look at who moved where since the Kings lifted the Cup in June.
Anaheim is still considered to be a cup challenger and have added forward Ryan Kesler and Dany Heatley to change the dynamics up front.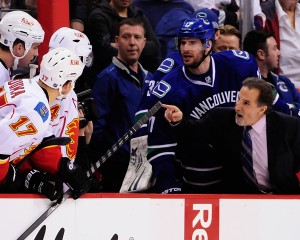 Arizona is a new name and the ex-Phoenix Coyotes have added some new faces, including forwards Sam Gagner and B.J. Crombeen from Tampa Bay.
Boston has changed little except to add a bit of depth to fight the salary cap.
Buffalo got rid of two big contracts by letting go of Christian Ehrhoff and Ville Leino in a move to get out of the NHL's basement. The Sabres hope to improve its offense with forwards Matt Moulson and Brian Gionta, as well as defenseman Andrej Meszaros. Second pick overall Sam Reinhart could also be in play.
Calgary is in the midst of a rebuild and is slowly bringing in fresh faces to improve the team. The Flames signed goaltender Jonas Hiller to noticeably improve its goaltending situation, added speed in winger Mason Raymond and toughness in forward Brandon Bollig and defenseman Deryk Engelland. Fourth pick overall Sam Bennett and college star Johnnie Gaudreau may make the team up front.
Carolina's changes include depth players like forwards Nathan Gerbe and Jay McClement and bringing back defenseman Tim Gleason.
Chicago managed to get Brad Richards on the cheap, adding depth to an already impressive lineup.
Future Hall of Famer Jarome Iginla has traded in his Bruins sweater for a Colorado Avalanche version. The team also added more veterans with forward Daniel Briere and defenseman Brad Stuart to complement their young stars.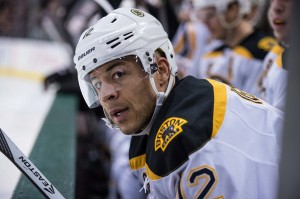 Columbus has had a quiet off-season except to pick up Scott Hartnell in a trade with Philadelphia.
Dallas picked up two of Ottawa's top line forwards in separate transactions, bringing in Jason Spezza and Ales Hensky. With other changes last season, the Stars are looking like a new team filled with potential to battle in the West Conference.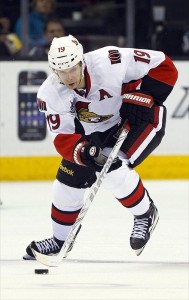 Detroit has been very quiet. The Red Wings re-signed most of its free agents and waiting for Daniel Alfredsson to decide if he will retire.
Florida will welcome a bunch of new players, including forwards Jussi Jokinen, Dave Bolland, and Shawn Thornton, defenseman Willie Mitchell from the Cup champs Kings and goaltender Al Montoya to back up Roberto Luongo. The Panthers also could have first pick overall Aaron Ekblad on defense this season.
Los Angeles didn't make any major move except to keep Marian Gaborik in the fold as the team tries to win a third cup in four years.
Minnesota convinced Thomas Vanek to sign after he played for three different teams last season.
Montreal signed center Manny Malhotra and traded for P.A. Parenteau but the biggest news was re-signing defenseman P.K. Subban.
Nashville has been busy adding many forwards, including James Neal, Derek Roy, Olli Jokinen, and Mike Ribeiro. It also picked up defenseman Anton Volchenkov.
New Jersey will start the season without Future Hall of Famer Martin Brodeur between the pipes but the Devils added offense in forwards Mike Cammalleri and Martin Havlat.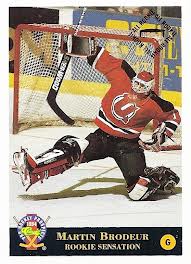 The New York Islanders decided Jaroslav Halak and Chad Johnston will make a good tandem in net and be an improvement over Evgeni Nabokov. Forwards Mikhail Grabovsky and Nikolai Kulemin were added up front.
The New York Rangers nabbed defenseman Dan Boyle and added depth up front with Lee Stempniak and former NHLer Matthew Lombardi from Europe.
Ottawa fans must feel like their team got gutted with the loss of captain Jason Spezza and Alex Hensky to Dallas but did get three forwards in return, including Alex Chiasson and Alexander Guptill. The Senators also added veteran David Legwand at center.
Philadelphia is looking to improve its defense by adding Michael Del Zotto, Ryan White and Nick Schultz. The Flyers also added R.J. Umberger in a trade with Columbus for Hartnell.
Pittsburgh lost two defensemen in Niskanen and Orpik but added Christian Ehrhoff, who may fit quite well on the blue line. The Penguins also added wingers Nick Spaling and Patric Hornqvist in the James Neal trade and Blake Comeau and Steve Downie in free agency.
San Jose was perhaps the quietest team since the draft in June, with no major signings or trades.
St. Louis decided to let Ryan Miller go and take its chances with Bryan Elliott and Jake Allen. The team improved its center position by attracting Paul Stastny from rival Colorado and added depth on wing with Peter Mueller and on defense with Carl Gunnarsson.
Tampa Bay decided it needed experience and brought in veterans defenseman Jason Garrison in a trade with Vancouver and forward Brenden Morrow in free agency. Most of the Lightning's shopping occurred in New York, where the team added an Islander, goaltender Evgeni Nabokov, and two Rangers, forward Brian Boyle and defenseman Anton Stralman.
On Canada day, Toronto acquired winger Matt Frattin from Columbus and signed free agents winger Leo Komarov and defenseman Stephane Robidas. By the end of July, the Leafs added three more forwards to the lineup: Mike Santorelli, David Booth, and Daniel Winnick.
Vancouver couldn't make up its mind about a goaltender dilemma over the past three years so gone are both Roberto Luongo and Cory Schneider. The Canucks picked up Ryan Miller. No pressure on the ex-Sabre. Vancouver traded Ryan Kessler to Anaheim for Nick Bonito and Luca Sbisa and then added forwards Derek Dorsett and Linden Vey in other trades. The Canucks also added right winger Radim Vrbata as a free agent.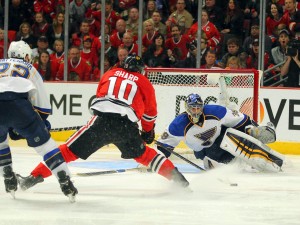 Washington brought in two Pittsburgh defensemen, Brooks Orpik and Matt Niskanen, and added forwards Tim Kennedy and Kris Newbury and goaltender Justin Peters.
Winnipeg was another quiet team, signing center Mathieu Perreault and winger T.J. Galiardi.
Mario now covers the Los Angeles Kings and writes other hockey features. He is an experienced journalist who has covered sports and entertainment in daily and weekly newspapers, magazines and online, including thedigitalbits.com/columns/inside-cinema. He is also the co-creator of The Gaffoos, www.gaffoos.com