It's no secret that golf is a popular game among NHL players. And although these rugged warriors would trade a limb for having their name engraved on the Stanley Cup, busting out the golf clubs is just the anecdote that a great number of players use to ease the pain of entering the offseason without the Cup. With so many of the league's players participating in the gentlemanly game, it's no surprise that weird and wacky golf stories arise.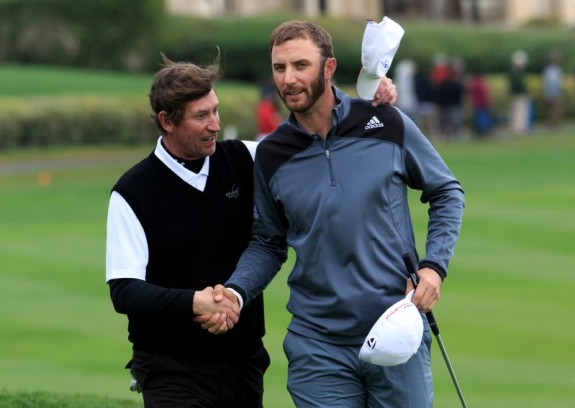 With the PGA Championship in full swing, here are five of the wackiest, goofiest, and intriguing golf stories involving figures in hockey in the recent past.
5. Tour Pro, Or NHL Official?
Garrett Rank may not be a household name, but his story is certainly worthy of the list. That's because the 26-year-old has not only been offered a full-time contract to officiate in the AHL, he just happens to be a member of the Canadian National Golf Team.
While playing both golf and hockey through college, Rank's hockey career was abruptly ended after being diagnosed with testicular cancer. In an effort to stay close to hockey, Rank jumped into the brotherhood of officiating.
"I was approached to start refereeing and I thought it was a good way to stay involved with the game and a cool way to make money while I was in school," Rank said. "You get to be part of one of the greatest games in the world."
@mhalmz said y-day that @GarrettRank reffed his late season @AHLhockey game but not in bc just back frm @NYIslanders pic.twitter.com/7LAyJjFS11

— Brian Totzke (@kitwatguy) June 18, 2014
As Rank pursues a career in officiating, he'll do so while working his way towards the PGA Tour. As a member of the Waterloo Warriors, Rank helped his collegiate team win a national championship in 2012. He's also added 10 top 10 finishes in amateur events. All this while adding to his credentials as a promising hockey official.
"Garrett is a special individual who has many opportunities," said Rank's golf coach, Dave Smallwood. "He has an economics degree, is a sought-after referee, and has battled and defeated cancer. It allows him to attack a professional career in golf from a whole different perspective. Garrett will be on the PGA Tour someday and he will make us all proud."
As a cancer survivor himself, who's to say Rank can't reach the pinnacle of each sport?
"I can't beat the route that I'm going right now," added Rank. "I'm pretty much playing a professional schedule and traveling week to week. I don't see it being much different than mini-tour golf."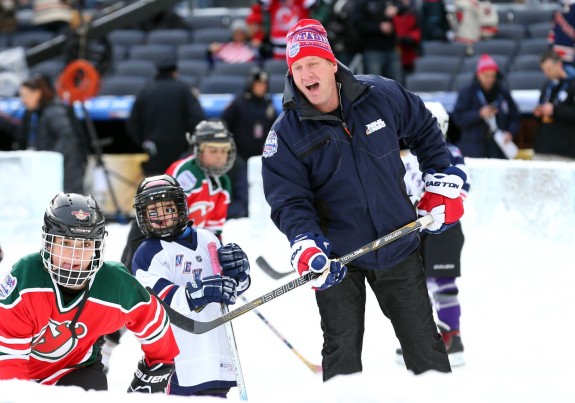 4. Jeremy Roenick Punches a Fan
As a member of the 500 Goal Club, is anyone stunned that Jeremy Roenick is a scratch golfer? Athleticism alone, however, doesn't land you on this list. And although the colorful NBCSN analyst is loved by many, he's no exception to the rule.
But here he is, and for good reason. At the Celebrity Golf Championship in 2012, Roenick accepted the request of a fan who begged the former NHL forward to punch him in the face.
This guy really wanted to be punched by Jeremy Roenick http://t.co/GzVHiZKcxi

— HuffPost Sports (@HuffPostSports) July 25, 2013
Roenick's fan interaction may have distracted him in competing for the American Century Championship that year, but he still managed to tie Michael Jordan for 28th. With Roenick's attention completely focused on golf this year, he finished tied for second place with Annika Sorenstam.
Beautiful weather in Boston means its time to Golf. My club @PembrokeGolf is hiring….. sam@pembrokegolf.com #NewJob #ExperiencedBartender

— Jeremy Roenick (@Jeremy_Roenick) April 9, 2013
Maybe one day Roenick will trade in his makeup and microphone for bottle openers and rags. If it's at a golf course, that is.
3. Tyler Seguin Tee's It Up, Literally
In one of the craziest golf stories involving an NHL player, Dallas Stars forward Tyler Seguin put his manhood on the line in the ultimate act of extreme golfing.
"Tyler Seguin crouches over a workbench, painstakingly applying super glue to a piece of cork. He wipes sweat from his brow and firmly pushes the cork against a jockstrap.

"The protective cup is already tucked inside. He knows what he has to do." — Sean Gentille, The Sporting News
While Seguin's antics may appear reckless, his stunt resembling the show Jackass was done for charity at The Fourth Period Charity Golf Classic. He and the rest of the Dallas Stars can now laugh, but what if things had gone wrong?
"Can you imagine if the guy had missed? And Seguin had missed time with a groin injury because he let some dude drive his ball 400 yards? That cup he's wearing is almost adorably naive. It's not protecting jack." — Harrison Mooney, Puck Daddy
2. Claude Giroux's Swing Speed
Everyone knows how talented of an athlete Claude Giroux is. They just didn't know how strong he was to boot.
In August of 2013, Giroux swung and shattered his club, requiring him to receive surgery on his index finger.
"It was just a freak thing," explained Giroux. "I was taking a swing and my club hit a little behind the ball. The shaft of the club shattered, but my hand kept going on the swing and the shattered part went right into my finger."
Imagine how many points Claude Giroux would have if he didn't golf.

— Flyers Nation (@FlyersNation) March 19, 2014
No truth to rumor Sidney Crosby jumped out of bushes and slashed Claude Giroux's golf club, causing it to shatter/splinter into index finger

— Tom Gulitti (@TomGulittiNHL) August 16, 2013
The injury may not have caused the Flyers' captain to miss a single regular season game, but it was highly speculated that it contributed to his (and his team's as a result) sluggish start in what would turn out to be the worst start in franchise history.
"Perhaps he's not fully recovered from the hand injury suffered during a freak off-season golf accident. Or maybe he's just not fit to handle "the best in the world" moniker slapped on him by Laviolette after a sensational 2012 playoff series vs. Pittsburgh." — The Hockey News
Giroux, as well as Flyers fans, can laugh about the incident now. After all, Giroux re-gained his mojo, and the Flyers jumped on his shoulders as they locked in a playoff berth.
And in case the injury on the links was forgotten by the season's conclusion, Giroux was back in the news this offseason. This time, however, it wasn't for his ball striking or choice of club from 130 yards out. It was for getting arrested after repeatedly grabbing a male police officer's buttocks in a bar. Despite the embarrassment, he was uninjured, which suggests he may be avoiding the golf course.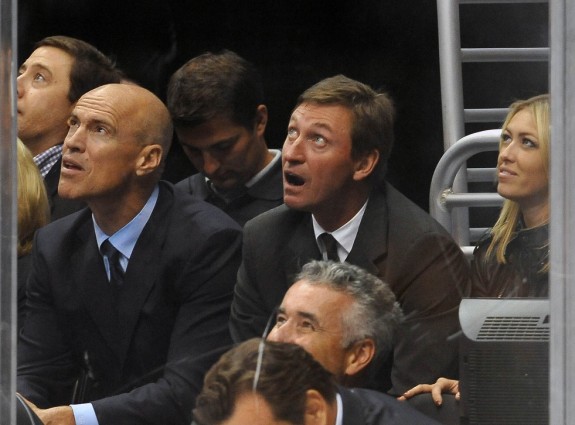 1. Wayne Gretzky & Dustin Johnson
PGA Tour pro Dustin Johnson isn't new to the media. But since withdrawing at the WGC Bridgestone Invitational in Akron, Ohio, he may be more accustomed to the TMZ-like media attention now; and it's not because he took a leave of absence from golf either. It's because of the lifestyle he's been living, and who his fiancee is – Wayne Gretzky's daughter, Paulina.
Yes, the same Paulina Gretzky who previously irked the LPGA Tour with her Golf Digest magazine cover. The same Paulina Gretzky who calls "The Great One," Daddy. And if Daddy doesn't approve of his future son-in-law's ways, trouble is inevitably on the horizon.
"Speaking to Johnson some time before he was reportedly suspended by the PGA Tour for cocaine use, Gretzky, said that he'd halt the wedding to his 25-year-old daughter, Paulina, unless Johnson quit his habits, according to the TV station's sources." — Hank Gola, New York Daily News
https://twitter.com/LindseyMastis/status/452536931856158720
What makes this the strangest of golf stories is that it's ongoing. According to Johnson's press statement upon leaving the PGA Tour, the eight-time tournament winner claimed he would be stepping away to "seek professional help" for "personal challenges."
He's yet to do that, however, spending his days since in Idaho with…. Paulina Gretzky. This can't be pleasing to the greatest hockey player of all-time. But as for now, the wedding appears to be a go. Even if Johnson's quest for the FedEx Cup isn't.
Andy is a contributor for The Hockey Writers, covering the Philadelphia Flyers. He holds a Bachelor's Degree in Communications from Walsh University. He enjoys spending time with his family, golfing, and reading. He is married with a daughter. You can follow Andy on Twitter @ADudones.