The days leading up to this year's NHL Trade Deadline for the first time in nearly a decade marked a significant time of change for the Buffalo Sabres. For so long the franchise appeared to be set in its ways by sticking with the same group of core players and personnel.
All that changed when long-time head coach Lindy Ruff was fired after 15 years of service. The team then started shipping out the soon to expire contracts of Robyn Regehr, Jordan Leopold and TJ Brennan (RFA), all the while speculation began to swirl around "the big three" comprised of Jason Pominville, Ryan Miller and Thomas Vanek.
Then as the NHL trade deadline approached, another shockwave reverberated through the organization when the team captain was dealt (along with a fourth-round draft pick) to the Minnesota Wild for Johan Larsson, Matt Hackett, a first-round pick in 2013 and a second-round pick in 2014. Here is GM Darcy Regier's post-deadline presser.
Although "Pommer" was the only Sabre dealt on deadline day, it appears Regier was in discussion about multiple players and more moves are on the horizon. The change that so many fans have been clamoring for finally seem to be happening. Lets take some time to pay tribute to the long-time Sabre by reliving one of the biggest moments in his career and the team's recent history.
This sets up for what should be a very exciting and very important offseason for the organization. The Sabres will go into the summer with a lot of assets. In addition to current veterans on the roster, and what many consider to be a rich pool of incumbent prospects, the team has compiled a number of draft picks. Regier (if still employed) will have two first-round picks and two second-round picks this year and one first-round pick and two second-round picks next year as well as an additional second-round pick in 2015. Although no one knows how things will shake out, lets attempt to peer through our crystal balls and see what lies ahead.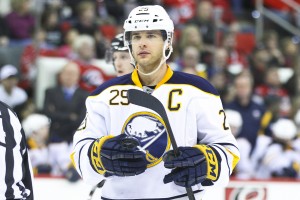 Don't look for the Sabres to stay pat with there position in the draft. It's highly likely they'll either package their picks to move up in the draft — as the true impact players lie at the top of the draft — or the team uses these assets to acquire already established players.
Also look for more veterans to be dealt or at the very least, be considered in a potential trade. If no one is moved it certainly won't be because of a lack of effort. A good deal may simply not be available. A guy who seemed to be nearly dealt was Stafford. He's a player that can benefit from a change of scenery so a change would be ideal for both the team and the player. Then there is Miller and Vanek. These type of high-value, high-salary players are typically a part of offseason moves rather than midseason ones. Vanek's future may be contingent upon the direction the organization is heading.
"I'm sure nobody likes to call their team a rebuilding team, but if that's the phase, if it's one year that's OK, but if it's a two-, three-year plan again, you would probably look the other direction," said Vanek.
The only thing that's certain is that the franchise is going to look significantly different within the next few years. As Bob Dylan famously sang, "The Times They Are a-Changin'."