For about 20 minutes on Friday night, the Niagara IceDogs looked completely disinterested. Although they got a quick goal just 2:22 into the game from Oliver Castleman, they had the look of a team that thought they could waltz into Erie with less than full effort and sleep walk through the game.
The Erie Otters gave the IceDogs a rude wake-up call.
A Bad Period & A Wake-Up Call
The Otter scored three unanswered goals into the second period to build a 3-1 lead. But it was what happened during the first intermission in the IceDogs locker room that ultimately helped decide the outcome of this game.
Head coach Billy Burke was not happy. He saw how his team came out and needed to send them a message. As captain Johnny Corneil told me postgame: "We needed a real kick in the arse."
Burke gave credit to Erie and then was happy with the way his team regrouped. He recalled the situation for us.
"We were pretty upset with the way the guys came out.", Burke said. "(The Otters have) a great crowd here. It's never easy to play here. They're a very hard-working team. They make you play honest. We were way too casual. A lot of guys thought maybe by just showing up tonight that Erie would just roll over and hand it to us. That's obviously not the case. I thought Erie took it to us good. Fortunately we were able to regroup a little bit."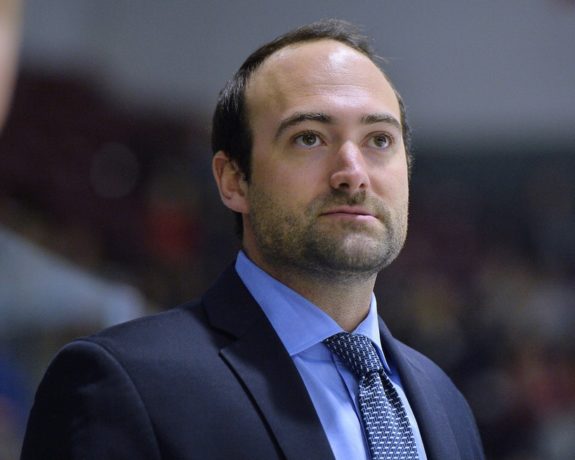 Akil Thomas said Burke had a simple message for the team.
"Coach came in and said you guys need to wake up.", Thomas said. "You guys need to turn the game around really fast. We did that. We woke up and turned the game around very quickly with two goals."
That they did. The IceDogs scored 13 seconds apart after giving up an early second-period goal. Daniel Singer and Ben Jones helped to tie the score. Jones connected again about 10 minutes later to give them the lead for good. Then for good measure, Corneil added two goals including a short-handed goal to make the final score 6-3.
With the victory, the IceDogs secured home-ice advantage in round one of the OHL playoffs. Thanks to Kingston's win, the IceDogs learned they would play the Oshawa Generals. Burke, Thomas and Corneil all agreed having home-ice was huge for their team.
"It's absolutely huge.", Corneil said. "We have a lot of young guys here not having experienced the playoffs before. Those first couple of games at home with our crowd. We only played in Oshawa only once this season so we're not too familiar being there. But we have a great fan base and we play well at home so it's really exciting to get going."
Something's Cooking in Niagara
The sign of a good team is how you handle adversity. The IceDogs started late but still won the game going away. The team knew it needed to wake up and it did. Coach Burke seems to have a nice handle on the pulse of the team. I asked Thomas what makes Burke a good coach for them.
"I think everyone respects him.", Thomas said. "Whenever he says something, everyone takes it to heart. They listen to him. We want to prove him wrong and turn this game around. He does a lot of work prescouting other teams. We are grateful for how good our coaches are."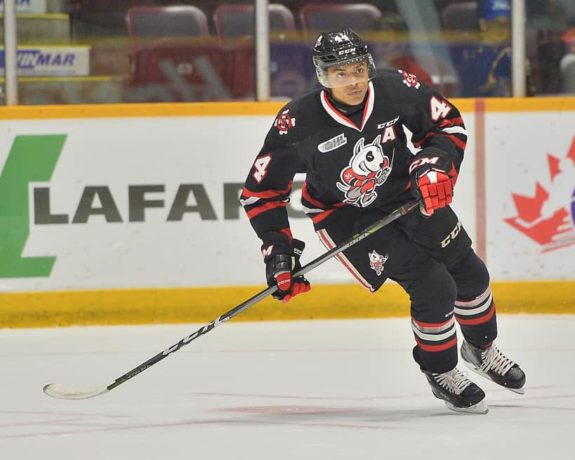 These IceDogs are a good team that doesn't get the fanfare of other teams in their conference. Hamilton, Kingston, Barrie all get the recognition. But Niagara is just as dangerous.
The trio of Thomas, Jones, Kirill Maksimov (had four assists Friday) and Sam Miletic can compete with anyone. Although Miletic didn't play Friday, Burke said had this been the playoffs, he would have played. He's banged up and they want to get him some extra rest.
So long as the IceDogs take care of business in the first round, they have a potential second-round matchup with the Hamilton Bulldogs. Sounds difficult, right? Just consider for a moment that Niagara won the regular season series with the Bulldogs.
These IceDogs are ready to rock. Although there is still lots of hockey left, don't be surprised if they end up in the OHL Final Four. If they do, that's not an accident. They have the talent, skill and the makeup to make a deep playoff run.
Don't sleep on Niagara. Otherwise, your season might end before you know it.