Talking to the media earlier this week, Canadiens owner Geoff Molson could only commit to one thing: general manager Marc Bergevin staying on for now. Everyone already knew that, though.
In Defense of Molson
The only quasi-surprise in Molson's comments was his acknowledgement that this season has been a bad one, but that's more a result of his openness with regard to the topic. Anyone can see the Canadiens, who are seven games under .500 not including overtime and shootout losses, aren't doing that well.
Give credit to Molson for at least being accessible to the media. After making a few comments at a Montreal Canadiens Children's Foundation event, he talked to Mitch Melnick of TSN Radio 690 on his St. Patrick's Day show. Still, if Habs fans are to take Molson at his word, widespread changes are required… just not in the general manager's office, apparently. Molson spoke of "adjustments" that can be made.
Molson on Habs struggles: "I'm not really going to point any fingers. I think if you look from top to bottom, there have been elements. So you can look at players, coaching, scouting, player dev, you can look at GM…there are areas to improve and that's what we'll do." #TSN690

— Joey Alfieri (@joeyalfieri) March 16, 2018
There's admittedly little Molson can say to satisfy the hunger of a fanbase calling for heads to roll. Not only that, but he can't reveal much of his or Bergevin's thought process moving forward for a variety of reasons. In a lot of ways, he's in between a rock and a hard place. Pretty much all he did say of substance, according to RDS.ca, was, "Marc knows that the performance of the team at all levels is unacceptable and we have a plan for fixing it."
Bergevin's Resume
While the optimism at the head of the corporation is required, it's far from refreshing. There's little Bergevin has done over the last few seasons to justify Molson's faith in him. When Molson says, according to the Montreal Gazette, he thinks Bergevin is "probably one of the better evaluators of talent out there," and argues, "he's had a lot of success building a successful team in Chicago," it speaks to an inability to talk of anything valid pertaining to Bergevin's credentials.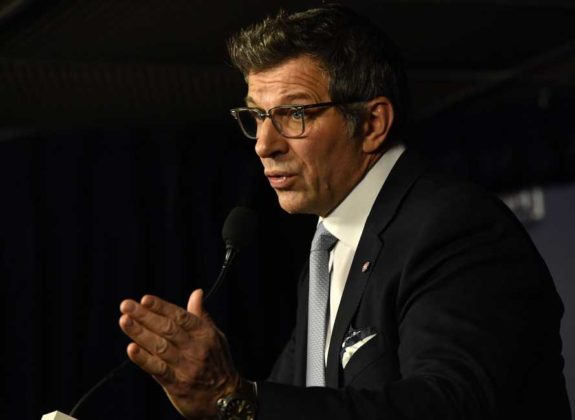 Before being promoted to assistant general manager with the Blackhawks, he won a Stanley Cup as their director of player personnel in 2010. He wasn't as much a part of the team's modern-day, three-championship dynasty as he's being made out to be. It would be kind of like putting all the blame for the team's woes on the shoulders of Martin Lapointe, the Habs' current director of player personnel. Come to think of it, maybe that's one of the adjustments Molson has in store come the end of the season.
If you're not sure, yes, the Martin Lapointe in question is the former NHL player. He has been with the team since Bergevin first came on board at the end of the 2011-12 season. Ask yourself this, though: How many times have you heard his name since he was hired?
Has anyone ever given him credit for any of the team's success in the early-going? Because that's really the only point at which this Habs team, under Bergevin, won consistently.
That was a long time ago, with the Habs in decline in terms of playoff success ever since reaching the Eastern Conference Final in 2014 thanks to a team whose core was largely put together by his predecessors, Pierre Gauthier and Bob Gainey. And they were far from perfect, themselves. If Bergevin's arguably been riding on the coattails of their success, well it would explain a few things.
Know what was a longer time ago? Bergevin's time in Chicago. There's no reason for anyone to ever bring it up again in defense of Bergevin. That was his last job. It's why he got this one. Now the focus should be on what he's done in this role to deserve keeping it, because there comes a point when there will be parallels between the argument and the Habs' last Stanley Cup victory.
Going on 25 Years
Can anyone make a good case that the Habs are as good as they were in 1993, especially when various other factors were in play? Things change. Bergevin was last in Chicago in 2011-12, when they had just wrapped up their second consecutive disappointing playoffs, losing in the first round on each occasion. Bergevin is currently in 2017-18 and things aren't looking quite that impressive.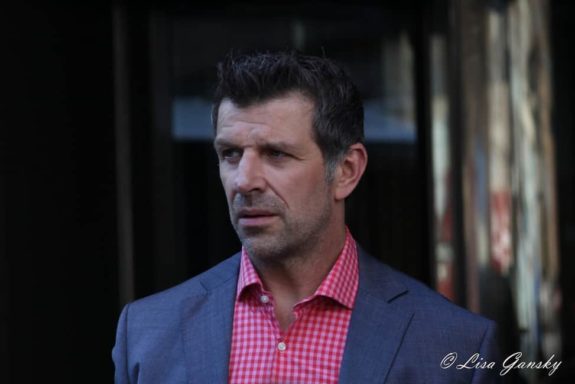 Sure, if he likes, Molson can compare the Canadiens to the Tampa Bay Lightning as a model for success, based on how they are in first place right now after missing the playoffs last season. And it's true, based on recent history, the Habs can realistically make the playoffs next season. The difference lies throughout their two line-ups, though.
The Lightning are built with in-their-prime talent and up-and-coming youth from top to bottom for sustained success. The Canadiens' organizational depth chart has more holes in it than a box of donuts. Filling any between now and next season would likely only lead to a temporary reprieve from the team's downward trajectory.
Molson did offer a few words of hope, saying, "We'll see" when asked what will happen with regard to his surgical approach to fixing what's ailing the team if things don't come together next year. So, Bergevin is safe for now, in other words. Unfortunately, "now" is the problem. It's kind of been that way for a few decades.