When the Philadelphia Flyers announced that Sean Couturier would miss four weeks on Feb. 5, most fans declared Philly's chances of playoffs shot. With a 2-0-1 record in its last three, that's not true yet, but it will be a steep uphill battle for the rest of the season.
But even if the Flyers do miss the postseason, some good has come out of the Couturier injury. Center Nick Cousins, who was recalled by the team after Couturier's injury, has shown plenty of potential for an NHL future in his nine-game stint so far.
Cousins has five points (3G, 2A) in that stretch and has been promoted to play with better linemates in almost every game. With Claude Giroux out in the Flyers' last game on Saturday, Cousins slotted in the middle of Jake Voracek and R.J. Umberger. While the center didn't record any points, he did play 15 minutes, his second highest ice time this year.
A Slow Progression
When the Flyers drafted Cousins in the third round of the 2011 draft, most reports had him listed as an agitating center that could eventually make it as a bottom-six center with some defensive upside. But in his next two years of juniors, the Belleville, ON native scored 191 points in 129 games.
In 2013, Cousins made the jump to the AHL level for a full season and things did not go well. After scoring 103 points in his last junior season, Cousins started slow with the Adirondack Phantoms and finished with 29 points. People worried the rookie was another high-profile junior player that couldn't make the jump to professional hockey.
Then the next season, all those doubts were erased. With the Phantoms move to the Lehigh Valley, Cousins exploded as a reliable scorer. He led the team with 56 points and earned his first NHL cup of coffee with an 11-game stint at the end of the season.
But like his first year in the AHL, Cousins struggled a bit, as some young players do, and failed to record a point while averaging less than 10 minutes a game.
2015-16 Season
Cousins began the year with the Phantoms again and started where he left off, quickly taking the team lead in points and earned a nomination to the AHL All-Star game. Despite playing as much as 15 games less than some of his Phantoms' teammates, Cousins still leads the team with 38 points this year.
When Couturier was injured at the end of November and into December, Cousins got another shot in the NHL. Again he played very few minutes and failed to put up a point.
In February he was recalled for the third time of his career and recorded his first point, an assist, in his second game. Two games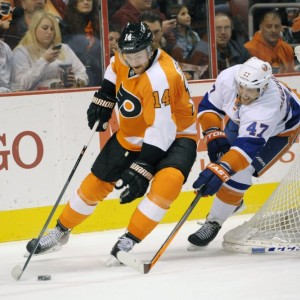 later, Cousins had his first goal and two-point night against the Buffalo Sabres.
He's added two more goals since then, including a pivotal one against the Montreal Canadiens on Friday. Since his callup, coach Dave Hakstol has shown more confidence in Cousins, than fellow young center Scott Laughton, who was a healthy scratch for two games in a row.
Nick Cousins' Future
While Cousins has shown the potential to be a reguler NHLer this season, he hasn't shown too much beyond being a bottom-six player. In no ways is that a bad thing.
The Flyers need bottom-six help and it's nice to know there's an option within the system. Cousins should be able to fill the center spot that Ryan White plays if Philly decides to move him at the trade deadline or let him walk as a free agent.
However, there are some things Cousins still needs to work on. His face-off percentage is still low, never getting much higher than a 40 percent. Teams typically like saavy face-off centers on their fourth line.
Also he's sometimes worked off the puck easily. Cousins isn't big at 5′-foot-10″,169 pounds according to the Flyers website, so the team would probably like him to gain a little more muscle. But both of these things can be worked on in the offseason.
Cousins may be a small role-player at the beginning of his career, but he's also shown in juniors and the AHL what he can do when he succesfully transitions into a new league. A bottom-six player may not be his full potential a couple years from now.
Feature photo courtesy: Amy Irvin / The Hockey Writers