Here we are on the cusp of another NHL Trade Deadline and the Buffalo Sabres are once again sellers. With the team further along with the rebuild, this deadline has more complexities than those of the last few seasons. This time around it'll be about asset management and salary cap foresight.
Acquiring Assets For UFAs
Let's start with the obvious. GM Tim Murray has done a good job managing assets by trading off expiring contracts for at least a small piece in return. This year's upcoming unrestricted free agents include:  forwards Jamie McGinn and David Legwand, defensemen Mike Weber and Carlo Colaiacovo and goaltender Chad Johnson.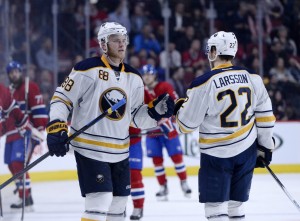 Of these assets, McGinn is the most valuable. His experience and combination of grit and offense make him an ideal addition for a playoff bound team looking to add a top-nine forward for the stretch run. It's been reported that the Sabres are looking to acquire a second-round pick for McGinn's services.
Beyond McGinn, there probably isn't a lot of value to be had for the the remaining UFAs. Weber could be a nice depth acquisition and fetch a mid to late round pick or low-level prospect, while Legwand's veteran presence could lure in a potential buyer. Either way, don't look for a big splash here.
Another point to consider is that by clearing out space on the roster, younger players from Rochester can be given an opportunity to wet their ears with NHL experience. In particular, dealing Johnson could free a spot for Linus Ullmark who has showed promise playing in the NHL and who has been phenomenal of late for the Amerks.
Salary Cap Forecasting
This is where things get more interesting. Beyond the impending UFAs, there are some contracts that the Sabres would be better off without. At the top of the list is forward Matt Moulson who is slated to make $5 million a year through the 2018-19 season. His play has taken a nosedive this season, making him nearly impossible to be dealt. But, if David Clarkson can be traded, anyone can. The Sabres would likely have to retain part of Mouslon's salary and have to give up some additional assets, if such as trade is possible.
Check out the Sabres full salary cap breakdown on the team page
Although Brian Gionta is the team captain, he could also be a candidate for a trade in an effort to free up cap space. He comes in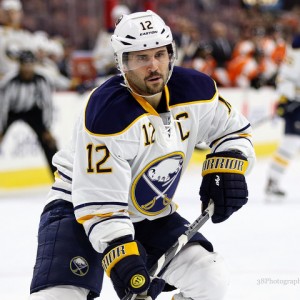 at a cap hit of $4.25 million through the 2016-17 season. With Gionta making slightly less than Moulson and having a much shorter term, he's a more viable trade option.
We can look at Josh Gorges in a similar vein. The defenseman is making $3.9 million each year through the 2017-18 season. Given his position, he will certainly yield more value than Moulson or Gionta. With Dion Phaneuf already being dealt, the pool of defensemen potentially on the trading block appears to be thin, which works to the Sabres advantage.
With the Sabres still well under the salary cap and a good chunk of money coming off the books at the end of the season, you may be wondering why worry about the cap now? The team needs to look to both the short and long-term future. The Sabres no doubt want to augment their roster and would like to have the space to pursue any free agent they want, especially if there is even a glimmer of hope of landing Steven Stamkos.
Beyond that, the Sabres have a lot of currently cheap young talent who will need to get paid. At the top of the list is Rasmus Ristolainen who is set to become a restricted free agent at the end of the season. The Sabres will no doubt want to lock him up with a max deal as he's proved to be a franchise cornerstone on the blue line. In the short-term Zemgus Girgensons will be another pending RFA the Sabres will want to re-sign to a multi-year deal.
And is always the case, it's never too early to look ahead. Within a few years time both Jack Eichel and Sam Reinhart will be commanding very large contracts that will have to be budgeted for.
Building For the Future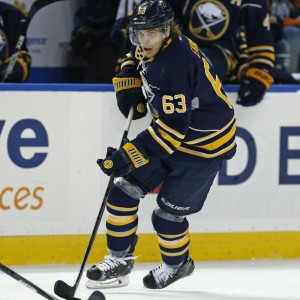 The most intriguing player to to keep an eye on is Tyler Ennis. Ennis is still relatively young at 26, but as fallen victim to the injury bug, which has impacted his production when he has been able to lace up his skates. Ennis is signed through the 2018-19 season, coming in at an annual cap hit of $4.6 million. What makes Ennis a tantalizing trade piece is that he could be part of package that brings back talent to build around for the future (i.e. the Evander Kane trade), rather than just a salary dump.
This is of course the third type of trade to watch out for. Murray has shown he's not afraid of being aggressive and is always on the look out for ways to improve his team for the future. The Sabres still need to acquire a few pieces to build themselves into a contender so Murray understands his work in building a Stanley Cup caliber team is far from done.
As for now, we can only wait and see how everything unfolds as we inch closer to the February 29th deadline.
As an American based in Amsterdam, Joe provides a unique hockey insight, bringing a global perspective to the game. Joe has several years of experience covering the game on both a domestic and international level, including being credentialed for multiple World and World Junior Championships.