Don't expect Peterborough Petes forward Nick Ritchie to slide past the top-10 mark in Friday's NHL Entry Draft. The big left winger seems to have all the right tools to impress NHL front offices and should be among the first 10 selections. But could he drop to number eight? Could he be a potential target for the Toronto Maple Leafs?
As history would dictate – at least since the Brian Burke era in Toronto – big tough forwards seem to have a place in the Leafs' lineup. Under that description, it only seems natural that Toronto would be interested in drafting a player with Ritchie's size and skill level.
Historically in the First Round
The 2009 Entry Draft marked Burke's first year as Leafs' president and general manager – and he had a game plan for what he wanted Toronto's team to look like. He wanted a big, tough, and physical presence on the ice – a team with the offence and the grit to protect those offensively gifted players.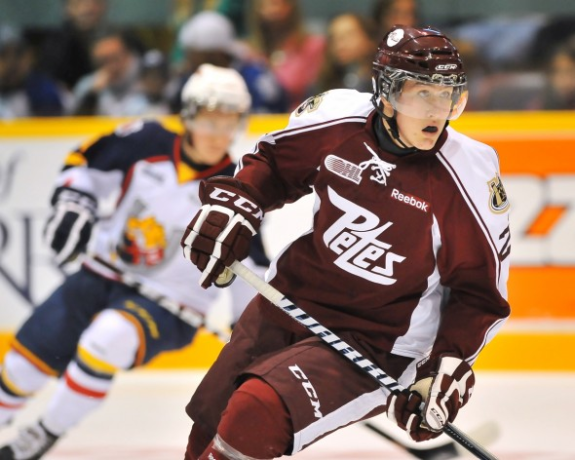 That year, the Leafs drafted Nazem Kadri with the seventh overall pick. Now, Kadri isn't exactly the biggest of players. He stands at six-feet and only weighs about 185 pounds, but he played like a power forward. It's his play that sets him apart and made him a typical pick for the blue and white.
While he's never been the quickest skater, Kadri's stick handling and accurate wrist shot puts him among the offensive players in Burke's plan. However, Kadri came with an arrogance to him – one that included running around the ice and laying hard hits into anyone who may be in his way.
Toronto didn't see another first-round pick until 2011 when they had both the 22nd overall pick and the 25th overall pick. That's when they took Tyler Biggs and Stuart Percy with those picks, respectively.
Biggs, a right winger out of the Oshawa Generals organization, plays with the intensity and grit that Burke was looking for. While he's only played 61 games with the Leafs' AHL franchise, the Toronto Marlies, his physical play has been more existent than his offensive skill so far in his career.
Percy, who's played parts of three seasons with the Marlies, has fit in perfectly when it comes to Burke's mould of what his on-ice product should look like. The 6'1" defenceman has both produced offensively in his 76 games with the AHL franchise as well as played a hard physical game in helping the Marlies to the AHL conference finals in 2013-14.
Similarly, Toronto's last two first-round picks (Morgan Rielly in 2012 and Frederik Gauthier in 2013) have fit into the prototypical Maple Leafs' first-round standard. While it's still too early to judge how Rielly and Gauthier will turn out, their involvement with Canada's World Junior teams and Rielly's transition to the NHL have put them into the list of approved physically-able and offensively skilled first-round choices.
[See related: Nick Ritchie – The Next Ones: NHL 2014 Draft Prospect Profile]
How Ritchie Fits?
Nick Ritchie is about 6'3" and weighs just under 230 pounds. While the Leafs ideally need a centre, Ritchie's size and skill level make him a definite target for the Maple Leafs on draft day – even as a winger.
Over his three seasons in the OHL with the Peterborough Petes, Ritchie's seen an increase in points, plus-minus rating and (whether it's good or bad) penalty minutes. Ritchie finished 2013-14 with 74 points (39g-35a) in just 61 games, adding 10 more (5g-5a) in 11 playoff games for the Petes.
His hard-nosed play gives him a physical edge to some of the other players in the draft – a skill set the Leafs could use in controlling the cycle in the offensive zone. This big-bodied 18-year old has shown his ability to maintain puck possession throughout his junior career and would add to the offensive prowess of Toronto's second line alongside Nazem Kadri and David Clarkson.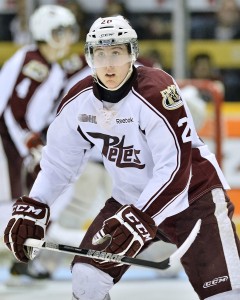 While he may not make the Leafs out of training camp for the 2014-15 season, Ritchie's reward far outweighs the risk associated with drafting the native of Orangeville, Ontario. He should have a bright future wherever he ends up, but it would be quite the story for the Toronto-area Ritchie and his family if he could pull on the blue and white.
What the Scouts Say
Let's start by checking in with TSN's Director of Scouting, Craig Button, who has high praise for the big left winger: "Ritchie's blend of skill, power and size is second to none. He has an excellent shot that can overwhelm goalies. He has the capability of being brilliant yet is still growing as a player. Scary thought!"
And a scary thought it is. But Button isn't the only person raving about Ritchie's incredible upside. In fact, Brendan Ross – the Managing Editor of Dobber Prospects – had similar thoughts regarding Ritchie.
5th Nick Ritchie (@PetesOHLhockey) – dominant power forward…top-end skater, physicality, shot…best pro game…inconsistency only issue

— Brendan Ross 🇨🇦 (@RossyYoungblood) June 7, 2014
Bob McKenzie furthered the discussion by adding: "Nick is a Powerful player and when he is skating and driving hard, he is extremely difficult to stop. He has a nose for the net and will take the puck to the net and can score with a very good shot or in tight around the net. Very good along the boards and can quickly win a puck battle and create scoring chances. With skating and size, he opens up lots of opportunities for his line mates. Players like him are not common."
Other scouts and members of the media have compared Ritchie to NHL players like Dallas Stars' Jamie Benn and New York Rangers' Rick Nash. Those are some high appraisals for a guy who hasn't even been drafted yet. Either way, he'd be a force and a strong presence in the Maple Leafs' lineup.
For more, follow Andrew on Twitter @AndrewGForbes or his THW column at @Tape2TapeTHW.