There are two missions in hockey. Preventing, and scoring goals. Or, preventing and creating shot attempts (depending on your views). The former reason, is the root cause of the decision for the Tampa Bay Lightning overpay of Ryan Callahan to the tune of 6-years and $34.8-million
The Situation:
As a Tampa Bay Lightning fan, I have developed a massive amount of respect for the decision making ability of General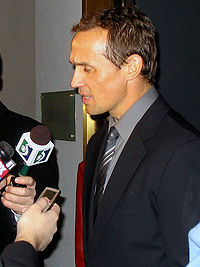 Manager Steve Yzerman. After his decision to leave Martin St. Louis off the Team Canada roster unraveled into a smoldering wreckage consisting of St. Louis whining on an island by himself and screaming for a trade, Yzerman was able to make the best of a bad situation by bringing in a "strong possession player" in Ryan Callahan and some draft picks for the disgruntled former Lightning captain.
Since the Rangers made it to the Stanley Cup, the completed St. Louis for Callahan deal results in two first-round picks for the Lightning, while the Rangers now receive Tampa's 2015 2nd round pick since the Bolts re-signed Callahan.
In a move that comes to the surprise of nary a soul, the Tampa Bay Lightning exercised their compliance buyout on Ryan Malone — which freed up $4.5 million in cap room — , whom has been an absolute atrocity on and off the ice. On the ice, he has averaged 0.33 and 0.26 points per game in the past two seasons, after posting approximately 0.68 points per game from 2008-2012 — his previous four years in a Lightning uniform before the past two joke seasons.
While us Lightning fans are surely glad to see Malone gone, especially after his recent arrest for DUI and possession of cocaine , this deal for Callahan is another in a long line of 4-to-5 year contracts for aging players. Luckily, Valterri Filppula, — Yzerman's most recent one — has certainly worked out so far. Nonetheless, here is a list of recent players that the Lightning have signed to multi-year deals around the age of 28-31.
Eric Brewer – 4 years $15.5 million – signed at age 31: 
Ryan Malone – 7 years $31.50 million – signed at age 29:
Vincent Lecavalier – 11 years $85 million – signed at age 29
Since most of you just threw up in your mouths, here's a brown paper bag.
Can the Callahan deal be different?
Callahan is a specific type of player that the Lightning have needed since the fall of Ryan Malone (about three years ago). With the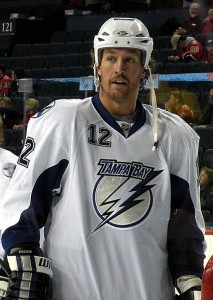 Lightning's average age of 26.41 years old — which is fifth youngest in the NHL — the Bolts desperately needed a veteran presence like Callahan — especially in the wake of the Martin St. Louis catastrophe. Of course, the catastrophe being the effect on the young players in the locker room.
Callahan brings toughness, grit, leadership, and in addition to all those "Scrappy McIntangibles" he's a pretty darn good possession player, very similar, in fact better than Dustin Brown. Brown is making $5.87 million with the Los Angeles Kings — yes those Kings, the ones that just won a Stanley Cup — and while he is being overpaid, he plays a valuable role on that team. If the Lightning could not have gotten a player such as Callahan without paying as much as they did, I'm okay with it.
But here's the problem. Like Ryan Malone, Callahan has played just one full season — two if you count the lockout shortened campaign of 2012-2013. Twenty-nine year old grinders that play hard and tough along the boards, that have in the past shown difficulty staying on the ice, don't suddenly become less fragile as they advance through their early 30's. In fact, quite the opposite.
You know what they say, flags fly forever. If in the first three to four years of this deal, Callahan can be a valuable member of a Stanley Cup, or even near Stanley Cup team, than the deal is a win. But there is an awful lot that can go wrong with this deal, and it will likely start when Callahan turns 33.