The Toronto Maple Leafs are just five games into the 2016-17 NHL season and their problems on defense are glaring. Three of those games they've given up a lead to lose in overtime 5-4. Now some may point to Frederik Andersen being the reason for all those lost leads, but he really hasn't been that bad. Andersen isn't the problem, it has been the defensemen in front of him.
Coach Mike Babcock has been juggling the defensive pairings to try and find more optimal combinations, but he hasn't played Nikita Zaitsev on the top defensive pairing. That was no longer the case heading into Tuesday's game against the Tampa Bay Lightning with Zaitsev playing with Morgan Rielly. This is Zaitsev's chance to show that he's a top pairing defenseman and help the defense in front of Andersen.
Interesting development at Leafs morning skate: Nikita Zaitsev joins Morgan Reilly on team's top pair.

— Jonas Siegel (@jonassiegel) October 25, 2016
The Leafs Only Option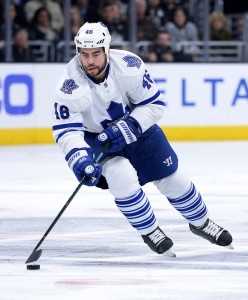 It's surprising that it took this long to play Zaitsev on the top pairing when considering the other options. In terms of right-handed defensemen there is Roman Polak, Connor Carrick and Frank Corrado. The reason why that is important to note is because of Babcock's style of having defensemen play on the same side as their handedness (left-handed players play on the left side and right handed play on the right side).
First off, Corrado hasn't even played this season and would be out of his depth playing higher than the third defensive pairing. Secondly, Polak also shouldn't play higher than third pairing and Carrick is still a rookie defenseman and can benefit from playing sheltered minutes. Babcock has also played left-handed Martin Marincin with Rielly, but with little success.
That leaves Zaitsev. Now Zaitsev is a 24-year-old rookie in his first year in the NHL and first year playing in North America. When thinking of him as a rookie, only think in terms of it being his first year. Zaitsev has both the ability and experience to play on the Leafs' top defensive pairing from his time in the Kontinental Hockey League.
Time in the KHL
Before coming to the NHL, Zaitsev played seven seasons in the KHL. His first four seasons were with Novosibirsk Sibir and the fewest games he played in a season was 39 in 2010-11. It wasn't until the 2012-13 season that Zaitsev was playing top pairing minutes, averaging 24 minutes a game. That was also when he started to contribute offensively finishing the season with 18 points in 49 games.
Zaitsev then spent the next three seasons playing for CSKA Moskow and always averaged more than 20 minutes a game playing on the top pairing. Zaitsev could do everything Moscow needed. He led Moscow's defense with most points in 2014-15 with 32 points in 57 games and most blocked shots with 51. He did the same in 2015-16, leading Moscow's defense with 26 points in 46 games and 62 blocked shots.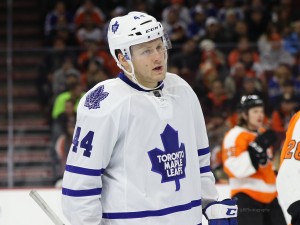 So coming into the NHL, Zaitsev has had four seasons of experience playing on the top defensive pairing. That experience has slowly shown itself to Babcock over five games and Babcock has responded by relying on Zaitsev more. In five games, Zaitsev has an average time on ice of 22:22 with only Rielly averaging more. Zaitsev is also tied with Reilly in points with three points in five games.
Although the Leafs had an embarrassing 7-3 loss to Tampa Bay, Zaitsev managed to play well with Rielly and assisted on a goal by James van Riemsdyk. Zaitsev finished the game with 22:13 time-on-ice and an even plus-minus.
The coaching staff may have wanted to ease Zaitsev into the NHL, but he's shown every night that he can play more minutes and take on more responsibility. It's time to give Zaitsev the chance to be a top pairing NHL defenseman and help with the Leafs defensive play.