Nino Niederreiter is currently a hot commodity. We are just one week away from the expansion draft and trade rumors continue to circulate through the hockey universe. There have been several names that continuously comes up in trade talks, including  Niederreiter.
After being traded to the Minnesota Wild in 2013, Niederreiter has developed into the player the New York Islanders never got to see. He's become a solid two-way player and a perennial 20-25 goal-scorer.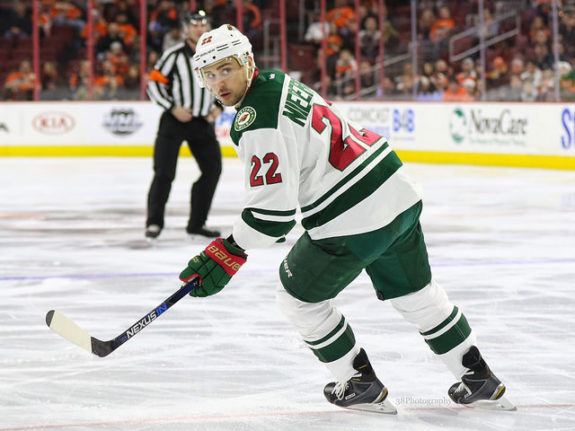 With that being said, the Swiss forward is continuing to draw a lot of trade interest. The Wild also have not yet begun negotiating a new contract for Niederreiter. His agent, Andre Rufener recently told Michael Russo of the Star Tribune that he isn't concerned about the trade rumors.
[miptheme_quote author="Nino Niederreiter's agent, Andre Rufener" style="text-center"]That's part of the business. If other teams are interested in you, that's a huge compliment. We just take it as that, and we're not worrying or thinking about it because we both think it's not going to happen. We're just taking this as a positive thing. There's interest in him around the league. But we know his value for the Wild and he loves playing for Minnesota. It makes no sense. We know that stuff, we listen to all that stuff, but at the end of the day, now is a time for Nino to recover, to relax, to practice hard and not have his mind somewhere in the news or somewhere in the press. He does really well with this. It's all good. We'll see how this is going to pan out.[/miptheme_quote]
Nino Good as Gone?
According to Russo, general manager Chuck Fletcher and Niederreiter's agent plan to start negotiations after the expansion draft next Wednesday, but that doesn't mean that the Wild couldn't make a move before then. The Wild have already begun some talks with Mikael Granlund and his agent, which leads me to believe that the Wild are interested in moving Niederreiter.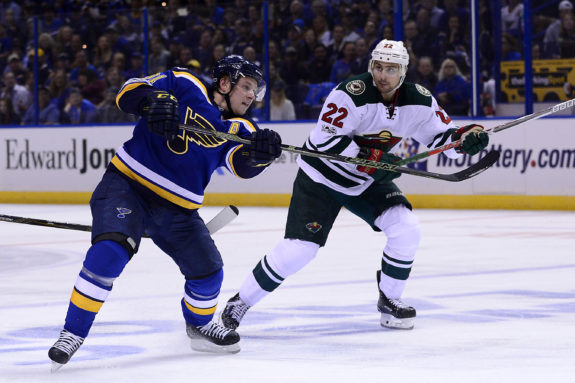 Niederreiter is a big forward who plays hard. He uses his size to keep the puck away from defenders and to screen opposing netminders. He has scored 20 or more goals in three of his four seasons with the Wild, including his career-high 25 goals this year.
The Wild have similar players in Mikko Koivu and Charlie Coyle. Both use their size to make plays and are usually good for 18-25 goals a season. The NHL has become faster and teams are trying more and more to add speed to their teams. If the Wild already have bigger power forwards in Coyle and Koivu, would it make sense to trade Niederreiter?
Nino Provides Significant Trade Value
In the summer of 2013, Chuck Fletcher was able to acquire Niederreiter in a trade in exchange for a third-round pick and Cal Clutterbuck. Four years later, you can look back on this trade and easily proclaim that the Wild won this trade. The Wild now have an opportunity to trade that very player they traded for in 2013 in return for some valuable assets. A trade involving Niederreiter could easily get the Wild a quality player and a higher draft pick in return.
It's no secret that the Wild are going to lose a good player to expansion. The Wild are likely going to protect just three defensemen. Should the Wild go that route, the likes of Jonas Brodin, Matt Dumba or Marco Scandella will be exposed. There have been trade talks involving both Brodin and Dumba as well. If Fletcher were to lose two defensemen via trade and expansion, he may look to use Niederreiter as trade bait to bring in a top-four defenseman.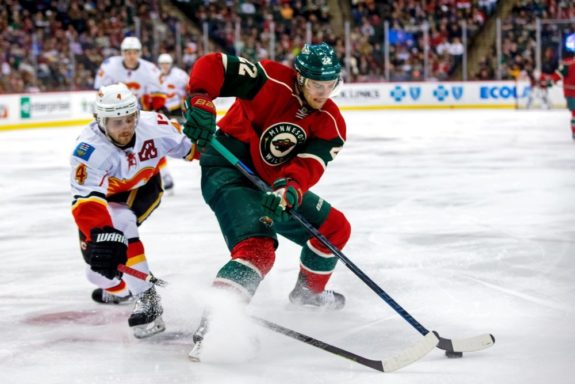 The NHL trade freeze starts at 3 p.m EST this Saturday and ends Thursday, June 22 at 8 a.m. EST. This trade freeze does exclude the Las Vegas Knights, which means that if the Wild want to make a move sooner than later, they will have to make that deal before that Saturday deadline.