After a difficult 2016-17 season, Taylor Hall has been the heart and soul of the New Jersey Devils in his second year with the team. He has 70 points in 60 games, has set a career-high in goals (29 and counting), and will very likely set a career-high in points, too. Even though he's amongst the league's best, he's had little help from his supporting cast, especially as of late. To make the playoffs, the Devils will need some of his teammates to step up and help carry the team to the postseason.
Taylor Hall Dominating in All Facets
Before getting into the Devils' lack of scoring support aside from Hall, it's important to note how good he has been. Since Jan. 1, he has 17 goals and 34 points, which is equal with Sidney Crosby for the second-most points in the league. Only Evgeni Malkin has scored more than either player during that time span.
Hall has also been the Devils' best point producer at five-on-five since New Year's, averaging 3.10 points per 60 (P/60) minutes. The next best rate after him would be Nico Hischier's 2.71 P/60, and there's an even more significant drop-off to third-place Miles Wood (2.01 P/60). Hall has also averaged 9.79 individual scoring chances per 60 minutes, which is second-best on the team behind Wood.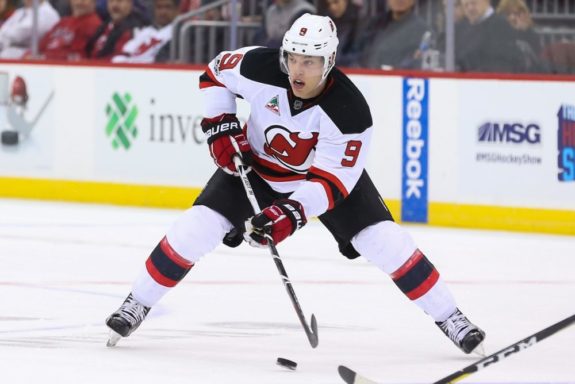 It's pretty clear that when Hall is on the ice, good things tend to happen. He has at least a point in every game he's played in the calendar year and has nine multi-point games during that stretch. In the process, he managed to break the Devils' franchise record of 15 consecutive games with a point, which was previously held by Patrik Elias and Brian Gionta.
Hall's play has gained recognition around the league and has him in the thick of the conversation for a Hart Trophy nomination. He's currently on pace to finish with around 90 points, and barring something unforeseen, will end the season as the Devils' leading scorer by a wide margin. There's no doubting his significance to the team, and he'll be a major reason why they qualify for the postseason.
Who Will Step Up for the Devils?
Although Hall is putting up MVP-worthy numbers, he can't do it all by himself. The Devils will need their other top players to step up in the team's final 17 games. That sentiment was apparent after Friday's 3-1 loss to the Carolina Hurricanes, which was their second in as many nights.
"We just need more from everyone who's not Hallsy," Travis Zajac said. "We can't wait for him to do it all. We need more."
Zajac wasn't the only one to speak out. Head coach John Hynes called on the rest of his team to step up to help Hall out.
"We need a lot more guys going," said the Devils head coach, "The last two games we've been outplayed. We don't have enough guys playing as hard enough, as committed enough and as detailed enough to have success. So we got what we deserved. Last night and tonight."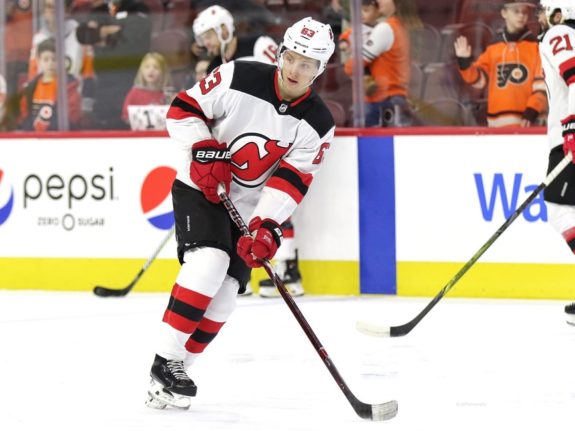 The Devils have been a team of streaks, whether it's wins or losses, since the start of the new year. The result has them being a .500 hockey team for quite some time. If they're going to break out of this stagnant play, the team's other players will need to step up. Kyle Palmieri has 15 points in his last 17 games, but other than him, the secondary scoring has been hard to come by.
Jesper Bratt, who got off to a white-hot start this season, has just 4 points in his last 20 games. Miles Wood, who has 16 goals to date, has only scored twice since Feb. 1. Pavel Zacha, who's been playing in a top-six role for better half of the calendar year, has just two goals and no assists in his last 12 games.
If the Devils are going to make the playoffs, they'll need these players to start finding the scoresheet again, and they need to do so as soon as possible. If not, then those aspirations may dwindle over the final weeks of the season.
Related: Devils on Right End of Maroon Deal
Devils Hope Additions Up Front Will Help
Although the Devils didn't make a blockbuster trade at this year's deadline, they still managed to add Patrick Maroon and Michael Grabner up front for a couple of picks and prospects. Grabner has yet to notch a point as a Devil while Maroon picked up two assists in his first game with the team.
Depth scoring has been a problem for the Devils since Brian Boyle and Brian Gibbons have come back to down to earth from their strong starts to the season. The hope is that Maroon and Grabner can help alleviate some of that regression. Maroon had 14 goals and 30 points before joining the Devils while Grabner had 25 goals with the New York Rangers.
Neither of these two has to be a point-per-game player for the Devils. That said, with 17 games remaining and a playoff spot far from secured, their contributions will be crucial to them clinching a postseason berth by the time April rolls around.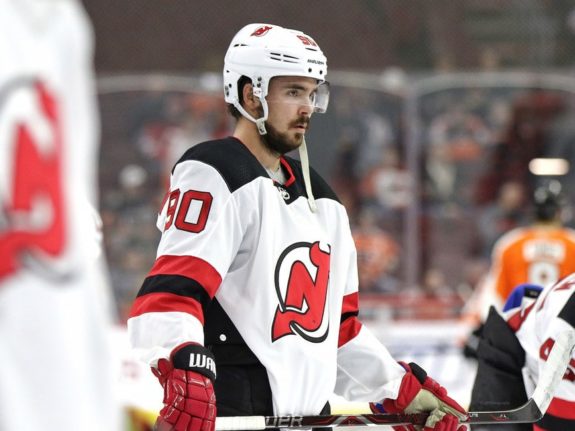 In addition to Grabner and Maroon, the Devils remain hopeful that Marcus Johansson will return to game action sooner rather than later. He brings skill and speed that they've been missing in their top-six since he went down with his second concussion in less than three months. He'd also provide some much-needed help on a Devils power play that struggles when Taylor Hall is not on the ice.
Johansson's presence, combined with the additions of Grabner and Maroon, should give the Devils a pretty good boost in scoring. They'll need players like Wood, Bratt, etc. to regain their scoring touch, too. If they don't, the Devils will find themselves stuck at .500 and in a difficult battle for a playoff berth until season's end with the risk of letting a career season from Taylor Hall go to waste.
 *       *       *
Advanced stats via Natural Stat Trick