Late last night, the New Jersey Devils acquired right-winger Michael Grabner from the New York Rangers in exchange for a 2018 second-round pick and defenseman Yegor Rykov. Grabner, 30, has 25 goals this season and should provide solid scoring depth for the Devils.
The Scoring Threat the Devils Needed
In his time with the Rangers, Grabner developed a reputation as a legitimate scoring winger. While he's only tallied 19 assists, he's scored 52 goals since the start of the 2016-17 season good for 21st in the league, more than forwards Filip Forsberg, Max Pacioretty, and Jamie Benn.
It shouldn't come as a surprise that Grabner has a high shooting percentage given how often he scores. In 2016-17, he finished with a 16.7% shooting percentage and is shooting at 19.1% this season. Those numbers may seem unsustainable but he's been doing it for almost two full seasons and has shown no signs of slowing down.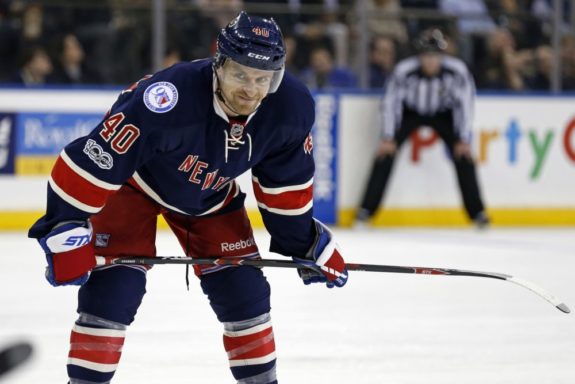 His high percentage is partly due to the fact that 7 of his 25 goals were scored into an empty net, but that shouldn't be of too much concern for the Devils. Even if you took away his empty net goals, Grabner would still have 18, which would put him second on the Devils just behind Taylor Hall.
One thing he has going for him is that he shoots the puck quite often. He finished last season with 162 shots on goal and is on pace to finish with 182 this season. If Grabner can continue shooting at that rate then I suspect he'll be able to continue finding the back of the net and give his shooting percent less of a chance to regress.
Grabner at Five-on-Five
While Grabner does score quite often, his five-on-five numbers are a mixed bag. He has a 44.9% Corsi For (CF%) in two seasons in New York. He also has an expected goals for (xGF%) of 47.2%, which isn't great either. He has never been able to drive play and I wouldn't expect that to start now.
Ultimately, it boils down to his five-on-five production which is quite good. He's averaged 8.49 individual shots per 60 minutes, which is second best, behind Rick Nash. His individual goals for per 60 minutes of 1.37 is the best mark on the Rangers and he has also averaged 1.84 points per 60 minutes which is fifth best on the team.
The Devils have improved their five-on-five scoring significantly this season and Grabner should help boost it some more. Of his 52 goals, 37 of them have come at five-on-five, the most of any Ranger. With Marcus Johansson still out after suffering a concussion in January, the Devils need some scoring depth and that's exactly what Grabner will give them. He should fit in nicely somewhere on their middle-six lines and has the speed to fit in with the team's style of play.
Related: Is Alex Galchenyuk in Devils Trade Deadline Plans?
Grabner's Contract Gives Devils Flexibility
Although Grabner is an unrestricted free agent at season's end, I assume the Devils will make every effort to re-sign him, assuming he plays well. His cap hit of $1.6 million should also be of note here. Even with his money on the books, general manager Ray Shero will still have just over $7.3 million in available cap space for the rest of the season.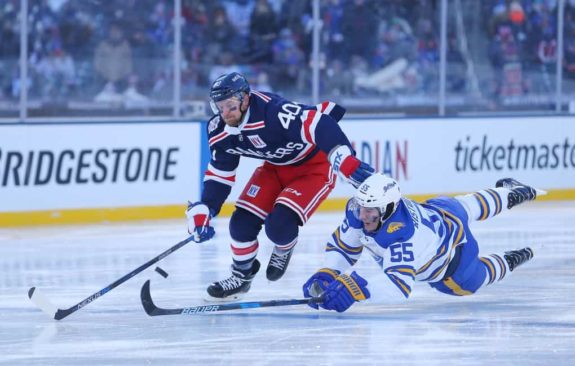 If they'd like to make another trade, they have the ability to do so and will have plenty of cap space this offseason. While Grabner undoubtedly helps the Devils offense, they could still use another young, scoring option long-term. Players such as Mike Hoffman have surfaced in the Devils rumor mill. Maybe that's out of the realm of possibility now, but given Grabner's contract, it still it gives management the chance to explore those options.
Final Take on Grabner
Grabner may not be a blockbuster acquisition but he helps the Devils offense. His shot rates are pretty good and he scores often. With injuries to Johansson, Brian Gibbons, and John Quenneville hurting the Devils' scoring depth, Grabner will be able to give them a lift.
Ray Shero had emphasized that he was not looking for short-term fixes, so adding Grabner is a bit of a surprise in that sense and makes re-signing him of the utmost importance this summer; especially since they traded their best defensive prospect in Yegor Rykov to the Rangers. If Grabner is able to do what the Devils expect of him, then I assume he will be in red and black next year and should be a valuable depth scorer down the road.
      *       *       *
Advanced Stats from Corsica Hockey