Earlier this week, I wrote about who the New Jersey Devils should target in free agency for scoring help. Another area that requires attention is their blue line. They are in need of at least one top-four defenseman. That may prove difficult to find in a weak free agent class, but there are a few options to consider. Here are five defensemen that could be of interest on July 1.
Calvin de Haan
De Haan has spent his entire career with the New York Islanders. In that time, he's totaled 81 points in 304 games, including a career-high 25 points in 2016-17. His numbers may not seem impressive, but he has been a steady presence on the Islanders' blue line.
Over the last three seasons, he has a relative Corsi (Rel CF%) of 0.5% and a relative goals for (Rel GF%) of 2.9%. He also has a relative expected goals (Rel xGF%) of 5.2%, which is second best on the team to Jordan Eberle.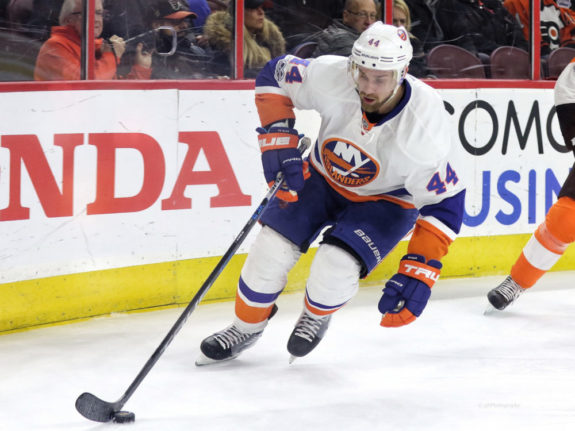 De Haan isn't going to fill up the scoresheet any time soon. However, that doesn't mean he isn't capable of providing some offense. Since 2015, he's totaled 57 points in 187 games, which comes out to a 24.9 point average over 82 games. That's pretty respectable for a second-pair defenseman.
He isn't the answer to all the Devils' defensive troubles. That said, de Haan is a top-four defenseman with puck-moving abilities. His previous contract was a one-year deal worth $3.3 million. He'll likely receive something similar since he missed most of 2017-18 with an injury. For that price, he'd be an upgrade for the Devils without breaking the bank.
Michal Kempny
Kempny has only been in the NHL for two seasons. He signed with the Chicago Blackhawks in 2016 after spending the previous eight seasons in various European leagues. He finished this season with 10 points in 53 games between the Blackhawks and Stanley Cup-champion Washington Capitals.
His stats may not catch your eye at first glance. However, much like de Haan, Kempny's underlying numbers stand out. In his two NHL seasons, he has a 3.5% Rel CF% and a 5.6% Rel xGF%. Although he doesn't score much, he averaged 0.69 points per 60 minutes (P/60) at five-on-five. That number is nearly identical to John Moore, who averaged 0.68 P/60 the last two seasons.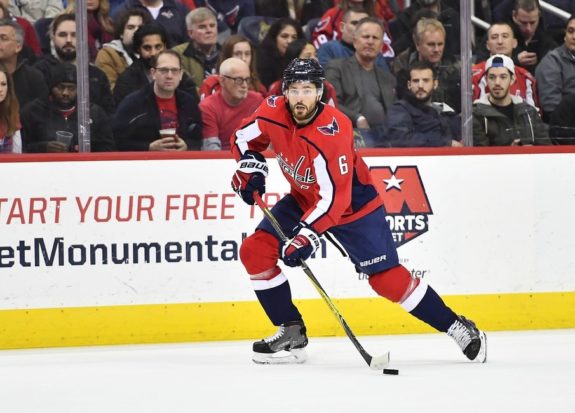 Kempny has a few things going for him. He's a capable defender in a weak class, is only 27-years-old, and was a valuable asset for the Capitals' Stanley Cup run. He may not provide much offense but would be a defensive upgrade over Moore. If he's willing to sign a short-term deal, he should get the Devils' attention.
Mike Green
Green may be the most enticing free agent defenseman after John Carlson. The right-handed blueliner has spent the last three seasons with the Detroit Red Wings, totaling 104 points in 212 games. He finished this season with 33 points in 66 games.
Although he puts up points, his underlying numbers at five-on-five have fallen in recent seasons. For example, his Rel xGF% has gone from 2.8% to 1.4% to minus-1.3% in each of the last three seasons. He also had a negative impact on CF% when on the ice the last two seasons. Granted, the Red Wings have not been great, but that's not a trend you want to see.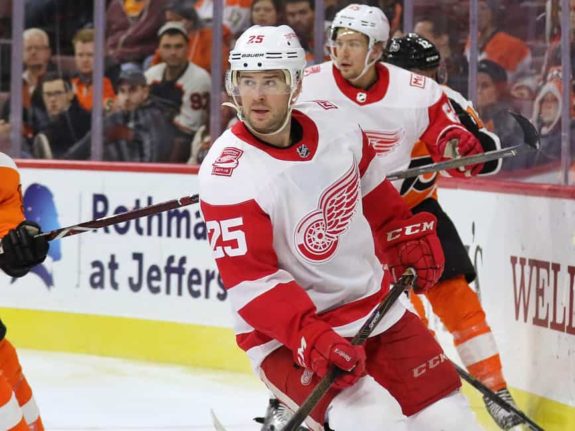 With the free agent market being thin, Green has an opportunity to cash in. Hockey Graphs' Matt Cane has him projected for a five-year deal with an AAV of $5.6 million. He may provide offense, which the Devils need from their blue line. However, his declining numbers at five-on-five raise some red flags. A deal such as Cane's would most likely prove burdensome down the road. That should keep the Devils away from Green when free agency begins.
Related: Devils Free Agency: Don't Expect Spending Spree
Thomas Hickey
A former top-five pick by the Los Angeles Kings in 2007, Hickey has turned his career around with the New York Islanders. Since being claimed off waivers in 2013, he has totaled 111 points on 409 games. He finished this season with a career-high 25 points in 69 games.
He may not be an offensive dynamo, but his numbers are encouraging. Over the last three seasons, he's averaged 0.94 P/60 at five-on-five. That's equivalent to Seth Jones, Jake Gardiner, and Keith Yandle. On the ice, his results are a mixed bag – the Islanders had a better CF% but worse xGF%.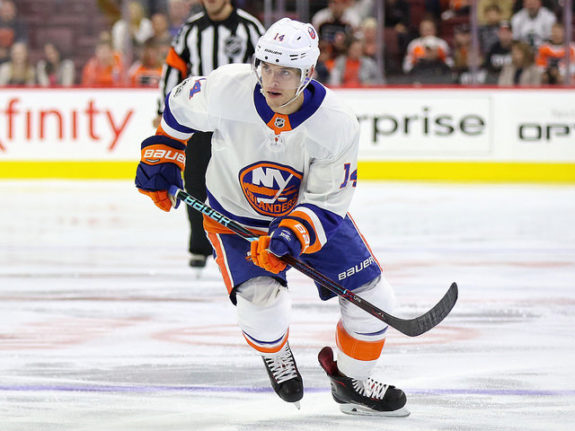 Hickey isn't a top-pair, shutdown defenseman. However, he averaged over 18 minutes of ice time in 2017-18, so he can eat minutes. The Devils also need a left-handed shot, which he is. He may not be a first choice signing but would be a good plan B if other options fall through. He'll come on an affordable deal, has offensive ability, and can play on their second or third pair. That should be enough for the Devils to at least give him a look.
John Carlson
I wrote a lengthy piece on Carlson just two weeks ago, so I'll keep this short. He's the best defenseman available this year and would make the Devils much better. The main issue is what it will cost to sign him. With Oliver Ekman-Larsson receiving an eight-year contract worth as much as $8.25 million a year, it may set a precedent for Carlson.
There are a few reasons why the Devils shouldn't pursue such a deal. Taylor Hall and Sami Vatanen will be eligible for extensions next summer, while Nico Hischier will be a restricted free agent the following summer. Signing Carlson to that type of contract could handcuff the Devils' ability to re-sign them.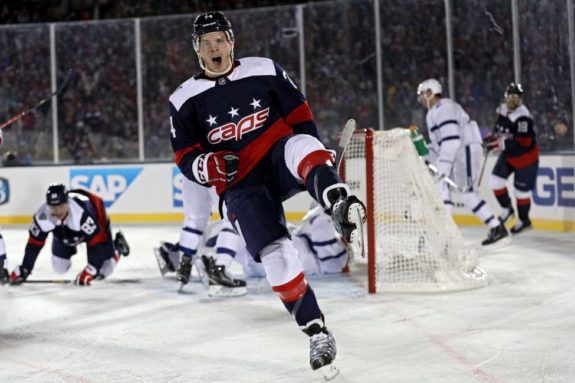 Carlson did have a career year, but it's unlikely he'll repeat his 2017-18 numbers going forward. As he's turning 29-years-old in January, the Devils would only get a couple of his prime years on a seven-year deal. Therefore, his price is just too much of a risk. The Devils should do their due diligence but are best off looking for more affordable options.
*     *     *
Advanced stats from Corsica Hockey