When the New Jersey Devils selected Pavel Zacha with the sixth overall pick in 2015, they had high hopes for the Czech forward. He was Ray Shero's first draft selection as Devils general manager and signified the beginning of what would be his plan to rebuild the organization from the ground up.
Since making his NHL debut in the team's final game of the 2015-16 season, Zacha has struggled to produce. He's totaled just 51 points in 140 games, which comes out to a 29-point average over 82 games. This past season was much of the same for Zacha, who he equaled his point total from 2016-17. Here's a review of how the 21-year-old's season went.
Zacha's Numbers Remained Stagnant
When dealing with any young player—forward or defenseman—monitoring his development in his first couple of seasons is critical. Zacha was more comfortable with the team during the preseason and looked ready to take a step forward. However, that's not how his season turned out. On top of being unable to total more than 25 points, his impact at 5-on-5 was about the same as the previous season, as the following graph will show.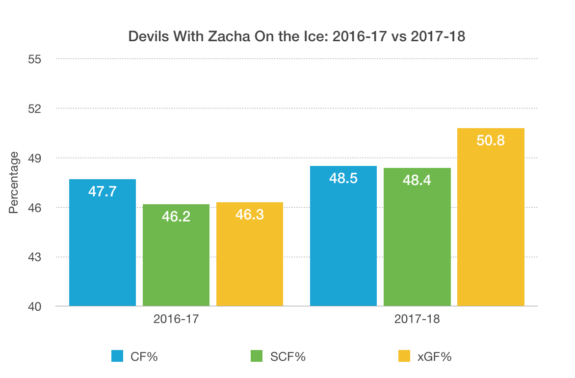 There was some improvement with Zacha on the ice, but overall, his numbers only saw slight increases. The Devils' Corsi (CF%) increased by 0.8 percent, and although their scoring chances (SCF%) increased by 2.2 percent, they were still out-chanced with Zacha on the ice. For a forward who played top-six minutes for a good part of the season, you'd like to have better results than those.
Despite the underwhelming CF% and SCF%, the Devils were still expected to score more when Zacha was on the ice. Unfortunately, they scored just 46.6 percent (GF%) of the time he was on the ice, which is 4.2 percent below his expected goals (xGF%). One reason for that was the Devils' 5-on-5 shooting percentage when he was on the ice, which was only 6.8 percent. That number was the fourth-lowest of any player to play at least 100 minutes for the Devils, so some poor luck played a part in his low GF%.
Zacha Showed Some Improvement in Second Half
After a frustrating first half of the season, Zacha's game did take a bit of a positive step forward in the second half. His on-ice possession and scoring chance numbers may not have improved; for example, his CF% in his first 39 games was 48.8 percent compared to 48.6 percent over his last 30 games, while his SCF% was 48.2 percent compared to 48.6 percent.
However, where Zacha did take a step forward was in his ability to provide some offense.
Stat
First 39 Games
Final 30 Games
Total points

 

11
14
Points per 60 minutes
1.22
1.67
Points per 82 games 
23.1
38.2
His scoring rates were noticeably better over his final 30 games. He produced at almost a 40-point pace. He also was one of the team's best producers at 5-on-5, averaging 1.67 points per 60 minutes. That mark was the sixth-best on the Devils over the team's final 30 games.
In addition to scoring more, he was also able to create more high-danger chances. In his first 39 games, he averaged 2.71 individual high-danger chances per 60 minutes (iHDCF/60). In his final 30 games, he averaged 3.83 iHDCF/60, which was sixth-best on the team.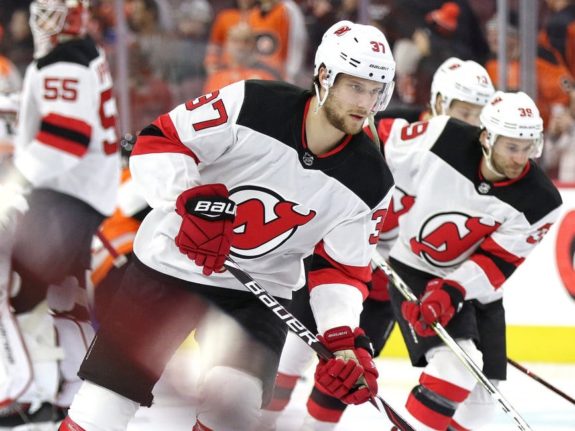 Zacha's increase in high-danger chances was no accident, either. After talking with John Hynes and his staff, they wanted him to get more dangerous areas of the ice to create more offense.
"I think I learned to be more competitive in the offensive zone," Zacha told Abbey Mastracco of northjersey.com. "The (coaches) didn't have problems with me in the D-zone, but in the offensive zone they saw that I'm not going where the goals are scored the most in the NHL and I was trying to be more in the corners or be the third-guy high and that's why I didn't have as many points as I would have like(d) to."
Related – Devils' Underrated Rookie: Blake Coleman
What Zacha Needs to Continue to Develop
For a player who was the sixth overall pick three years ago, Zacha should be further along than where he is right now. That said, any step in the right direction is a positive one, and we saw that a bit in his final 30 games. The key for him will be to build on that momentum in the offseason with the hopes of having a strong training camp and preseason.
In order to keep that momentum going, Zacha's focus needs to be on becoming a more reliable scorer. Behind Nico Hischier, the Devils lacked a second-line center with scoring capabilities. Unless they make a free-agent signing or trade of some sort this summer, Zacha will have to be that guy.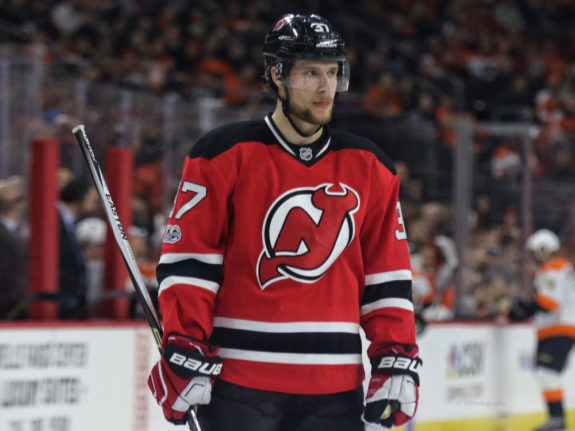 One way for him to help bolster his point totals is to start generating more shots. At 5-on-5, he had just 84 shots on goal and only created 145 shot attempts. To put that in perspective, Taylor Hall had 194 shots on goal and 323 shot attempts. I don't think anyone should reasonably expect Zacha to generate those kinds of numbers. Nonetheless, if he wants to be a mainstay in the Devils' top six, he'll have to shoot much more often than he did this past season.
I wouldn't hold my breath on Zacha becoming the high-level scorer that the Devils hoped he would be when they drafted him in 2015. That doesn't mean he can't be a useful player, though. There's no doubt next season could be a make-or-break year for him with the organization. If he can chip in 40-45 points, it'll not only help him as an individual but will give the Devils some much-needed secondary scoring. If not, then his future with the team could be in doubt after 2018-19.
*    *    *
Advanced stats from Natural Stat Trick and Corsica Hockey