Montreal Canadiens general manager Marc Bergevin got a head start at free agency by inking two Czech defensemen this week. Both David Sklenicka, 21, and Michal Moravcik, 23, signed deals with the Habs after impressive showings at the 2018 IIHF World Championship.
As teammates with Plzen HC in the Czech Extraliga, both are left-handed shots, which bodes well for the Canadiens' depth chart. That's one of the weakest positions in the organization. Nevertheless, it's important for Habs fans to temper expectations accordingly, as Bergevin's been hit-or-miss (mostly miss) when fishing for free-agent talent in the well overseas.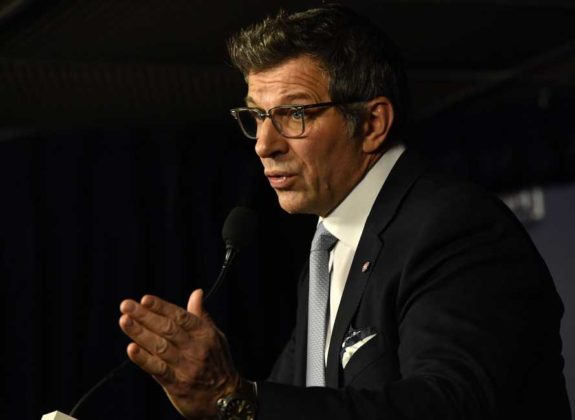 Adding talent to the pipeline is never bad. In fact, the signings should be heralded as one more reason this is Bergevin's best offseason so far. However, hoping to strike gold on two undrafted talents who have only been finding success in arguably the fifth-best league in the world?
Well, here are his four high-profile signings from overseas during his time as GM, to help put the moves in the proper perspective:
4. Jiri Sekac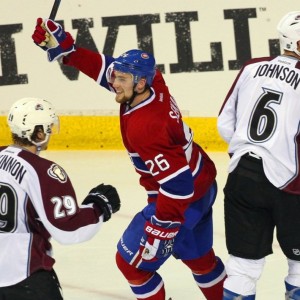 When general manager Marc Bergevin won the Jiri Sekac sweepstakes, it was one more feather in his cap during an overall successful 2014 offseason. Little did anyone know it would blow away soon thereafter.
Sekac had been coming off an impressive season in the Kontinental Hockey League with HC Praha Lev and some of that translated to the NHL, as he showed enough flashes of talent to actually be invited to the 2015 All-Star Game (as a rookie replacement).
The honeymoon didn't last for long after that though. He got traded after 50 total games with the Habs (16 points), having failed to earn a top-six spot. What followed were stints with the Anaheim Ducks, Chicago Blackhawks and Arizona Coyotes. Altogether, he played for four teams over two seasons, at which point there was little denying it was clearly "him." He then returned to the KHL, with little to show for his NHL experience.
On the plus side, the Habs got the apparent playoff beast that is Devante Smith-Pelly in exchange… just after his successful five-goal playoff with the Ducks and before all the accolades he's been receiving this spring during his stint with the Washington Capitals.
On the less-rosy side, the Habs then parlayed Smith-Pelly into Stefan Matteau, who didn't do much of anything for the Habs, except go on to sign with the Las Vegas Golden Knights. So, Sekac technically turned into two players currently playing for the Stanley Cup (even if Matteau hasn't played these playoffs).
Take from that what you will.
3. Bud Holloway
While George "Bud" Holloway only got in one game of NHL action after being signed from out of the Swiss National League A, he turned out to be more of a success than Sekac. That's due to how he was arguably never destined for the NHL at all.
Instead, he ended up leading the St. John's IceCaps of the American Hockey League in scoring in  2015-16 (Charles Hudon was second that season, as a point of reference).
There's a case to be made Holloway deserved more a shot with the Habs, especially on a team that struggled to find much in the way of success with Carey Price injured that campaign. As a 27-year-old with zero NHL experience at the time he signed his one-year, two-way contract though, Holloway was a longshot to ever ingratiate himself with management… which is odd seeing as management decided to sign him in the first place. Nevertheless, Holloway will unfortunately have to settle for the game he did get, all 7:19 worth of ice time in it.
2. Jakub Jerabek
There were high hopes for then-26-year-old-defenseman Jakub Jerabek when he signed with the Habs last summer, but they never materialized. As a puck-moving, left-handed defenseman, the thought process was he could maybe step in and play with Shea Weber.
Ultimately, he became the seventh of eight original candidates who are no longer with the team, which is obviously more of an indictment of the team's inability to fill a gaping hole in the line-up (one of many) than Jerabek's talents.
Case in point: While he failed to catch on with the Canadiens, scoring 4 points in 25 games, he's scored just as many with the Washington Capitals in 11 after being traded there at the trade deadline. He places as high as he does on this list, because the Habs got a fifth-round pick (2019 NHL Entry Draft) in exchange.
Admittedly, Jerabek has only made two appearances in the playoffs for the Caps, as Barry Trotz and his coaching staff have opted to go with the likes of the trusty Christian Djoos on defense instead. It rolls off the tongue a bit smoother. So, while Jerabek has offensive skills, there had been signs he wouldn't pan out as hoped.
For example, there's the fact each of the four defensemen ahead of him in scoring in the entire KHL last year have failed to find lasting success in North America. With his one-year contract set to expire, he's poised to (re-)join them next season, just potentially as a Stanley Cup winner (along with fellow former-Habs Smith-Pelly and Lars Eller). Yes, there is a recurring theme on this list.
1. Alexander Radulov
Alexander Radulov diverges from the rest of the names on this list for the simple reason that he wasn't as much of an unknown when Bergevin took a chance on him. Everyone knew what he could do, after scoring 58 points as a 21-year-old with the Nashville Predators back in 2007-08.
Nearly a decade later, the Habs, who were desperate for scoring (as almost always), signed Radulov to a 1-year, $5.75 million deal two summers ago. It paid off, with Radulov scoring 54 points in 76 games last regular season for the Canadiens. He added seven more in six playoff games as arguably the only Hab to make a difference against the New York Rangers last spring.
What followed was an ultimately disappointing saga of mildly entertaining hearsay between Radulov and Bergevin that ended with the Russian forward moving on to the Dallas Stars. With as much cap space as the Canadiens had to play with last summer, it made little sense to let a such a great fit in the line-up get away.
Yet, here we are: with Radulov simultaneously serving as Bergevin's biggest overseas-signing success story and one of his biggest failures all at once. Nevertheless, it's clear that if either Moravcik or Sklenicka end up enjoying half the success Radulov has in two short years back in the NHL, the deals by Bergevin will have been worth it, especially seeing as he didn't give up anything to sign them.
Low-risk, high-reward. No harm, no foul (except in the case of Radulov, obviously).