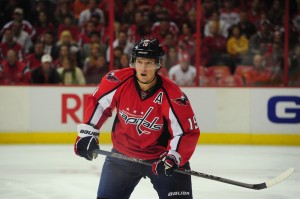 During the NHL Lockout, it was the inevitable that 30 National Hockey League franchises were facing a high risk of losing a talented player to injury, while that player works for a temporary employer. Whether it was overseas, or somewhere in the American Hockey League world, NHL players had the option to work elsewhere, or simply stay home.
Nicklas Backstrom, the Washington Capitals number one center, chose to join fellow red shirt and captain Alexander Ovechkin on team Dynamo Moscow of the KHL.
"I want to play hockey and this will be a fun challenge," Backstrom said to reporters back in October.
Backstrom skated in 19 games with Dynamo contributing 10 goals and 15 assists. It was a game in late December though, that had Capitals nation all but putting their hands over their faces in the District of Columbia. Backstrom suffered what was labeled at the time, a neck bruise. After falling awkwardly into the boards, the superstar was forced to miss several games with no return date in sight.
Immediately thinking back to the 2011-12 NHL regular season, where Backstrom missed a total of 40 games due to a concussion, this was difficult news to absorb.
Just weeks later fortunately enough, with a tentative deal reached between the National Hockey League and the NHL Players' Association on a 10-year collective bargaining agreement, players began their commute back to their NHL employers. Yesterday, Backstrom met with the media in DC and assured them of one thing, he does not have a concussion.
"I feel good, hundred percent," Backstrom told reporters. "I know there's a lot of speculation about what's going on but it's something I wanted to check out. It's no concussion. We can all be calm."
Backstrom met with concussion specialist Jeffrey Kutcher at the University of Michigan on Wednesday, according to Chuck Gormley with CSNWashington.
"I think everyone in the league is going to be more careful about it. It's your head and you only have one head. You gotta make sure you're hundred percent and you can perform out there."
Capitals Notebook
The Washington Capitals will open the 2013 season on January 19th at the Tampa Bay Lightning.
Capitals teammates Troy Brouwer and Roman Hamrlik squashed their differences over what once was, lingering CBA issues. Hamrlik made comments towards the NHLPA, about his frustrations on the way the day to day process was being handled. Brouwer questioned Hamrlik's remarks, accusing him of being selfish.
"We both know that words were said back then, it doesn't really reflect that he's still my friend, he's still my teammate. We came in, we had a good chat today," Brouwer said.