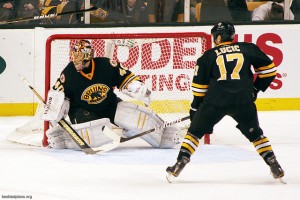 By Mike Miccoli, Boston Bruins correspondent
By all accounts, Tuukka Rask is a solid goaltender.
The Finnish netminder is in his third year as an active member of the Boston Bruins roster and has a career goals-against-average of 2.26 in 81 games-played. In his 2009-10 rookie season, Rask put up strong numbers, posting a 22-12-5 record with five shutouts and a 1.97 G.A.A.. Rask could have very well been a starting goaltender for a team not equipped with a two-time Vezina trophy winner like Tim Thomas at the helm. However since his rookie season, his numbers have slipped.
Last season, Rask finished with a 2.67 G.A.A. and an 11-14-2 record with two shutouts. In the two games he's started this season, Rask is winless with two losses and a 2.52 G.A.A..
But, this isn't the problem.
In the two games Rask has started this season, he's allowed five goals, including the four he let up in Tuesday's barn-burner against the Carolina Hurricanes. In these games, the Bruins have scored once. Just once.
This is a bit of a reoccurring problem for the Bruins dating back to last season. The folklore around Boston went that when Rask was in net last season, the Bruins were unable to score enough goals to give him the win. Though Rask did have a few poor performances, he was able to give the Bruins strong goaltending in the majority of his starts. As his middle-of-the-road G.A.A. points out, Rask gave up an average of 2.67 goals per game last season and although it can't compare to Thomas' godly 2.00 G.A.A., it's not bad.
So when Rask faced the Boston media after his first game of the season on October 10, a loss where he stood strong by turning aside all but one of Colorado's 37 shots on goal, naturally, the goal support issue came up. "It's the first game of the year," Rask responded. "If it happens a few times a year and obviously it gets kind of frustrating, but I'm not worried about it yet."
Almost ten days later, Rask's start, though mired by an abundance of penalties and misconducts, is another loss with Bruins only scoring once in the game. Here we go again, right? Well, not really. It actually isn't much different than years past.
Although it was blown out of proportion last season that Rask never received enough goal support from his team to earn victories, it's been that way since he started in Boston.
Looking deeper, when Rask was in net in 2010-11, the Bruins scored an average of 2.55 goals per game. Rask allowed 71 goals in 29 games played, while the Bruins scored just 74 times in games. However in Rask's 2009-10 rookie season, the Bruins scored 2.56 goals per game on average—a difference of .01 goals—hardly a noticeable difference. So what was all that fuss about last year?
The Bruins were certainly better last season with Thomas in net; they averaged a whopping 3.21 goals per game,. His previous totals of goal support? Just 2.40 goals scored per game in 2009-10—we can chalk that up to a bleak offense—and 3.30 goals scored per game in 2008-09. The lack of goal support in front of Tuukka Rask isn't anything new. If anything, it's consistent.
Nobody can pinpoint why the goals aren't coming when Rask is between the pipes. Is there some sort of rallying cry that Thomas produces before games that pumps the team up? that Rask can't replicate? Yeah, unlikely.
The 2011-2012 season may still be young for the Boston Bruins, but the offense isn't producing anywhere near as much as it should be and that's probably the biggest concern of them all.
Follow Mike on Twitter for more Bruins news, updates and commentary.
Mike Miccoli covers the Boston Bruins for The Hockey Writers and has been a credentialed member of the media for all Bruins' home games for the past five years. As a former player, coach and official, Miccoli has been around the game of hockey since the age of three. Along with his work on THW, Miccoli has also been published in the New England Hockey Journal, Improper Bostonian magazine and on BostInno.