The rivalry between the Columbus Blue Jackets and the Pittsburgh Penguins is simply fictitious.
I have seen those words, and many similar ones, on multiple social media sites recently. But after the latest edition of the Columbus versus Pittsburgh series, you can move it to the nonfiction section of the library.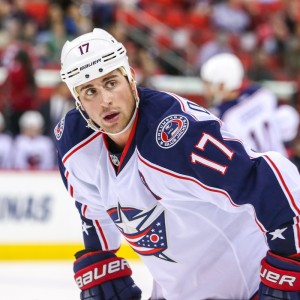 The two teams do have a history, albeit brief, full of hero and villain storylines. Not least among them is the Sidney Crosby and Brandon Dubinsky matchup. The two players first began their not-so-friendly relationship when the two clubs met in the playoffs, and it appears to have taken a much more dramatic turn last night.
Brandon Dubinsky vs Sidney Crosby
While standing in front of goaltender Sergei Bobrovsky, Dubinsky crosschecked Crosby in the back of the neck with such force that it broke his stick. For good measure Dubinsky added another jab while Crosby was on the ice in pain. The Blue Jackets center will have a hearing on Saturday with NHL Department of Player Safety.
Crosby left the game after this crosscheck to the neck pic.twitter.com/prWrhFWE4N

— Stephanie (@myregularface) November 28, 2015
did Dubinsky break his stick on Sid here? cc @dsigal9 pic.twitter.com/0SSGbH9N9w — Stephanie (@myregularface) November 28, 2015
Scott Hartnell vs Pittsburgh
Then there is Scott Hartnell versus…everyone. With his history as a member of the Philadelphia Flyers, he already has his place solidified in the hall of fame for villains in Pittsburgh. Another chapter in this drama was added when the Blue Jackets scored what was the game-tying goal, while Hartnell slashed Penguins netminder Marc-Andre Fleury. The goal was reviewed, and upheld.
Pens used coach's challenge pic.twitter.com/ZXLxvNGI4G

— Stephanie (@myregularface) November 28, 2015
Drama aside, it was a fantastic game to watch. Constant action and passionate play. Great goaltending from both Bobrovsky and Fleury all night long. It was truly a playoff-like atmosphere. The on-ice action wasn't the only entertainment, as social media ranting was at it's finest. Watching the Blue Jackets and Penguins faithful have entirely different, and passionate reactions as the game was unfolding was fascinating. Recently vocal Matthew Barnaby even got into an interesting debate with members of the Pittsburgh Media on Twitter. Barnaby bet one thousand dollars to charity as to the results of a Dubinsky hearing for the hit on Crosby.
Who wants to bet there is NO suspension for Dubinsky??? — Matthew Barnaby (@MattBarnaby3636) November 28, 2015
1000 dollars to charity he doesn't get suspended??? @Dejan_Kovacevic

— Matthew Barnaby (@MattBarnaby3636) November 28, 2015
Yes, there were some plays that were unnecessary, and some fan conversation crossed the line. But that was one of the most entertaining low-scoring games that you will see.
Polling the Fans
On my Twitter account, I posted two different polls. The first asked if the Ryan Johansen goal should have been disallowed due to Hartnell's interference. It currently sits at 29% yes and 71% No.
The second poll asks if Dubinsky should be suspended. Right now the results are 58% Yes and 42% No.
I am sure that many of you are assuming that since I am a Blue Jackets writer, that my Twitter following would lean towards Columbus. I have a relatively diverse social media following, including a lot of people from Pittsburgh, so I believe that the results are not a reflection of bias.
Respect Among Fans
The two teams play again on December 21st. Mark your calendar folks, this rivalry is heating up, but keep it clean. This game is supposed to be fun to watch, and all it takes is someone taking their emotions to an extreme and ruining it for a lot of people. Have fun with your discussions with rival fans, but keep it respectful. We are all fans of this great game, let us remember that.
Until next time.
Greg is a Pittsburgh Penguins writer for 'The Hockey Writers'.
He is a Pittsburgh area native who has written for multiple Penguins news and opinion sites. In addition to hockey writing, he is also an experienced YouTube creator.
Greg started with THW in 2015 as a Blue Jackets writer, and spent time as a Fantasy Hockey analyst.