This weekend, the University of North Dakota and Providence College Friars take center stage in an important two-game non-conference series at Ralph Engelstad Arena.
This non-conference series will have national implications in the Pairwise Rankings and should attract a lot of national attention. This series could also serve as a preview for the 2015 NCAA division I hockey tournament.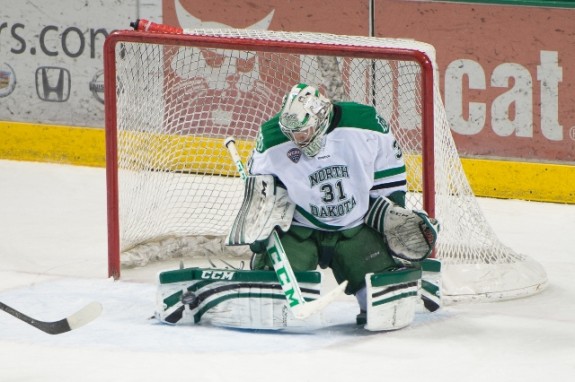 Last season, the Friars went (22-11-6, .641) and made it to the 2014 NCAA East Regional Final, before losing to the eventual national champion Union College 3-1. The Friars return a veteran lineup and were picked to finish first in Hockey East Preseason Coaches' Poll.
The Friars are led by All-American junior goalie Jon Gillies (Calgary Flames), who has impressive career numbers (37-22-11, 2.14 GAA and a .930 SV%). 
Series History
All-time, UND is 8-5-0 against Providence, but hasn't played them since the 1988-89 season, when UND beat the Friars 3-2 in Providence, RI. UND has a 5-2-0 record against Providence in Grand Forks, ND. While this statistic no bearing on this series, UND has won the last five games they have played against Providence.
Tale of the Tape
#5 Providence College (1-1-0, 0-0-0 Hockey East) vs. #3 North Dakota (3-1-0, 2-0-0 NCHC).
Date: October 24-25, 2014.
Game Time: 7:35 pm CT Friday and 7:07 pm CT Saturday.
Location: Ralph Engelstad Arena, Grand Forks, ND.
Last time out: Providence split with Ohio State University (4-5 L, 3-1 W).
Last time out: UND swept their NCHC series with Colorado College (3-1 W, 7-2W).
Television: Midco Sports Net
Live Streaming: NCHCtv.com
Friars set for weekend series at #3 North Dakota http://t.co/PTFisOaJdC pic.twitter.com/Gdmlu1R97f

— PC Men's Hockey (@FriarsHockey) October 23, 2014
 Key Players to Watch
North Dakota: Forwards: Mark MacMillan (5g-2a—7pts), Michael Parks (0g-4a—4pts), Drake Caggiula (0g-3a—3pts). Defense: Paul LaDue (2g-4a—6pts), Troy Stecher (0g-2a—2pts). Goaltender: Zane McIntyre (3-1-0, 2.21 GAA, .929 SV%).
UND Injuries: No injuries reported.
Providence: Forwards: Trevor Minqoia (1g-1a—2pts), Ross Mauermann (C), (0g-2a—2pts), Nick Saracino (1g-1a—2pts), Noel Acciari (0g-0a—0pts). Defense: Anthony Florentino (0g-2a—2pts), Goaltender: Jon Gillies (1-1-0, 2.89 GAA, .885 SV%)
Providence College Injuries: forward Mark Jankowski (0g-1a—1pts) and defenseman Tom Parisi (1g-1a—2pts). Both players didn't make the trip.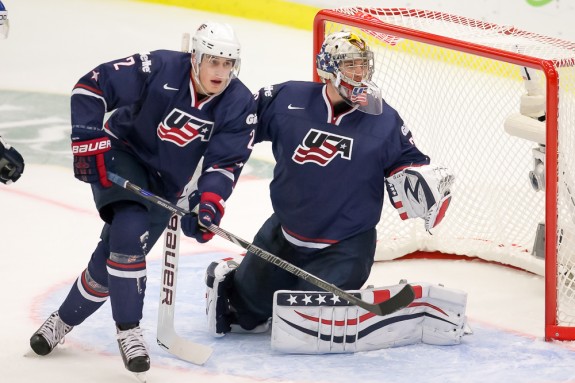 Epic Goaltending Battle
This series is shaping up to be an epic goaltending battle between two highly talented net minders. During the Wednesday press conference, UND head coach Dave Hakstol had nothing but good things to say about Friars goalie Jon Gillies.
"Gillies is a great goaltender," Hakstol said. "He's a top guy returning back into college hockey. Obviously Zane (McIntyre) comes back very highly regarded and he's very highly regarded inside our locker room. They are two veteran guys that, I'm sure, will go toe-to-toe as much as you can within a team game."
Goalie Stats Line: If you look at the numbers you will see that both goalies' numbers are fairly similar. McIntyre (32-15-6, .660 – 2.15 GAA, .924 SV%) and Gillies(37-22-11, .607 – 2.14 GAA, .930 SV% ).
It will be interesting to see how this series plays out. Sometimes when there is a lot of national hype to a series, it ends up being one side affair. A sweep for either team would be huge. Lastly, non-conference wins are crucial for the Pairwise Rankings.
Series Prediction: Split, (Friday UND win 3-1 and  P.C. win 2-1 Saturday)
Eric is a 1996, 1999 graduate of the University of North Dakota. Eric covers the University of North Dakota Hockey and Division I college hockey. Eric is the Contributing Editor for Inside Hockey.