McLellan Out as Sharks Coach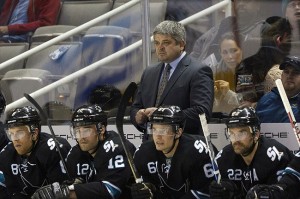 Early Monday morning news broke that the San Jose Sharks and head coach Todd McLellan agreed to mutually part ways. Unlike another Bay Area team recently doing something similar, it sounds as if this is actually true. McLellan wasn't immediately fired after the season. He was given time to mull over what he wanted to do moving forward. The Mercury News' David Pollak had an interesting tweet referencing what sounds very much like McLellan's decision.
Logan Couture won't speculate on why McLellan feels it's in best interest to go, does say he has total respect for entire #SJSharks staff.

— David Pollak (@PollakOnSharks) April 20, 2015
"Couture won't speculate on why McLellan feels it's in his best interest to go" but that is where opinion columnists come in handy to speculate. Yours truly has a pretty good hunch as to why McLellan wanted out of San Jose. He was simply tired of being handcuffed by his boss in GM Doug Wilson. There were reports of McLellan and Wilson not seeing eye to eye throughout the season. Wilson traded away James Sheppard and mentioned he wanted to see Tomas Hertl play in the middle but McLellan opted not to go that route. There was the earlier report by James Mirtle of the Globe and Mail that initially seemed odd but showed to be accurate as the season wore on.
McLellan Wasn't Allowed to do His Job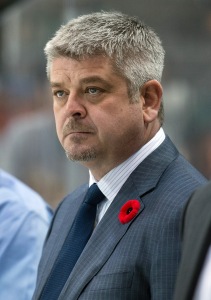 McLellan is leaving for a simple reason. He wasn't allowed the freedom to do his job. Wilson tries to get the public to believe he doesn't tell McLellan where to play certain players but the move to put Brent Burns back on defense was 100% Wilson's decision. Reports stated that McLellan "signed off" on the move but that merely indicates he was accepting of it. It doesn't mean he agreed with it. McLellan made the move to push Burns up front in the middle of the 2013 season and it was without a doubt the best coaching decision he ever made in his time with San Jose. Being told he had to move Burns back could not have sat well with him. Deciding who plays when and at what position is typically a coaches call. That is not the GMs decision.
Furthermore, a source close to the organization confirmed my thoughts that Wilson, not McLellan, is a 100% behind the captaincy drama. Now that may sound obvious considering Wilson's comments to season ticket holders and the candid comments from McLellan about captains during his final Sharks interview. But what my source indicated is that McLellan was never allowed to pick his own captains. Every time there was a captaincy change it was Wilson's call and not McLellan's. Again, this is a GM over stepping his boundaries and trying to do the job that the coach was hired to do. Naming captains and assistants should be the job of the coach who is on the ice and around the guys every single day. The GM has other responsibilities and tasks that take him away from the team from time to time. He isn't in the dressing room on a daily basis.
For those of you who have followed me over the years, I have been incredibly critical of McLellan as coach. While I still believe a fresh coach is a good thing for the Sharks, it will not make a difference without a new GM. Wilson will continue to over step his boundaries on the next coach and prevent him from doing his job to the best of his ability.
Andrew has been credentialed to cover the Sharks since 2010 and the 49ers since 2012. He graduated with his BA in Broadcast Electronic Communication Arts in 2013 from San Francisco State University.