If we've learned anything during the past 11 months of living during a pandemic, it's that you have to be able to adjust on the fly sometimes. That's exactly what the NWHL had to do when the Metropolitan Riveters pulled out of the 2021 season on Jan. 28.
The league adjusted its schedule. The two lowest teams in the standings – the Boston Pride and Buffalo Beauts – are now playing a best-of-3 series for a berth in the semifinals. The other three teams – the Minnesota Whitecaps, Toronto Six, and Connecticut Whale – are playing each other once to determine who will be the first, second, and third seeds in the semifinals.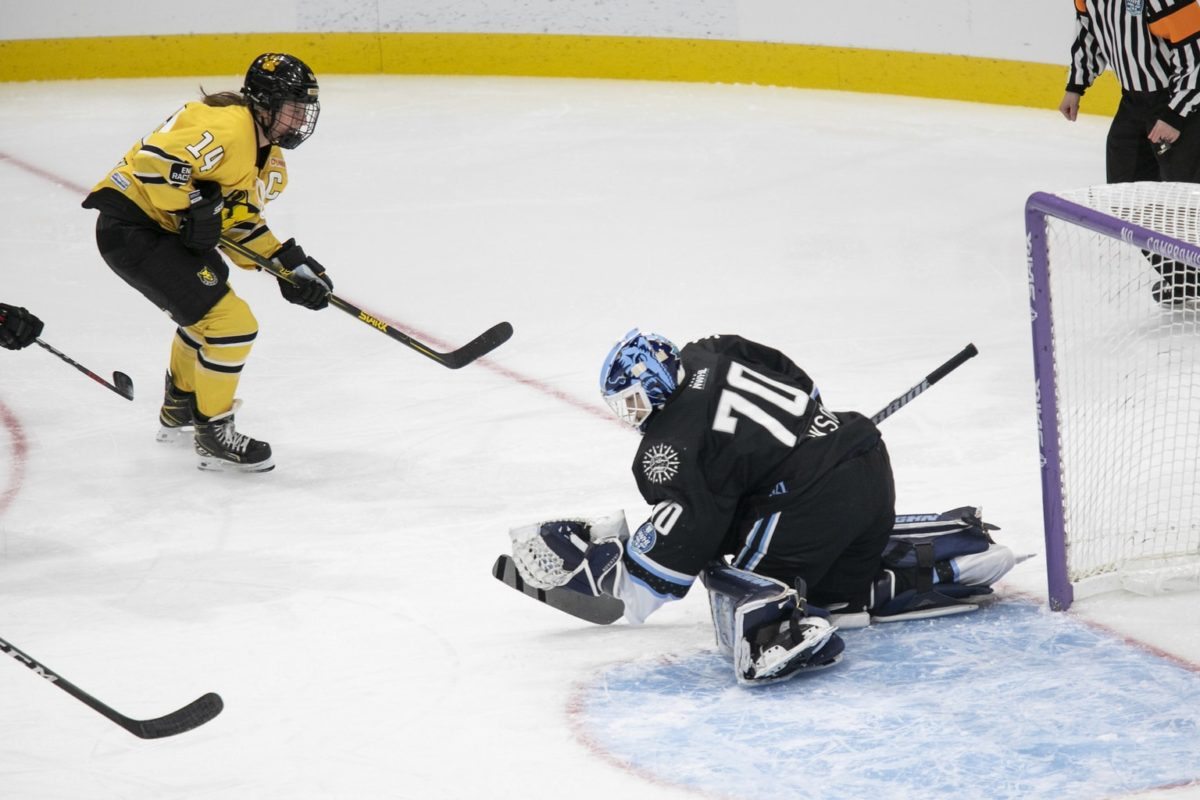 So on Jan. 30, the games resumed on in the opening game of the day the Beauts rallied from an 0-1 deficit to win their first game in Lake Placid by a score of 2-1. Buffalo now can eliminate the Pride with a win on Sunday. Something that no one thought was possible about a week ago. If Boston wins Game 2 they will force a Game 3 on Feb. 1.
In the nightcap, the Six survived a wild back-and-forth game with the Whitecaps and came away with a 4-3 win after budding star Mikyla Grant-Mentis netted her second goal of the game (and fourth of the season) with just 23.2 seconds left in regulation. Toronto will go for their fourth win in a row when they face-off against the Whale in the second game of the day on Jan. 31.
A Night of Firsts
Boston rookie forward Carlee Turner picked up her first NWHL point/assist on the Pride's first period power play goal.
Buffalo's Autumn MacDougall became the first player to score three goals this season, but she had company and was surpassed later in the night.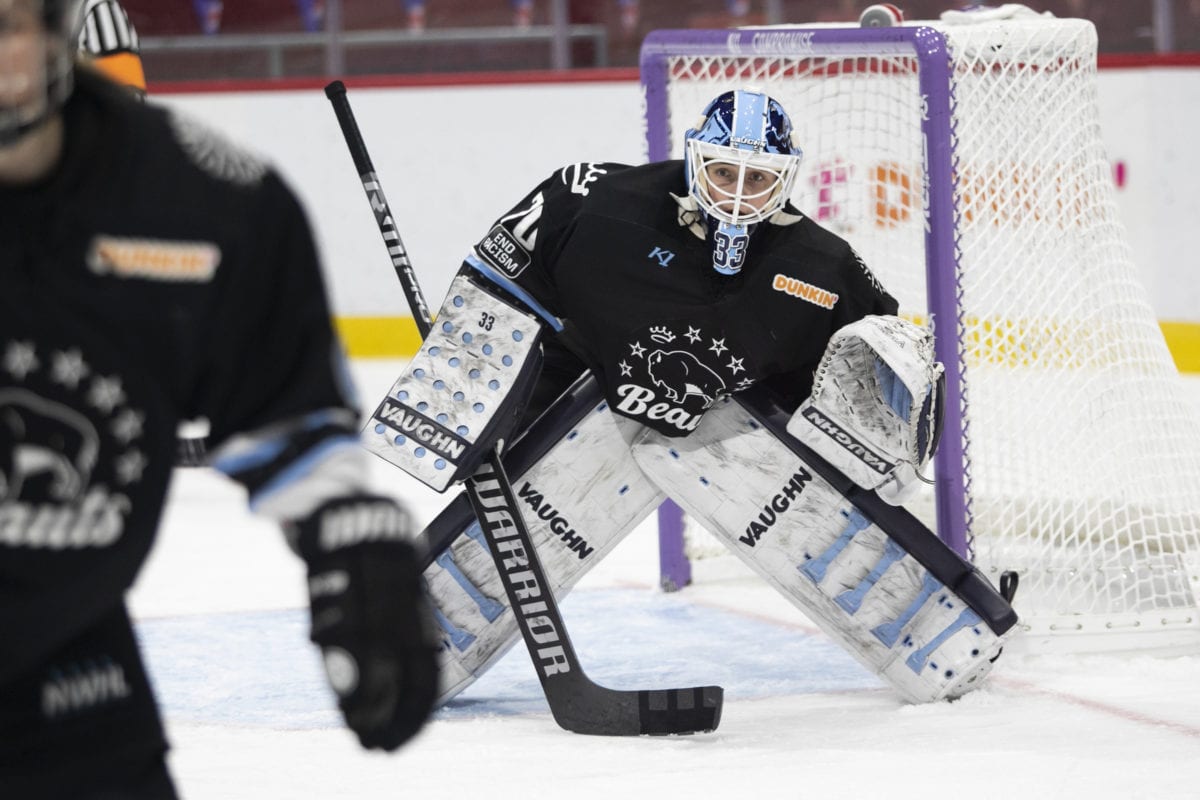 Beauts rookie netminder Carly Jackson was a force again in net for her team and picked up her first NWHL win after stopping 36 of the 37 shots she faced in her fourth consecutive start.
We should also note that the Beauts' first win of the 2021 season is also the first win for the franchise under the guidance of GM Nathaniel Oliver.
Whitecaps rookie forward Haley Mack picked up her first NWHL assist early in the second period. 
Toronto rookie Sarah-Eve Coutu Godbout netted her first NWHL goal midway through the third period, giving her team its third one-goal lead of the night.
On the game-winning goal rookie forward Taytum Clairmont picked up her first NWHL assist/point.
The two-goal game by Grant-Mentis was the first of her pro career, but she already had two, two-point efforts last March (one in the regular season, one in the playoffs) while playing for Buffalo.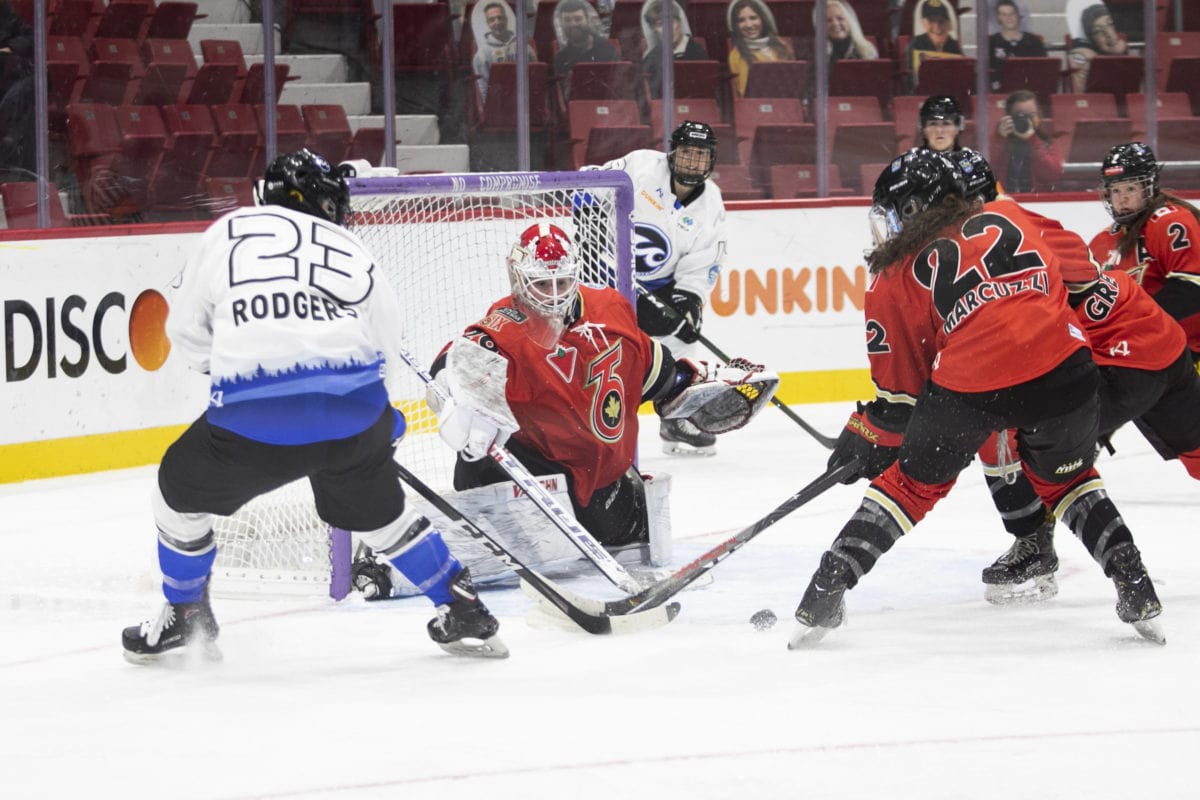 Nina Rodgers had a two-goal, three-point performance in Minnesota's loss, both of those marks are career-highs for the third-year forward.
Jordan Jams
After falling behind 1-0 for the fourth straight time in Lake Placid, the Beauts didn't get flustered this time. This time they were able to rally past the Pride, thanks in part to the fantastic goaltending by Jackson and the play of co-captain Jordan Juron.
Juron of course, played for Boston last season after spending the previous two seasons with Buffalo. In addition to getting the primary assist on each of the two Beauts' goals in Game 1 of their three-game series, she also was her team's most efficient player in the face-off circle – winning 11 of the 21 draws she took.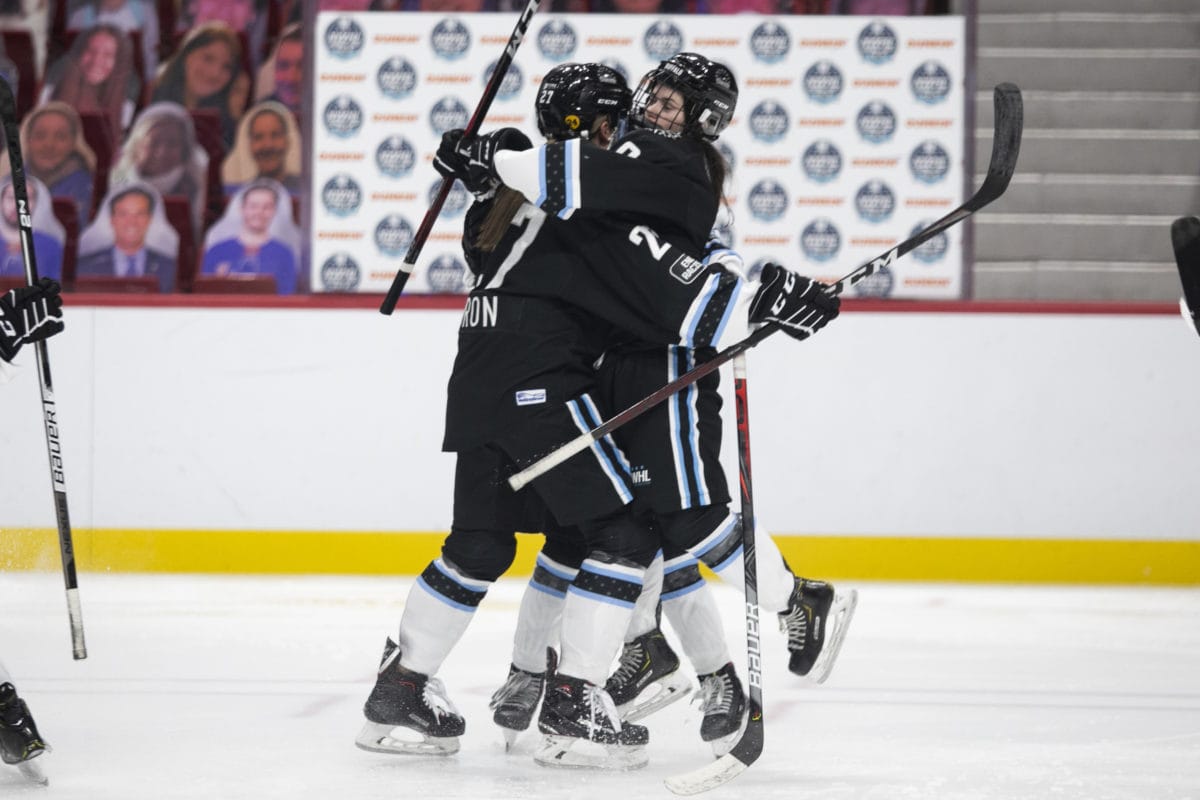 Over the four games this season Juron now has three points, equalling her total output last season (8 games) and is seeing more ice-time/has more responsibility. She is tied for the team lead in points, leads the team with 11 shots on goal, and has been their face-off ace.
"I can't say enough about Jordan," said Beauts head coach Pete Perram after the game. "She wears her heart on her sleeve and she is a passionate woman. To allow her the freedom to be that passionate is to our advantage."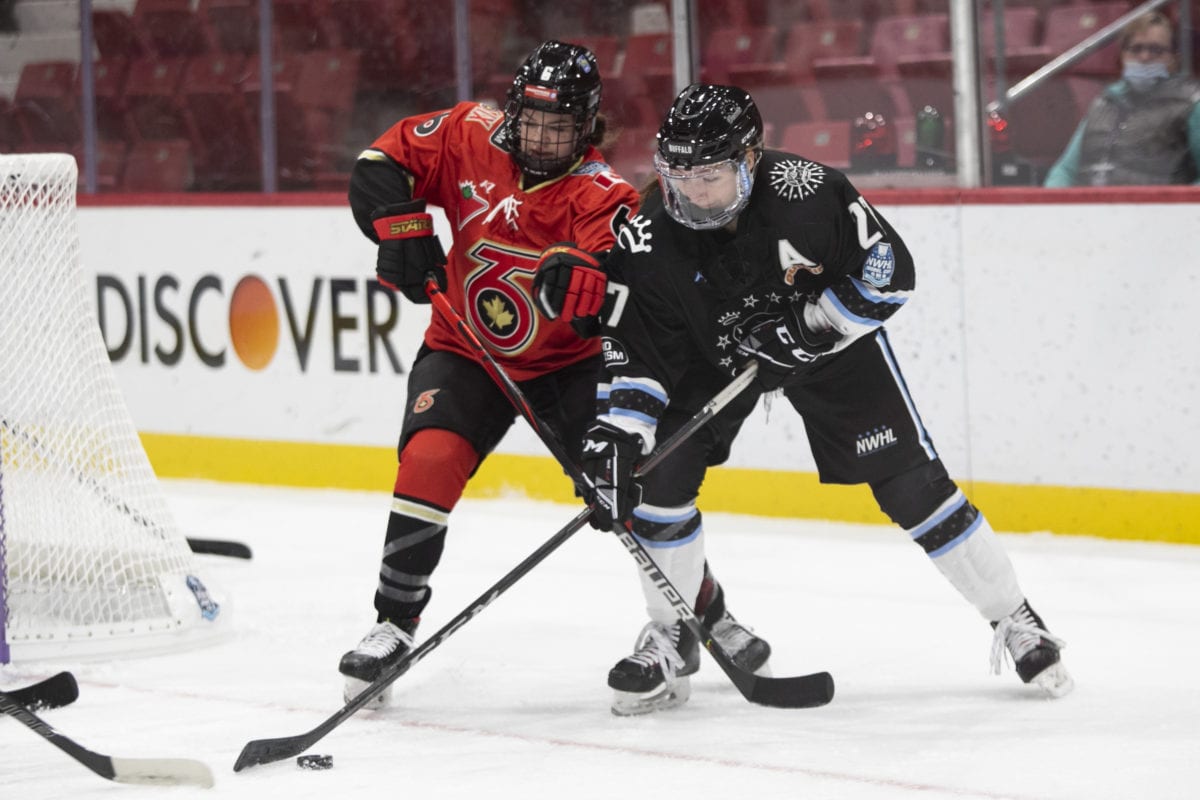 "Today she really took the team on her shoulders, and she really played well."
With captain Taylor Accursi not available to the Beauts (because of her commitment to being an Ontario police officer), Juron has accepted and excelled in the role of co-captain (alongside Marie-Jo Pelletier). 
Related: Jordan Juron's Epic Journey Isn't Over Yet
With Juron finally healthy, she is just scratching the surface of her potential and is certainly going to be an important player in the remainder of the series against Boston.
Quotes of the Day
"WOOO! Can I do that? Am I allowed to do that?" – Beauts head coach Pete Perram after his team's first win in Lake Placid.
"Honestly, it feels really 'effin good. We've been doing a lot of things right even though they haven't been going our way so far. Today was a result of continuing to just pull the rope and keep going. It was really nice to get that W." – Beauts netminder Carly Jackson after her first NWHL win.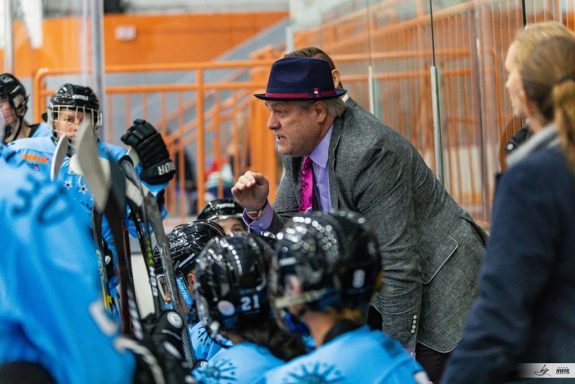 "That's a good hockey team. That's a really good hockey team." – Perram on the Boston Pride.
"Same intensity, same passion. We'll win tomorrow." – Pride head coach Paul Mara.
"These kids are warriors. Whatever is thrown at us, we adapt, we adjust, and we're just having fun." – Six head coach Digit Murphy after her team's third straight win.
"You're not all that and a bag of chips until you win a championship." – Murphy on managing her team's success.
"I think Buckey was amazing today and that line was clicking." Six forward Sarah-Eve Coutu Godbout on Mikyla Grant-Mentis' performance.
"I was happy to finally put some pucks in the net. In the past games I was whiffing on those passes so that takes a little weight off my shoulders." – Whitecaps forward Nina Rodgers after getting her first two goals of the season.
My 3-Stars of the Day
1) Carly Jackson (Beauts) had 36 saves in picking up her first NWHL win. In each of her four career starts she has made at least 35 saves and after surrendering an early power-play against the Pride, Jackson was rock solid.
2) Mikyla Grant-Mentis (Six) had one of the best performances in Lake Placid thus far, racking up three points (2g-1a) in Toronto's third straight win. She is now leading or tied for the lead in points (6), goals (4), and game-winning goals (2).
3) Nina Rodgers (Whitecaps) had a career-high three points (2g-1a) in the loss to Toronto and is now tied for the league-lead in points with Grant-Mentis. Both of her markers came via the power-play and she leads the league in that category now.
Dan Rice is in his 9th year of reporting for THW & has covered NJ Devils home games for 15+ years at various websites. He began his journey working for legendary broadcaster/writer Stan Fischler from 2002-04 & completed an internship at the ECHL; he also has been writing features for the NWHL (nwhl.zone) website since 2016.