Jordan Juron has been through a lot the past few years, battling through serious injuries, and so much more. In parts of three NWHL seasons, she has tallied five points (2g-3a) in 12 regular-season games and one goal in two playoff games.
She's retired almost as many times as Brett Favre (kidding, kind of), but on Nov. 23 she signed up for a third tour of duty with the Buffalo Beauts and can't wait to hit the ice in pursuit of the franchise's second Isobel Cup.
Juron has been healthy (as far as covid goes) since the pandemic began. When the NWHL announced that it would be playing its sixth season at Lake Placid, New York in a bubble the stars sort of aligned for her to be able to play hockey again after trying to retire, again.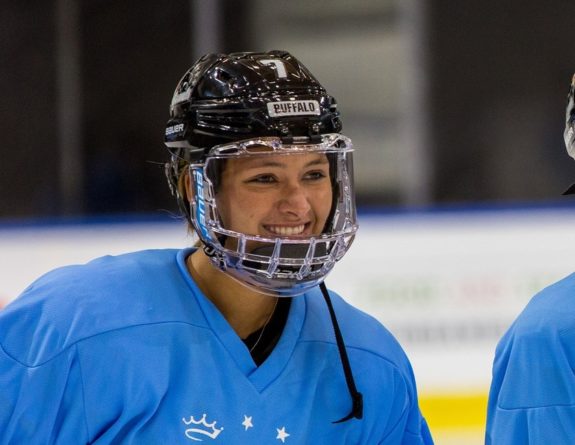 "I do have an autoimmune disorder which I found out two summers ago. I had already broken my back that year so that was quite the year for health scares," explained Juron. "I take medication and it's very under control. When covid-19 started, because I take immunosuppressants, I went to the safest place I could think of – home (to stay with my parents)."
That's a place she hasn't lived for a while, after leaving for prep school at 14-years-old, and then going to college at Boston University. But she had to play it safe. 
"We don't necessarily know the extent of my autoimmune disorder, but do know I am susceptible and what they believe I have one of the pre-existing conditions that having covid could become very, very severe."
Back In Buffalo
Beauts GM Nathaniel Oliver had reached out to Juron during the summer about playing the upcoming season for Buffalo. But she was 'retired' and coming off of hip surgery, plus you know, the whole covid situation.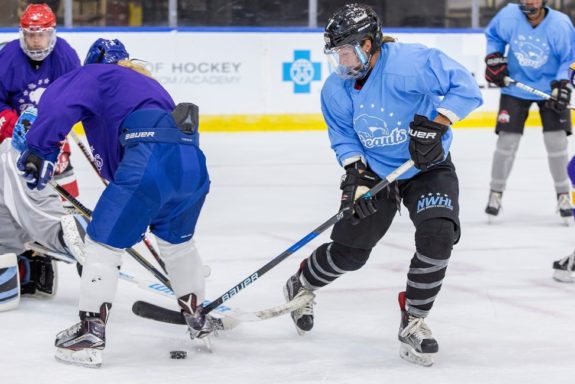 "So he said when your hip is feeling better feel free to come to a practice, we'd love to have you," she recalled.
Flash forward to November. 
"Wheels (Kristin Lewicki) reached out to me because they were really short bodies with Buffalo's Canadian players unable to get across the border for practices. I think my first day at the rink was right after the players had their conference call about Lake Placid. Two practices later I had a contract. It just felt right," explained Juron.
The way Oliver saw it, this was a big win for the Beauts who had been talking with numerous experienced players about filling a top-six forward role on the team.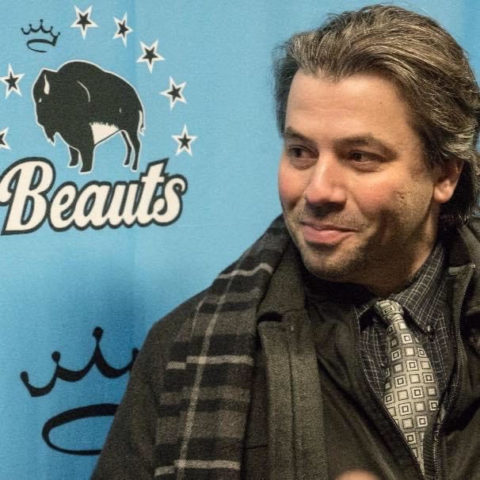 "Jordan came to a few practices and it was obvious immediately that she was the glue this team needed. She got them talking. You could see the younger players kind of looking up to her or standing close alongside her. She got them to be vocal and got them moving," Oliver told THW.
"I've always known what Jordan could do as a hockey player from her first season with the Beauts, but once I saw how she got our rookies moving, feeling good about themselves and each other, there was no doubt in my mind that it was the right move to bring her back."
The Secret Is Out
In the press release that announced the signing of Juron, Oliver referred to her as a 'bit of a secret weapon' on the previous Beauts teams (2017-19) she played for. Someone took to Twitter to rain on that parade immediately, suggesting that it was a bit of a stretch that someone who only played in five games with the Beauts is any kind of a secret weapon.
Juron noticed the unnecessary dig against her – as did others. But if she (and all of us) have learned anything this year – you have to roll with the punches.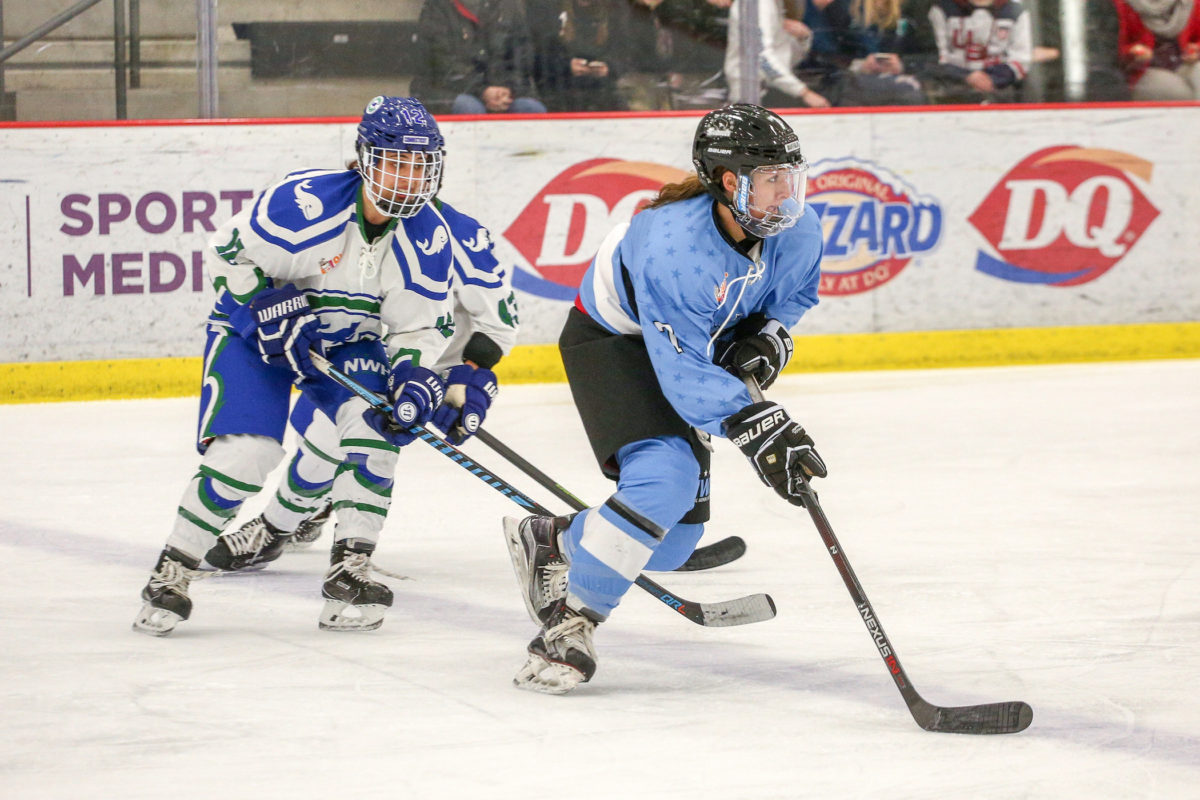 "The collective goal is the same, so why do we have people on social media that need to be sooooo negative when everything is growing? There is true growth there, why do we have to have people nitpicking and having these (negative) comments?"
"But you just take all of those comments with a grain of salt," Juron went on to say. "Yeah I played five games in Buffalo, I broke my freaking back. It's not like I was getting scratched because I couldn't hold a candle out there. My spine was in two pieces and I've come back and overcome those injuries. Nate's comments bode well towards my character and due to my injuries I haven't been able to show everything that I'm capable of on the ice."
Juron made waves back in January when she signed with the Boston Pride, becoming the first player to play in the NWHL after (briefly) joining the PWHPA.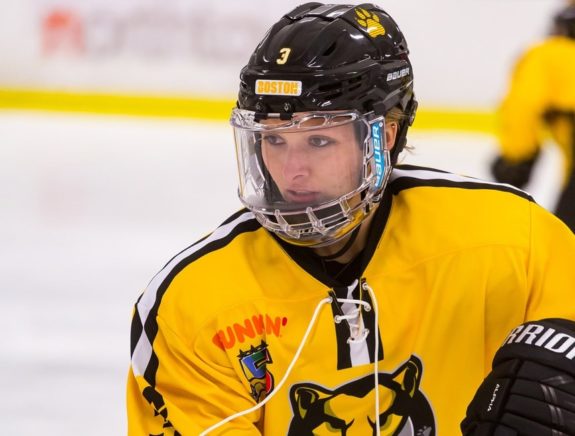 "Last year when I made that switch and made those ripples in the water because I was the first person to do it. I try not to talk about it because it's not what I think is truly important. When I moved from the PWHPA back to the NWHL there were a lot of really negative comments on social media," Juron recalled.
"From reporters, fans of the game…and yes, there was a lot of positive too…but there were just a lot of negative comments that really made me think: what's the point? Aren't we all here – players, reporters, fans – to grow the game, grow the visibility together?"
"The ultimate goal – no matter where you are aligned with, what league you're aligned with, whoever you think is better – none of that matters," said the 26-year-old.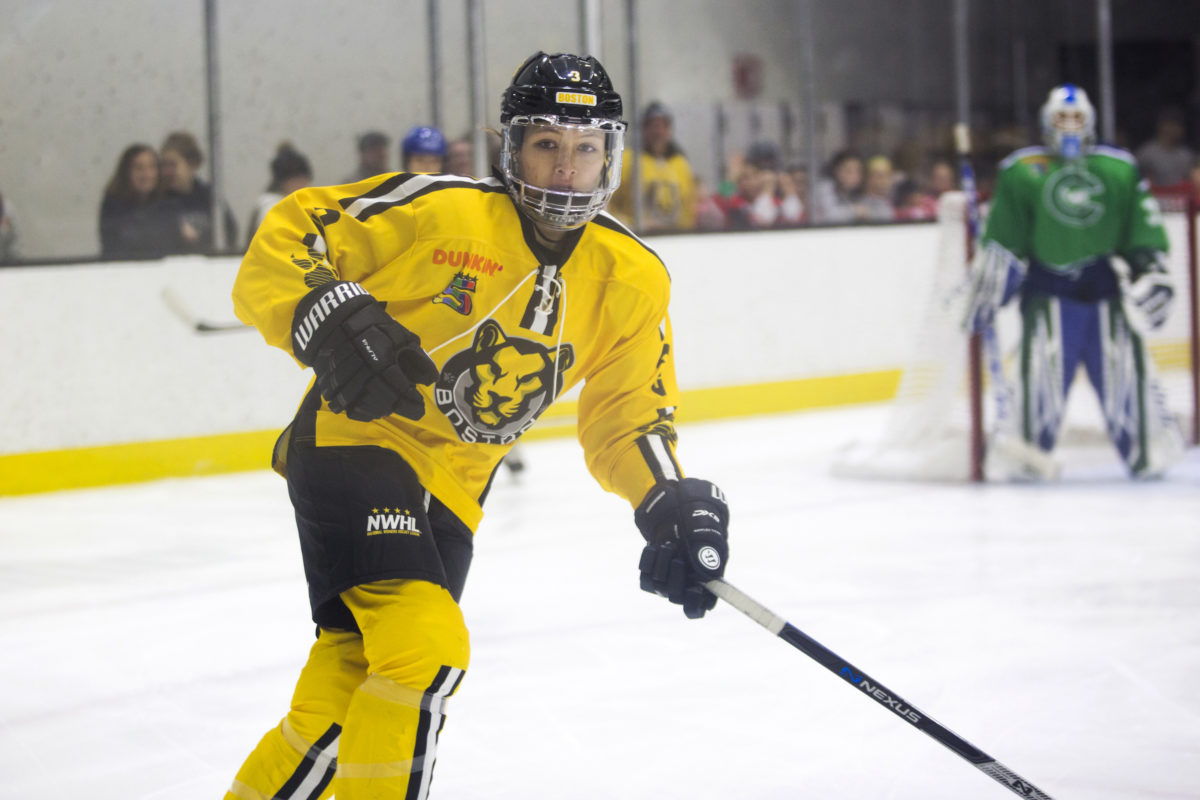 "Everyone's main goal is to grow women's hockey to a place where the little girls who are sitting there starting to look up to us have a true league and place to aspire to that can be sustainable, and can be their main focus. So they're not working 13 hours a day and then driving right to the rink for practice."
Juron works in medical sales and is sometimes in an operating room for up to 13 hours some days before she can get in a workout or get on the ice so yeah, she knows what she's talking about.
For Love of the Game
"Seeing her be able to play again (last season) was awesome to be honest, after everything that she had been through," said Boston Pride defender Kaleigh Fratkin, who met and played with Juron at BU. "She's a very passionate and caring person, and she's always been passionate about hockey. Jordan's had her fair share of injuries and battled through it all. For someone who has had the type of injuries she has had, she could have very easily packed it in and moved on with her life. She just loves the game."
"She's been through a lot, all the injuries, but she's only what, 26-years-old? Who knows if she's even hit her potential?"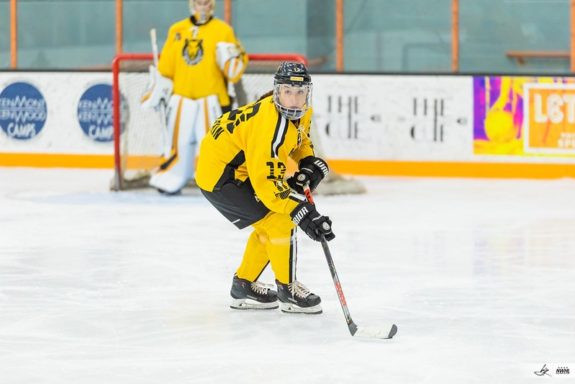 Fratkin had a hand in bringing Juron out of retirement back in January. The two friends met for coffee in the hours preceding a Pride-Beauts game in Buffalo and when Juron dropped Fratkin off at the team hotel Boston head coach Paul Mara happened to be in the lobby. When he heard his defender was with Juron, he asked if there was any chance she had her gear in the car.
The Pride were down a few bodies and needed someone to fill in. Juron indeed had her gear and played in the game a few hours later. Eventually, she signed with Boston for the rest of the season and saw her most extensive action as a pro.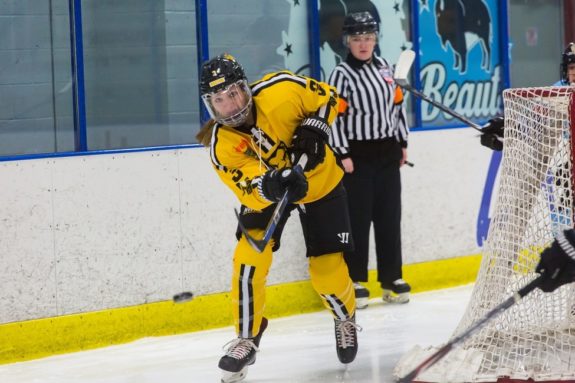 She was finally caught up to speed after so much time off, and her game was peaking. She scored a goal in Boston's semifinal win, had a career-high in shots on goal (5), and was ready to play for the Isobel Cup. Then covid happened, and we all got robbed of a Boston-Minnesota Isobel Cup Final.
"I was feeling pretty good, had found my role on the team on that third line and was ready to play for a championship," said Juron. 
"We were 24-1 with one game left to win it all. I think anyone would look at that as a missed opportunity. Not that it was a shoo-in victory in any sense – Minnesota is a great team," she explained.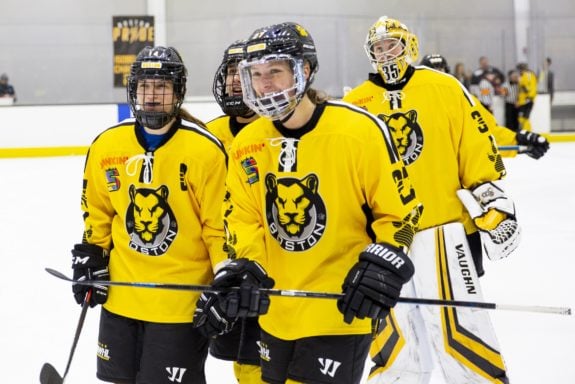 "That one stung a little bit, it stung for all of us. We were a force to be reckoned with last season, especially offensively. So to have that taken away from us was frustrating. But at the same time in lieu of everything that is going on in the world – when you put it in perspective it's very minor."
Do You Believe in the NWHL?
Something that won't be minor is the 2021 NWHL season (Jan. 23-Feb. 5, 2021) taking place in Lake Placid. Not only will the entire season take place in two weeks, but it was also recently announced that the two semifinal games and the Isobel Cup Final will be broadcast on NBCSN, the first time that professional women's hockey will be shown live on television in the US. That's kind of a big deal.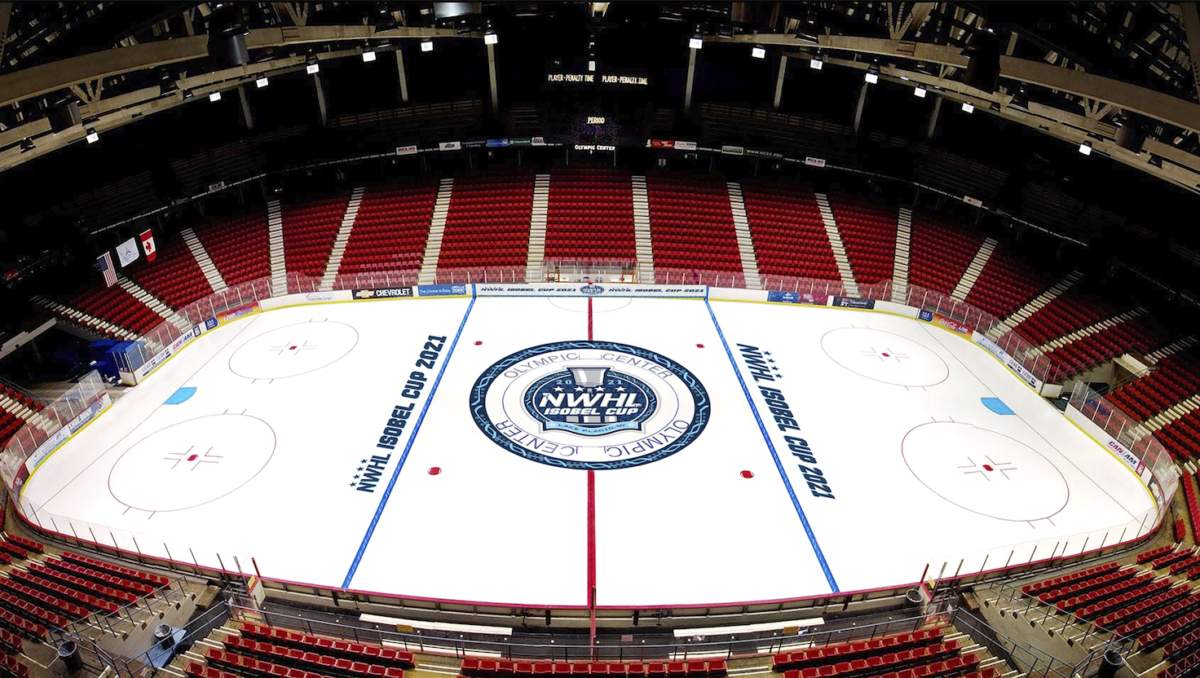 For players like Juron, it is a nice reward for all of the endless hard work that they have put into growing the sport over the past five-plus years. The games will be coming fast and furious, and none of the players have played a meaningful game in months. It should make for an interesting and fun two-weeks at Herb Brooks Arena.
"We kinda touched on that last night at practice. We (all) haven't played a game in so long, there is (going to be) zero time to work out the kinks, realistically," Juron told us. "It's exciting that every game is basically going to be do or die, but it's also nerve-wracking at the same time."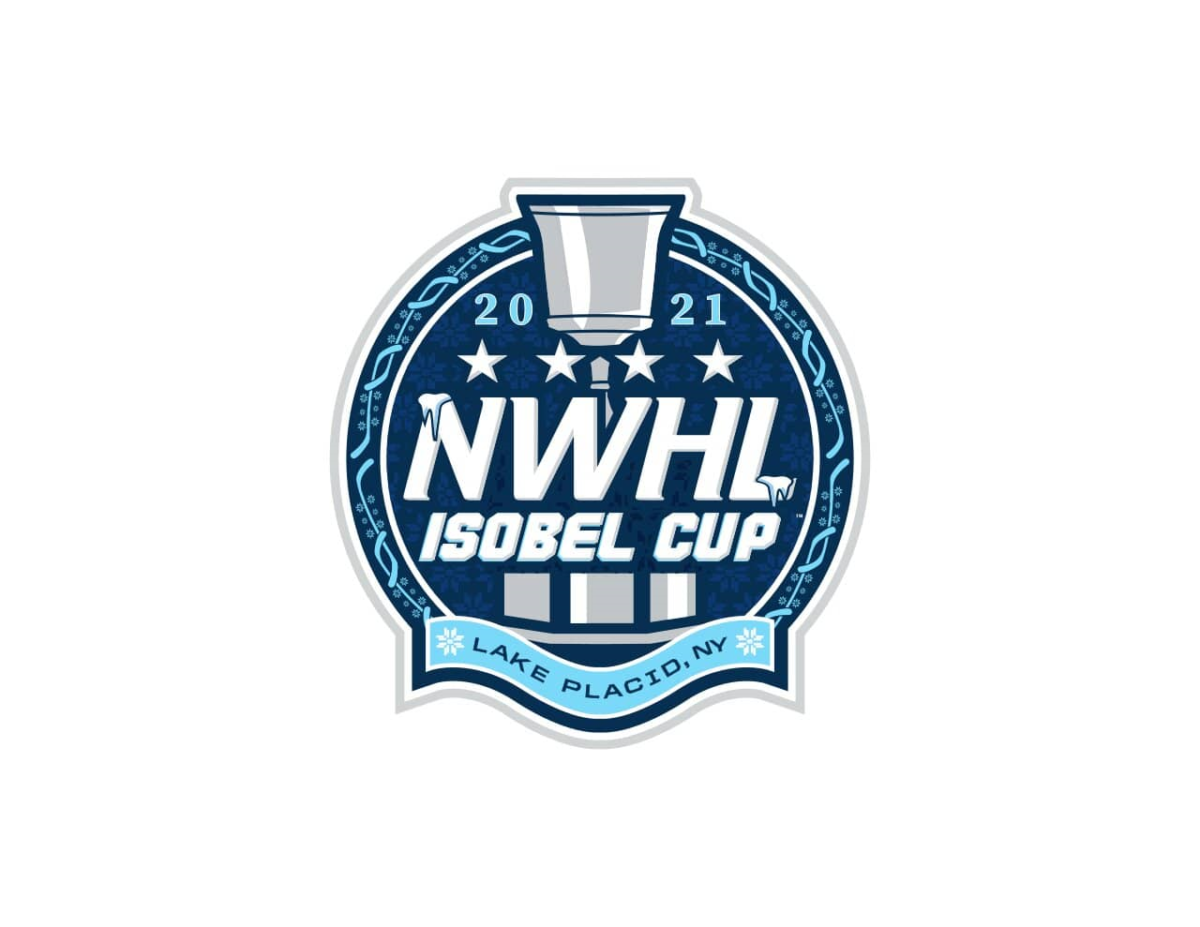 "We're going out there in about a month so we have a short amount of time to work out everything in our game and be completely ready. I think the biggest thing is just being in shape. That's a lot of games – none of us, not a single girl there will have played that many games with that little amount of rest in between since they were like 13-years-old. It's gonna be fun. Everybody is going to be pushing the limits and I think it's going to be really good for women's hockey."
It's a rink and town that Juron knows very well. The past six summers she has worked at Can-Am hockey camps, so if we weren't still amidst a global pandemic she'd have been the designated tour guide. 
She still has an opportunity to show everyone that she's still got game.
"Circumstance has not allowed me to have opportunities in this league. This is something I've talked with the coaching staff about here in Buffalo and they have all of the confidence in the world in me. They're going to rely on me heavily and I'm excited to show people what I can do when I get the ice time that I deserve. I don't think we'll be seeing comments like that anymore. Hopefully," she said putting a pin in that unnecessary saga.
"I'm confident in myself, if you're not then you are at a loss from the beginning."
JJ is For The Kids
If you needed any additional validation as to what type of person that Juron is, there's this neat story we heard about. Following a Boston home game in late January she had a plane to catch back to New York. But she also didn't want to leave the rink without signing autographs for any fan that wanted one, like NWHL players do after every game. So she made her way down the line, to the door and signed something for everyone.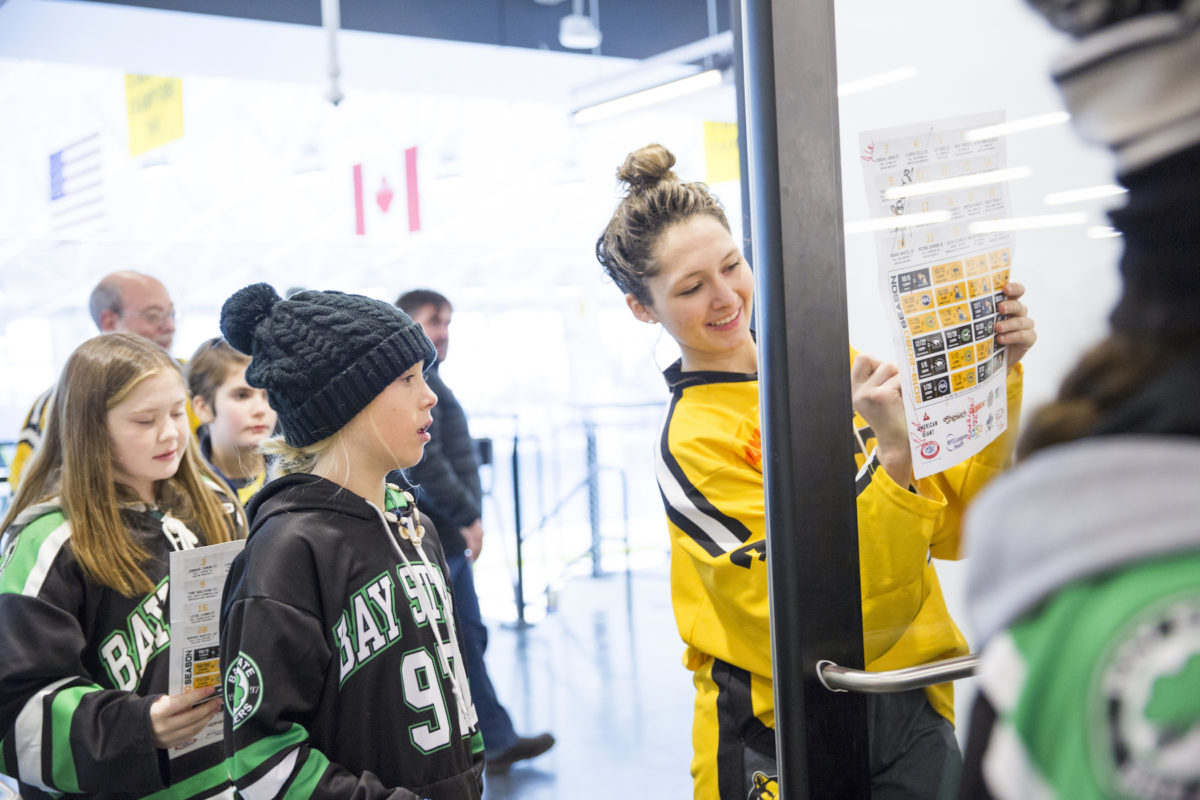 She could've very easily said sorry, she had to leave to catch her plane and no one would have made a stink. 
"There's actually a picture of that from Michelle Jay! That was the last thing I signed before leaving," exclaimed Juron when asked about that afternoon. (Yes, we found the picture, thanks MJ). 
"Because I wear no. 27 I was all the way at the end of the autograph line, so I got up out of my chair and worked my way down the line and out the door. I mean, that's why we play right? Women's hockey has already come so far, it's not like there are ten people on line waiting for autographs. The lines are out the door sometimes, you're sitting at the table for at least 30+ minutes. All of these kids have little stories that they want to talk about, or tell you their position, things like that."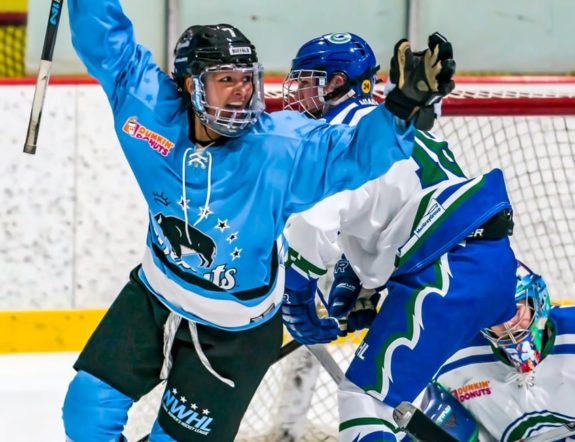 "For me, those are the things that make me want to play," she explained. "I think it's so cool that we get to be the players that these young players are starting to look up to. Kaleigh Fratkin – there are probably at least 20 young girls out there right now with Fratty no. 13 jerseys that say they wanna grow up and be like Fratty, a defender in the NWHL."
"We all grew up idolizing NHL players, I grew up idolizing Mario Lemieux. I wanted to be Mario Lemieux. Is that even possible? No. But it's cool now that we are making it possible for these young girls."
"So yeah, if I'm pushing it close to missing a flight to sign an autograph for a girl or boy that just watched our game and it will make their day to have the whole team sign her poster. Hell yeah, I'm gonna do that."
That's who Jordan Juron is as a person, which is a bit more important than how many games she's played with one team or another, or how many points she has scored. 
"I wasn't even thinking about (playing) this (season) until the talk of the bubble – which for me is the only possible way I could have played this year," Juron added. "I couldn't be traveling with a team due to my work."
"It all happened quickly after they figured out the bubble though. That was about a month ago and I've been working out and feeling good. I feel very good on the ice and I'm very excited to get up to Lake Placid!"
A lot of us can't wait to see Juron and the other 128 NWHL players shine in Lake Placid. Is it January yet?