The Islanders are preparing to embark on their pre-season schedule that is slated to begin at the end of the month. Rosters will be finalized with some players sent to Bridgeport while others might get a chance to prove themselves with the big club. After making several coaching decisions and tinkering with line combinations, the regular season will start just a few weeks later. So what does this allow fans and bloggers to do?
Predict. Will this team be making the leap into the playoffs this year?
Several hockey pundits don't think so. For example, The Hockey News expects them to finish 14th in the East due to a lack of star power on offense. It's easy to pin a team like the New York Islanders at the bottom of the standings when they have been in the draft lottery for two years in a row and have a had a pick in the top ten for the past four. But then one fan might say to the next, 'that's because the team is rebuilding.' I've heard most fans strike back with, 'they've been rebuilding for the past decade and then some.' Well, no, they haven't. Trading away your draft picks and prospects is not a rebuild. It's actually not anything but embarrassing and Mike Milbury can be thanked for that. Luckily, those days have been over for some time now.
However, a rebuild starts with a drive to achieve a specific goal of not only becoming a competitive hockey club, but becoming a Cup contender. The Islanders still have work to do, but they can continue on this progressive course by finishing in the top eight in the East as opposed to the bottom five.
Their defense has been restructured with young, hard-hitting muscle in James Wisniewski, veteran leadership and a Stanley Cup ring from Mark Eaton and size and stability from Milan Jurcina. The defense last year was filled with inexperience, and although certain players like Jack Hillen and Andrew MacDonald stood out as some of the more reliable defenseman on the team, it will be beneficial in having a strong veteran presence to help out the men between the pipes.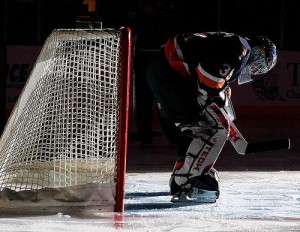 This brings us to the goaltending tandem of Rick DiPietro and Dwayne Roloson. There was not a Biron signing this year; the team is going to start with those two as their netminders. It appears that Ricky is healthy enough to start the season and doesn't have any questions surrounding his availability. But their will always be questions around his health. Can he finally fulfill his comeback and regain his place in the crease? Or will this be another year of struggle where he is seen more often in the press box than on the ice? There's no denying that a pairing of Dwayne Roloson and a healthy Rick DiPietro may be a force to be reckoned with. But if Rick hits a few more bumps in the road, it will come down to Roly and Nathan Lawson, the Isles third string goaltender from the Sound Tigers.
The offense is very similar to the same twelve skaters that were seen last year. Many were hoping for a top-six forward to be added this off-season. There's still a possibility that Garth may find one. But for now, with the exceptions of Zenon Konopka and P.A. Parenteau, this is going to be a very familiar faced team. Having them mentioned, Konopka will add a huge toughness factor that this team has lacked over the years in a division filled with bruisers such as Pronger, Boogaard, Godard and more. Trevor Gillies will be there along side of him on most nights as well. Parenteau is getting a shot to prove that he is an NHL forward. He has nasty shootout abilities and may turn into this year's diamond in the rough signing, but that will be determined over the course of the season.
One major positive for the Islanders is that their Captain, Doug Weight, is going to be playing completely healthy. His injuries have been repaired via surgery and he will start the year without any set backs. Hopefully he can bring himself back to the level of his first season with the Isles where he was consistently putting up points. Regardless of his production, his leadership will go unmatched in that locker room.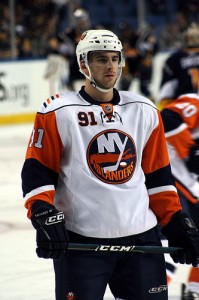 The primary source for offense is going to come down on the young guys: John Tavares, Josh Bailey, Rob Schremp, Matt Moulson and Kyle Okposo. These five are going to have to take another big leap in their development, especially for Josh and Kyle, who are coming back for their third years in the NHL. JT has already led the team in points, having finished 2010 with 54. It doesn't seem unreasonable to expect at least a 10-point increase for any of these forwards, which of course is easier said than done. But if they do manage those numbers, the rebuild may finally get the respect it deserves as there won't be any holes to fill – the young nucleus may be filling those holes themselves.
We will know the answer by April of 2011, but for now I ask you, will the Isles be on the green in Bethpage playing golf at the end of the season? Or will they be in the hunt for hockey's greatest prize?
In other news, I have just gotten home from a meeting with the Blog Box that was conducted by the New York Islanders organization earlier this evening. Fans can expect a lot more from the Blog Box as they are planning on taking us to a new level this year. Be sure to be checking on the Islanders official web-site on a regular basis as more exciting news will continue to pop up!
-Rob McGowan
Follow me on Twitter!
http://twitter.com/IslesRM
Check out my Facebook Fan Page!
http://www.facebook.com/#!/pages/Rob-McGowans-Islanders-Blogs/137174856326185?ref=ts