It's been a rough few weeks for folks in the Motor City, where their beloved Detroit Red Wings missed the playoffs for the first time since 753 BC — the same year Rome was built. Their consecutive streak was finally snapped after roughly two straight millennia.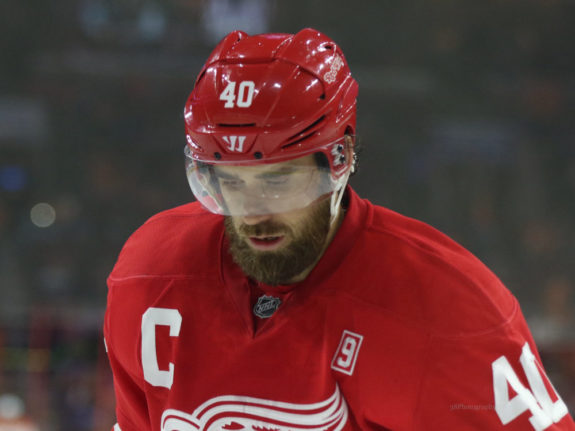 "It was bound to happen," said Romulus, one of the original Red Wings, while eating a diet Dannon yogurt living atop Mount Arvon, the highest natural point in Michigan.
Though it's been challenging for fans in Hockey Town to carry on without Red Wings playoff hockey, it's given a much-needed respite to the octopus population. Flinging the slimy, squishy, eight-legged cephalopods onto the ice during the playoffs has long been a rite of spring – a ritual – for Wings fans. With their team not around to root for this year, there's simply no need to hunt them.
One place that's been hit hard as a result is Premier Fish Co. in Ypsilanti, Michigan, the quintessential place to get octopuses. The mom-and-pop shop, 38 minutes west of Detroit, usually sells them for five or six dollars a pound. Now, they can't give them away. There's just no demand.
"It's usually octo-crazy this time of year for us," said co-owner Jimmy Dean (no relation to the breakfast sausage making company). "We've had to lay off staff. We may even shut our doors til next year."
The Origins of Octopuses
Most people think the act of throwing the eight-armed beast onto the ice dates back to 1952, when it only took a total of eight wins (two best-of-seven series) to clinch the coveted Stanley Cup.
Local legend runs deeper and more frightening.
The story goes that the first octopus came up through a not-so-frozen part of ice during a game that was being played on Lake St. Clair, just east of Detroit — especially surprising since octopus only live in semitropical ocean waters.
This one came up angry. It nearly took out the referee before being subdued by a pair of Red Wings defensemen. The practice of lobbing subsequent octopuses was both a warning to others and a tribute to that first tentacled monster.
Be Prepared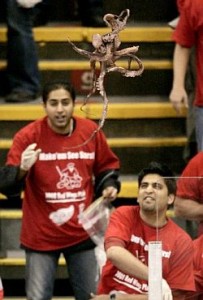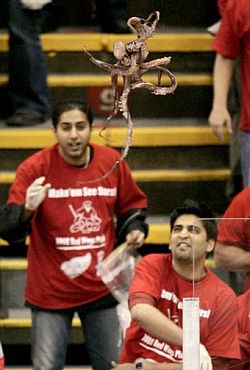 Despite a Detroit city ordinance banning octopus throwing, for some the allure is just too much. Those that get caught risk being ejected from the arena and a fine of up to $500.  Some swear that the Octo-gods must be placated.
That's where Jimmy Dean will hook you up with the perfect size to match your throwing arm while taking into consideration the location of your seats and the trajectory needed to land it within the faceoff circles. As part of the package, he even tosses in an "octo-kit" with a pair of red rubber gloves, wet wipes and a "I didn't throw it" hat.
"We strive to be the go-to place for octopus chuckers," added Jimmy. "In fact, we'll even parboil the octopus ahead of time, to reduce the splatter and dispersion of innards upon ice impact. We believe in proper octoquette," he said with a wink.
Outlook for Octopuses
As a by-product of the Wings' failure to make the postseason, octopus populations are exploding. The extremely smart, fast-breeding cephalopods are booming, taking advantage of the decline in their demand. Though it's near impossible to get an accurate count, catch rates – the number caught per vessel over unit of time – are dramatically increasing, signifying their comeback.
The boom, will have interesting consequences both for their own ecosystem and for hockey fans in Detroit. On one hand, it could benefit sharks, which are reliant on them for food. Their population growth, though, could lead to larger, heavier "super" octopuses once the Red Wings finally make the postseason again. In a sense, Dylan Larkin's regression could directly impact the size of the next octopus you'll see.
Regardless, if tossing one of these bad boys is on your agenda next year in the new Little Caesars Arena, it would be a good idea to hit the gym. You could be tossing 50, 60 or even 70 pound creatures.
Jeff has been covering the NHL for over a decade for various sites. He's been with The Hockey Writers as a lead Sabres writer three years, while also writing a satire column called "Off the Crossbar."