The Edmonton Oilers will have some work to do in the offseason when the 2022-23 season wraps up. Without making any moves, according to PuckPedia, they will have just under $8 million of cap space, with some key players like Evan Bouchard and Ryan McLeod, in need of new contracts.
Edmonton was eliminated by the Vegas Golden Knights in the second round, but they should take it as a learning experience. They learned that two areas that clearly need an upgrade is Kailer Yamamoto's spot in the top nine and they also need to improve the right side of their top four on the blue line, meaning Cody Ceci is likely to be mentioned in offseason trade discussions.  
---
---
However, with limited cap space to work with, the Oilers will need to identify which position is more important to improve and allocate more money towards, and because they were outscored 18-9 at 5-on-5 against the Golden Knights, shoring up their defence might be the priority. Additionally, former NHL player Jason Strudwick spoke on that topic on the "Got Yer Back" podcast, when he said, "Not even a question [upgrading] the D. They don't need more firepower."
With that in mind, Yamamoto, who often played in the top six this season, will likely be in trade discussions to free up money, due to an underwhelming regular season and playoff outing. With a $3.1 million cap hit, he's paid like a second liner, but only tallied ten goals and 15 assists, after missing 24 games due to injuries. Moreover, despite scoring the game-winning goal in Game 6 of the opening round, his point production (three points in 12 games) – while playing 85:16 alongside Leon Draisaitl – was simply not enough. Not only that, in 26 playoff games over the last two years he's only managed to score three goals.
The 5-foot-8 winger hasn't quite been the same since receiving a big hit from Gabriel Landeskog in last season's Western Conference Final, and the Oilers have had a decent enough sample size to know that if they're going to go the distance in the playoffs, they'll need someone with more size than Yamamoto in the top nine, with the ability to bury their chances in prime scoring areas.  
Related: Oilers: 3 Potential Trade Destinations for Cody Ceci
In a perfect world, the Oilers should find a veteran player with size and the ability to score 20 goals to fit in within their forward group, but because they have limited cap space to find that type of player, they may have to resort to internal options that can replace Yamamoto's spot in the lineup. Let's examine two players that have the potential to do so.   
Oilers' Lavoie Has an Outside Chance to Replace Yamamoto
I realize it's a bold claim to think a player that hasn't suited up in an NHL game yet can replace Yamamoto in the lineup and potentially in a top-six role next season, but forward Raphael Lavoie could be a dark horse pick to be an impact player. Lavoie, a former second-round pick, isn't a freshly drafted 18-year-old. He'll be 23 years old when the 2023-24 season starts and has many appealing qualities — he's 6-foot-4 and 196 pounds, right-handed, and in his draft year in 2019, the scouting report on him said he had a big-time shot and could score from almost anywhere in the offensive zone.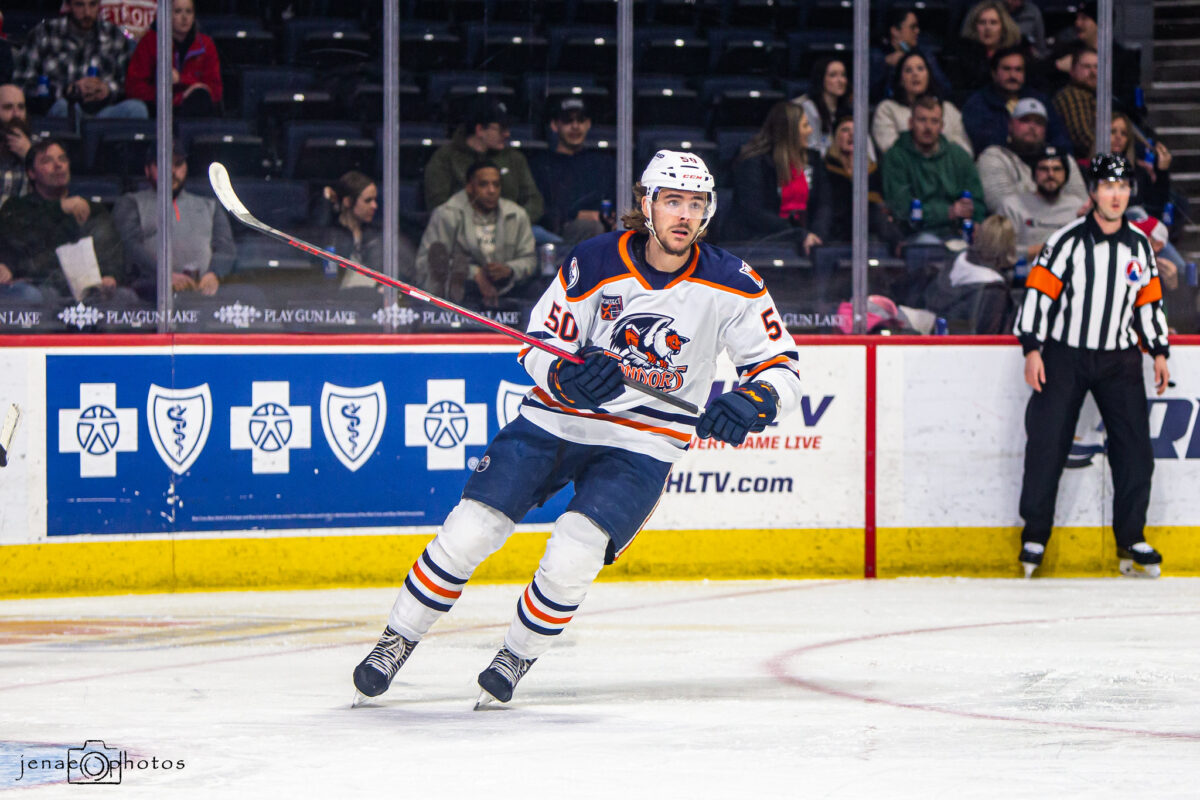 Lavoie has dealt with injuries since the 2020-21 campaign, but he started to get healthy and find his stride to become the big shot scorer he was touted to be, in the latter half of the 2022-23 season. He went on a streak in the regular season producing at a point-per-game rate with 33 points in 33 games and finished the campaign with 25 goals and 20 assists in 61 games in the American Hockey League (AHL). Bakersfield Condors' head coach Colin Chaulk spoke about the change in the young forward's game, saying, "One thing that [Lavoie] has been doing very well is protecting the puck and using his big frame." 
In addition, Edmonton's assistant general manager Keith Gretzky recently summarized Lavoie's season on the "Oilers Now" show by saying:
"He worked his tail off, he learned to use his size, he's a big man, heavy man. He won puck battles and then he started scoring. When you have a shot like him, it's hard to stop."
Lavoie will likely be re-signed to a cheap contract in the offseason and he'll need to clear waivers, meaning he'll be given a genuine opportunity to secure a spot on the main roster next season. Knowing that, he'll likely be pushing himself in offseason training and the fact that he's finally healthy, bodes well in his favour. He's a big body, skates well for his size and knows how to put the puck in the back of the net. He has all the elements to make an impact and the onus is on him to make it happen. As well, he could be another player that was coached by Jay Woodcroft at the AHL level to excel in the NHL.
Hockey Analyst Feels Holloway Could Replace Yamamoto in Top Six
Oilers' forward Dylan Holloway had high expectations heading into the 2022-23 season after tallying four goals and two assists in six preseason games. Yet, he had a tough start to his NHL career, which was highlighted by his "Welcome to the NHL" moment on his very first shift in the season opener when he passed the puck onto Vancouver Canucks' Elias Pettersson's tape which ended up in the Oilers' net. He played the majority of the season in Edmonton, suiting up in 51 games and recording three goals and six assists. Overall, he showed glimpses of his potential that made him a first-round pick, like when he zipped a wrist shot past Igor Shesterkin for his first NHL goal on Nov. 26; however, he struggled with consistency throughout the season.
---
Latest News & Highlights
---
Holloway was sent down to the AHL in late February to make salary cap room for Yamamoto's return from the Long-Term Injured Reserve (LTIR) and not long after being sent down, he was injured while playing for the Condors. He returned to the Bakersfield lineup after a month and he started to find his offensive game again, scoring seven times in 12 AHL games, while also adding three assists.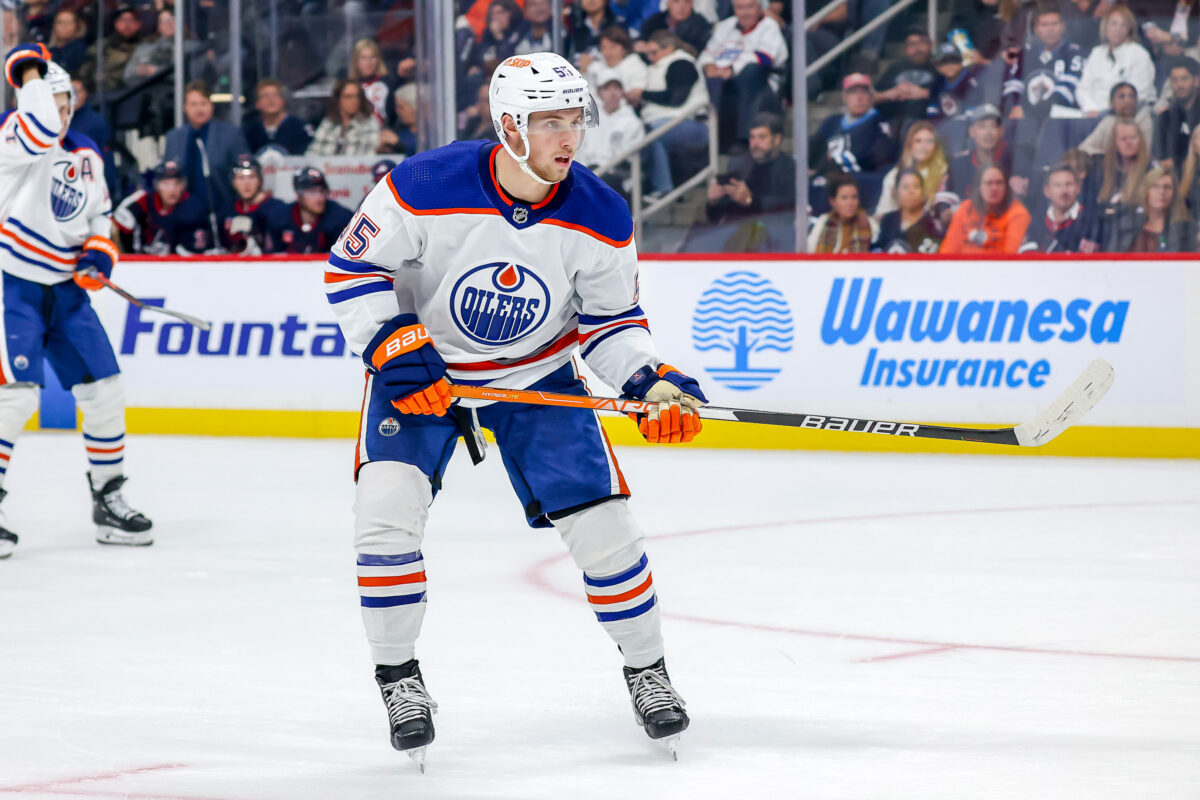 Oilers' assistant GM Gretzky listed what stood out about Holloway in his return to the Bakersfield lineup, saying, "Speed — And he killed penalties really well. You have those legs, and that's a great thing. Offensively, he was good."
The former first-round draft pick has a lot of upside. At 6-foot-1 and 203 pounds, he has size and also has above average NHL speed. Moreover, because of his compelling traits, TSN's Ryan Rishaug thinks he has a chance to replace Yamamoto in a top-six role next season, saying on the "Got Yer Back" podcast, "They have somebody in Dylan Holloway coming that could potentially, if they stick with him, could fill that need in next year's playoffs. Will Dylan Holloway be playing in a top-six role? I think that's a question that the Oilers need to work their way towards answering next season, and I think that there's a chance that the answer is yes, from a cap standpoint, that would be brilliant for them."
The Oilers have five guaranteed players poised to play in the top six next season — Connor McDavid, Leon Draisaitl, Ryan Nugent-Hopkins, Evander Kane and Zach Hyman — and if they decide to move on from Yamamoto, there could be a chance for Holloway to play the right side on the second line. Although he's a left-hand shot, with his previous experience playing center, playing on his off-wing shouldn't be a concern. He possesses raw skills that have the potential to surpass Yamamoto's capabilities, and hopefully, he can find his stride next season because his game is tailor-made for the playoffs.
Yamamoto deserves kudos for his relentless effort and dogged puck pursuit, but it could be time for him and the team to part ways and the Oilers might have some internal alternatives capable of stepping in to fill his position.
Is it time for the Oilers to move on from Yamamoto? If so, would Lavoie or Holloway be viable options to step in to fill his spot? Have your say in the comments below!