If a player was ever to have a statement game, that game happened for Patrick Maroon who had three goals in an Oilers victory over the Boston Bruins on Thursday. Maroon is now tied for the Oilers team lead in goals and is making himself a valuable asset the Oilers can't afford to lose.
No, the Oilers wouldn't consider trading Maroon — who at a measly $1.5 million dollars per season— is providing top-tier offense and functional toughness, but Edmonton is at risk of losing an under contract Maroon for nothing in the upcoming 2017 NHL Expansion Draft. If Edmonton believed they didn't need to protect Maroon before this game, they might want to rethink their plans after it.
Ultimate Value Contract
Every team in the NHL needs to have a value contract or two. A player like Sam Gagner for the Columbus Blue Jackets, Eric Staal for the Minnesota Wild or J.T. Miller for the New York Rangers can mean the difference between being a winning franchise with depth and a team who has a couple highly skilled players who can't seem to get their respective teams over the hump. Maroon is one of, if not the best of, those value contracts for the Oilers.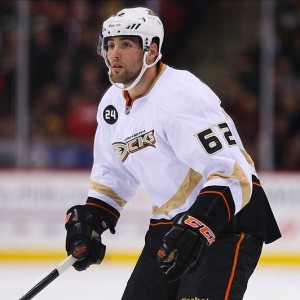 Picked up from the Anaheim Ducks for a song at last year's trade deadline, the Oilers actually convinced the Ducks to retain some of Maroon's already fair salary. It was one of the most underrated trades of the Oilers last few years and a trade that should look good on the balance sheet for General Manager Peter Chiarelli.
Las Vegas will be looking at many factors when determining who to select as they build a team out of the players the 30 other NHL clubs can't protect. One of the biggest factors when making that decision may be a player's price per season. Selecting cost effective players will allow Las Vegas to be competitive and overpay in free agency — a quick way expansion teams can get competitive in a hurry. Cheap contracts like Maroon's will be an attractive asset.
Age
Maroon is not necessarily young, but he's not old. In fact, he's barely a veteran. At 28-years-old, Maroon has played only four seasons of 50 or more games. That makes him an ideal player for a Vegas club that may want a player or two that becomes a core piece the Golden Knights can extend under contract and make a mainstay on the roster. Another objective for any expansion club is not just maintaining pace in the first year, but building a nucleus.
Many of the other 30 teams in the NHL will make older veterans available. Clearly, Las Vegas will not want a group of players on the backside of their careers that in only a matter of a year or two may be out of the NHL altogether. At the same time, deploying a team of only inexperienced youngsters won't give the Golden Knights a group that will understand the rigors of the NHL schedule. Maroon, as he does in Edmonton, fits perfectly into the group of players at the right age and the right time in his career.
Grit and Toughness
Maroon is proving that he's not a one-dimensional player. On Thursday, after scoring his first of three, he squared off with one of the NHL's toughest in Zdeno Chara. It wasn't necessarily a "slobber-knocker" so to speak, but it takes guts just to consider dropping the gloves with a player like Chara and Maroon isn't afraid to match up against anyone.
Again, this is just another tool that a team like Las Vegas would find value in. The day of the "tough guy" who can't play is gone. Maroon is not only tough, but he's got skills, hands and the ability to play on a top line for an NHL club. It has been said that this season, the Oilers are among the tops of the NHL in functional toughness. Playing against Edmonton isn't what it used to be and win or lose, teams are in for a battle when they play the Oilers. Maroon is a big part of that.
Never separate Patrick Maroon from Connor McDavid ever again. They make beautiful poutine together. -bm #oilers

— OilersNation.com (@OilersNation) December 24, 2016

Goal Scoring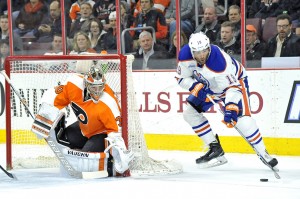 Maroon set a career high in goals for himself on Thursday. With 14 on the season, he's now tied with Connor McDavid and Leon Draisaitl and on pace for 29 goals. There are few NHL teams that employ potential 30-goal scorers and if Maroon reaches that mark, it doesn't automatically make him a reliable 30-goal forward, but at such a low price tag and for a team like Las Vegas who will have to take some gambles that pay off big, Maroon offers the odds that make him better than a good bet.
There is some that will argue that part of Maroon's goal totals are being ballooned by the fact that he's playing with McDavid. The kicker is that Maroon has not actually spent much time on McDavid's line this season. Milan Lucic has spent most of the season in that top-line left wing spot. Instead, a number of Maroon's goals are scored in front of the net, picking up rebounds and cashing in as a shooter on break-outs with a variety of Edmonton's second and third-line centers. This is the type of player Edmonton doesn't have enough of. Getting rid of someone who understands that role would be unwise.
Patrick Maroon scored his first NHL hat trick to lead the @EdmontonOilers to victory in Boston. His 14 goals this season are a career high. pic.twitter.com/Z3yB6mou50

— NHL Public Relations (@PR_NHL) January 6, 2017
Leadership
Finally, good leaders and teammates are not always easy to find. You probably won't find many players more liked around his own locker room than Maroon. An emotional fan favorite, Maroon would be missed in Edmonton, where in less than a year's time he has become respected, trusted and relied upon by coaches to work hard on every shift.
It wasn't long ago that the Oilers' dressing room was considering one of the most cancerous in the NHL. There was rumored division between veterans and rookies, understandable tension over consistent losses and visible lack of chemistry between coaches and players. Last year and this, that culture has changed and the Oilers' dressing room has become known as a fun, energetic, positive environment. One look at any Maroon post-game interview and it shouldn't take much to assume Maroon is a big part of that culture change.
The Oilers have much more in Maroon that a forward tied for the team lead in goals. They have a depth left-winger who offers leadership, team toughness and consistency at an extremely fair contract. Maroon is not the kind of player you let slip through your fingers.
Jim Parsons is a senior THW freelance writer, part-time journalist and audio/video host who lives, eats, sleeps and breathes NHL news and rumors, while also writing features on the Edmonton Oilers. He's been a trusted source for five-plus years at The Hockey Writers, but more than that, he's on a mission to keep readers up to date with the latest NHL rumors and trade talk. Jim is a daily must for readers who want to be "in the know."
Other content contributions include: NHLtradetalk.com, The Sportster and hosting weekly video casts, THW News and Rumors Rundown, plus Oilers Overtime.
For interview requests or to provide content info, follow Jim on Twitter or his social media accounts. They appear under his photo on articles like this one.