It's obvious lady luck was on the Edmonton Oilers' side when they won the 2015 Draft Lottery. Connor McDavid has been everything advertised and more. Ranked against all players that played since McDavid's debut season in 2015-16, he has the sixth most points (180) of any player during that span. What that doesn't account for is the fact he's played 37 fewer games than the leader, Patrick Kane, who has 222 points.
If it weren't for a shoulder injury in his rookie year, McDavid's career 1.17 points-per-game (P/GP) would be two points better than Kane for the most since 2015-16. In fact, no one has a higher P/GP than McDavid. The next closest are Patrick Kane (1.16), Sidney Crosby (1.11), Evgeni Malkin (1.08), Nikita Kucherov (1.07), Steven Stamkos (1.01) and Mark Scheifele (1.00). McDavid's been one of just seven players to average a P/GP during that span.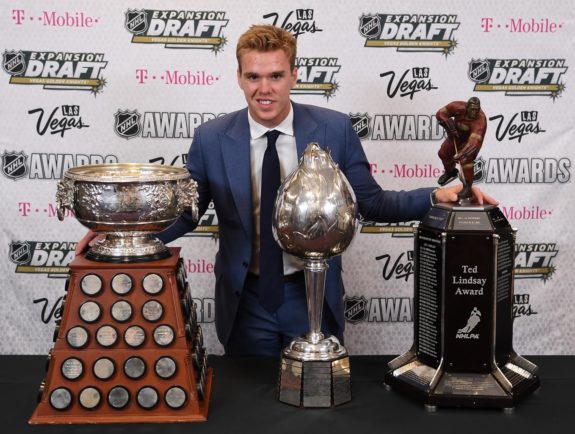 Last year McDavid became just the second player (Kane was the first) to score 100-plus points since his debut season. It was a banner year where he took home the Hart Trophy, Art Ross Trophy, and the Ted Lindsay Award. This season he's on pace for 33 goals and 97 points, but if the Oilers were a deeper team offensively, those numbers would be even better. He'll be a top-five scorer this season despite being on a team with the 18th-best offense in the league.
Where things go astray is when the Oilers traded away several picks including the 16th, 33rd, 57th, and 64th. Two were given away for Griffin Reinhart, and some for Cam Talbot. In all that shuffle the Oilers could've had Mathew Barzal who went to the New York Islanders 16th overall. Barzal is neck and neck with Vancouver Canucks' rookie Brock Boeser in the Calder Trophy race. He could finish with 21 goals and 79 points if he maintains his current 0.96 P/GP.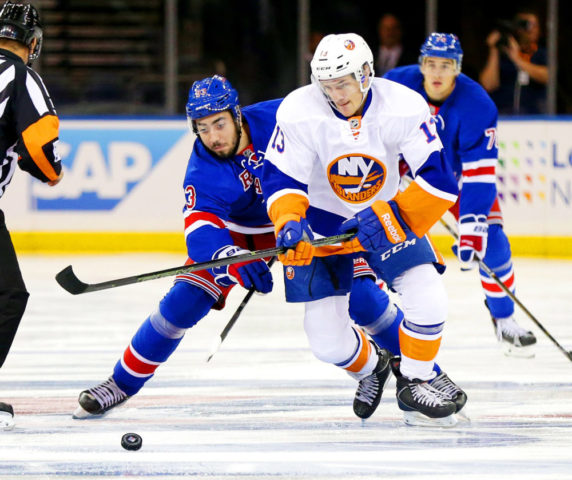 There's disappointment, but remember the Oilers made another couple of selections later with Caleb Jones (117th) and Ethan Bear (124th) that are looking very good right now. If Edmonton didn't make that Reinhart deal, you'd think this would be their best draft since those 1979, 1980 draft years. Here are some quick hits on the rest of the 2015 Oilers draft class.
D Caleb Jones
Drafted: 4th Round, 117th Overall
Jones is getting a decent amount of minutes with the Bakersfield Condors as a first-year pro. He has a goal and seven points in 21 games and is progressing well for a rookie. If you remember, Jones was one of the final 13 defensemen at Oilers camp this fall. His defensive awareness is getting stronger, and he's starting to shake the notion that he's just an offensive defenseman. After all, he averaged nearly point-per-game with the Portland Winterhawks last season (62 points in 63 games). Jones can absolute crank the puck, and that'll make him an excellent candidate to quarterback the Oilers power play in the future.
https://www.youtube.com/watch?v=zWYIC23-_6s
D Ethan Bear
Drafted: 5th Round, 124th Overall
Bear is currently out with a concussion, but he started his first pro year off with a bang. He put up five points in eight games before the injury. Like Jones, Bear's got a cannon, and he's unleashed it a few times this season. He was getting valuable first-pairing power play minutes and looks a lot faster this year. His defensive game is coming along, but he's got good strength and is hard to knock off the puck. He's also not afraid to jump into the rush and get in on the offense. He and Jones are both coming along nicely, especially for their first pro years.
D John Marino
Drafted: 6th Round, 154th Overall
The 20-year-old is playing in his second season with Harvard University in the NCAA. He isn't signed to an entry-level contract (ELC) because of college eligibility rules. Marino has four assists in ten games, otherwise described as a puck-moving defenseman and a smooth skater. Could be a while before he joins the pro ranks, but he could become a poor man's Jeff Petry.
Even though Marino's NCAA career is still in its infancy, (Ted) Donato has relied on him in all situations. He's paired him up with junior Wiley Sherman – a Boston Bruins fifth-round draft pick – giving him second unit power play minutes and first unit penalty killing duties. – Tom Gazzola, Oilers.com
G Miroslav Svoboda
Drafted: 7th Round, 208th Overall 
The 6'3″ and 176-pound goalie plays in the Czech League and has a surprising 1.96 goals-against average (GAA), and a .929 save percentage (SV%). The Oilers didn't sign him to an ELC by the June 1 deadline this summer and Svoboda went unselected after re-entering the draft. Technically Edmonton does not own his rights, but that didn't stop him from attending development camp this summer. He's still a long shot, but the team's still interested. The question is where his potential lies when or if he comes to North America. If he does, hopefully he's better than some other recent European draft picks like Samu Perhonen and Frans Tuohimaa.
D Ziyat Paigin
Drafted: 7th Round, 209th Overall
Edmonton placed Paigin on unconditional waivers in November, and the two sides mutually terminated his contract. He had signed a two-year ELC but was a frequent healthy scratch in Bakersfield. Paigin, 22, went pointless in 12 games in North America dating back to last summer. With his 6'6″ frame, it's sad to see the big Russian leave the organization, and he's the latest in a long list of European prospects that didn't pan out in Edmonton's system.
https://www.youtube.com/watch?v=XWrwP6O7_XM