The NHL trade deadline has come and gone.  With that, the Edmonton Oilers — a team pegged as buyers for the first time in a decade —  were extremely quiet. Peter Chiarelli came out publicly after the deadline and stated he attempted to clear some cap space by having Andrew Ference waive his no-move clause and while he was successful in that endeavor, the moves simply didn't happen.  Chiarelli went on to add that he isn't concerned. To paraphrase, 'this group got us here, they deserve a chance to take us to the next level.'
The Current Group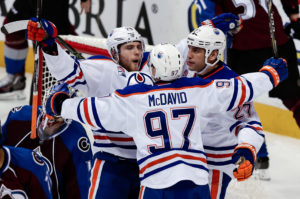 The Oilers management and coaching team believed heading into the deadline that this team was a team that came together over time. Furthermore, the roster deserved an opportunity to see what they could do. Adding too many pieces could unbalance the existing chemistry and with a team so lacking in playoff experience, having players earn that experience was key to their future success.
In one way, it's typical GM fodder and screams that Chiarelli doesn't believe the Oilers will go terribly far in the playoffs. In another, it makes some sense.
As Chiarelli explained, the Oilers have good depth on defense, good depth at forward and are an overall well-rounded group. As a result, Edmonton made one move to acquire a depth center and after that chose to sit back.
David Desharnais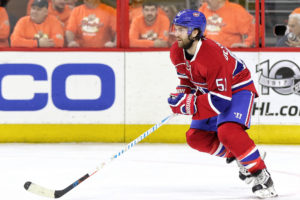 After moving Brandon Davidson in what has to be deemed a response to the potential loss of the defenseman in the NHL Expansion Draft, Chiarelli explained his acquisition of David Desharnais.
The Oilers view Desharnais on their third line. They expect him to come in and contribute at the center position right away and the hope is that he can rebound from a less than stellar season and provide some flexibility to the coaching staff when it comes to how they deploy the team the rest of the year.
Chiarelli answered questions on Desharnais in his conference following Wednesday's deadline by saying the following:
"He's a versatile player who plays well above the puck. He's smart, he competes. I know he's small, but he's strong and has a low center of gravity. I saw him for a lot of years playing us in Boston. He's a good player. This year hasn't been as good for him… he hurt his knee early on and has been in and out of the lineup prior to us acquiring him. This is a veteran player with playoff experience, he's high in character. These are the types of the little adds that can help you along the way."
Desharnais has traditionally been a good faceoff player but has struggled in the faceoff dot this year. As the worst faceoff team in the NHL, the Oilers are hoping he can get back to form and his traditional numbers.
Justin Fontaine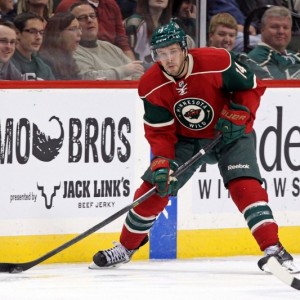 The Oilers traded prospect Taylor Beck for depth-forward Justin Fontaine. The idea was to add a stronger two-way presence to the organization. He'll also help the American League team in Bakersfield.
Fontaine does have a bit of a track record in the NHL and that played into the Oilers interests. Having played with the Minnesota Wild, he put up five goals and 16 points in 60 games last season and he brings with him an ability to play multiple roles. He's an undersized depth forward with a bit of a physical presence.
For some reason, the Oilers decided to move on from Taylor Beck. This move appears to be as much about moving out Beck as it was bringing Fontaine in.
Goaltending and Laurent Brossoit
Edmonton decided to go with the goaltending they have and were not after a goaltender on Wednesday. Despite rumours that the Oilers might be in on Jaroslav Halak, and there were goalies available in what looked to be a buyers market, Chiarelli chose not to go that route.
While backup goaltender Laurent Brossoit hasn't seen much action this season, Chiarelli is giving the netminder a bit of credit for the Oilers current position in the standings. As part of the group the general manager wanted to reward for getting the team to this stage, they felt it would be unfair not include Brossoit in that conversation. He'll get an opportunity over the remainder of the season to show some of what he has to offer.
The organization blames themselves for previous mistakes with the young backstop and since have been happy with Brossoit's progression and practice habits. Chiarelli explained their choice to stand pat was not a function of what was available today at the deadline.
Ryan Mantha
As part of a smaller deal on Wednesday, the Oilers signed junior player and big right-shot d-man Ryan Mantha. He's described as a late bloomer and Chiarelli explained the Oilers have scouted him and have been impressed with his strong season. Playing in 175 OHL games, Mantha has scored 101 points, including 51 points in 58 games this season with the Niagara Ice Dogs.
From Mantha's perspective, he's liked what Edmonton did with their young prospects. He's watched rookies like Matt Benning earn a ton of playing time and being offered responsibilities with the pro team is appealing. Mantha will likely play in Bakersfield by the end of this season and into next season. There is no plan that he's part of the Oilers immediate future.
Congratulations to @RMantha22, who signed an Entry Level Contract with @EdmontonOilers today! pic.twitter.com/QAUlfWS1ee

— Niagara IceDogs (@OHLIceDogs) March 1, 2017
The Asterisk: Jesse Puljujarvi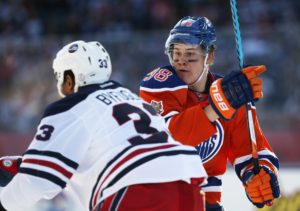 While it wasn't clearly stated as such, it sounds as though the plan is to not discount Jesse Puljujarvi as part of the future plans with the Oilers this season. He's had a strong campaign down in Bakersfield and as a result, Edmonton may have chosen not to actively pursue or overpay for a winger.
Puljujarvi may not be ready to make the jump back to the NHL and supporters of players like P.A. Parenteau or Thomas Vanek might disagree with this strategy, but the Oilers have the contract freedom to test the waters with Puljujarvi. If successful, the rookie may be a better option than some of what the Oilers might have had to pay for.
This flexibility likely played into some of the decision-making that took place on Wednesday.
Analysis
It's probably safe to assume that many were surprised by the Oilers lack of action. The only one who may not be surprised is Peter Chiarelli. Edmonton made calls and looked to free up room if an opportunity arose, but in the end, did very little.
If management is viewing this year as a time to gain playoff experience, but not necessarily win it all, this strategy makes some sense. Oilers fans won't like it, but perhaps they'll be pleasantly surprised with the results of the team anyways. As much as it's exciting to make the playoffs and the first instinct is to go for it, the better play may be to keep as many picks and prospects in place as possible.