Dylan Holloway has a big decision to make at the end of his NCAA season with the University of Wisconsin. After two years with the Badgers, will he turn pro and come to the Edmonton Oilers (or Bakersfield) or will he stay for his senior year in Madison, WI? Today I will give you a sneak peek at what to expect from Holloway if he turns pro this spring. 
Background History
Holloway was drafted 14th overall in the 2020 NHL draft by the Edmonton Oilers. In his draft year, he put up 17 points in 35 games while playing on the third line on the Wisconsin Badgers. His natural position is center, but he has been effective as a winger at times when needed as well. Holloway has also played on the PK and provided physicality and energy for his team.
In 2018, he showed off his talent in the AJHL as he lit up the league for 88 points in just 55 games and won the MVP as a 16-year-old competing with players aged 16-20. In the following year, he decided to challenge himself and accepted an offer to play with Wisconsin as a 17-year-old. It is very rare for an underage player to go to university, so doing this was a big achievement for Holloway. In his first year with the team he flew up the draft ranking boards, leading him to be drafted 14th in a very deep draft.
World Junior Tournament
Earlier this season, Holloway was allowed to leave Wisconsin to try out for a spot on Canada's world junior team. This year, it was even tougher to get a spot on the team because of the delayed start for the NHL. Many of the players drafted by NHL teams played on their junior teams which increased the number of players trying out for a spot on the team. After a 14-day quarantine, he finally got the chance to play with his fellow Canadians and did well in training camp. He ended up making the team and started off the tournament on the third line with Colorado Avalanche prospect Alex Newhook and Calgary Flames prospect Jacob Pelletier. As Canada ran through every team they played, so did Holloway, as he provided multiple spectacular body checks throughout the tournament.
Dubbed the "golden lab" by his Canadian teammates for his versatility to play in all situations, Holloway was dependable playing even strength, penalty kill and the power play. Although Holloway only had two points in five games (was injured for two games) he eventually worked his way onto the top line by the end of the tournament and was one of the best Canadian players in their final couple games.
This Season
In his first season with the Badgers, Holloway played in a bottom-six role for much of last year. He was elevated to the second line and also got power-play time, as well as minutes on the penalty kill. In 2020-2021, Holloway has had an incredible season so far. He's put up 33 points in just 18 games, good for fourth in the entire NCAA despite the fact that he missed eight games because he had to quarantine for the WJC. Holloway also holds a 57% faceoff percentage, another sign of his strong two-way game. Thanks to his outstanding play, Holloway has recently been nominated for the Hobey Baker Award as the best player in the NCAA. Right now, he is considered to be a dark horse for the award although it is unlikely he will win because of his teammate, Cole Caufield's dominance.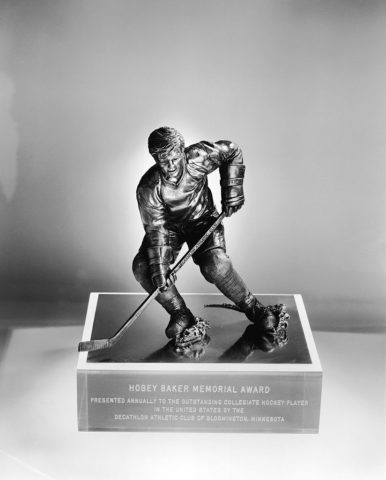 The Badgers have also been doing well as they hold a 15-6-1 record, good for 5th in the nation. Depending on how well the Badgers do in the Big Ten tournament will have a big impact on if Holloway considers joining the Oilers, or stay for his senior year. If the Badgers win, it's likely Holloway joins the Oilers before the playoffs, but if the Badgers have an early exit, Holloway could follow other NCAA players and stay another year for a shot at winning a championship next season.
What Can We Expect if He Joins the Oilers?
If Holloway were to join the Oilers it would likely be in early to mid-April, after he signs an entry-level contract. At that point the Oilers could be making a push for the playoffs. I could see Holloway stepping right into the lineup, after of course completing his mandatory 14-day quarantine. He could potentially center the third line with Tyler Ennis and Zack Kassian. Holloway could use his high hockey sense to help rejuvenate an Oilers PK which is currently sitting at 20 overall in the league, a far cry from last year's second overall group. (from 'OILERS NOTEBOOK: Penalty kill falls off cliff early in season,' Edmonton Sun, 01/30/2021)
Holloway's speed and puck handling skills could also be of use for the Oilers as fast, skilled, versatile bottom-six players are highly coveted around the league. With the Oilers also needing to amp up their physical game, Holloway could be exactly what they need, after he showcased his physicality at the World Juniors and the NCAA.
Right now, the third line is best suited as he is physically ready to play (6"1 203lbs) but may need a couple of games to get used to the pace of an NHL game. In terms of next year, there is a slight chance that Holloway starts the year in the AHL but I think that is highly unlikely thanks to the fact that the Oilers have multiple forwards headed to free agency. If he can be a plus player for the Oilers, whether it is on the second or third line it would be highly beneficial for the team thanks to his low salary cap hit. A good goal for Holloway should be to get 40 points, play a two-way game, and provide a spark for his team every night.
---
---