It was just one month ago that the Edmonton Oilers were the toast of the NHL with a 7-2-0 record through October and sitting first overall in the Western Conference. Fan enthusiasm was through the roof, and the last time the Oilers were off to a start like that was nearly 30 years ago. As much as there was fan optimism, everyone knew that November would be a real test for the young Oiler squad.
Edmonton would play 15 games in November with just five of those at home. Of those games, 10 would be against teams that qualified for the 2016 Stanley Cup Playoffs. How did the Oilers respond? The team faltered to a 5-8-2 record through the month, picking up just 12 of a possible 30 points. The team currently finds themselves third in the Pacific Division with 26 points with the Calgary Flames (24) and Vancouver Canucks (22) gaining ground.
Let's be real — the .778 winning percentage the Oilers held through October was unsustainable, but there was hope that they wouldn't finish November playing .400 W% hockey either. Much of that has to do with the team dropping six in a row in the first half of the month.
Then there were the two points they lost in winnable games like the first game of the month against Toronto (Nazem Kadri scoring in overtime with Connor McDavid draped around him). The other was the shootout loss to the Arizona Coyotes a week ago.
So what did we learn in Oil Country? If Edmonton wants to stay in a playoff spot, a lot has to change starting in December.
If McDavid Slumps, Edmonton Slumps
Just get this out of the way early here, everyone knows that McDavid is the one steering the ship in Edmonton.
Teams had figured out how to defend against the Oilers and Maple Leafs head coach Mike Babcock put it best when he said you might as well put all your eggs in one basket and smother McDavid and dare the rest of the Oilers to beat you.
That held true as McDavid went goalless through 10 games — the worst cold streak of his career — and the Oilers went 2-7-1 during that stretch. He broke that streak by scoring a hat-trick on November 19th against the Dallas Stars and put up 12 points in six games. The Oilers record during that time was 3-2-1.
It doesn't take a genius to figure this out. If the Oilers are going to hold the ground they need their secondary scoring, pretty much everyone not named McDavid, to start producing on a regular basis and take the pressure off the 19-year-old phenom.
RNH, Draisaitl, Pouliot Need to Be Better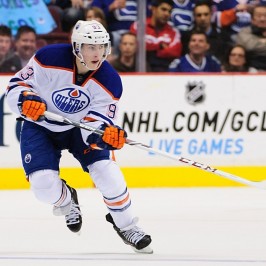 Three goals, 69 shots on goal and a 4.3 shooting percentage. You didn't read that wrong — that's Ryan Nugent-Hopkins' stat line right now. The 23-year-old center is on pace for the worst statistical year of his career and heading towards a 10 goal, 34 point season. Sure that's the total he put up last year, but that was in 55 games. If RNH had played a full season in 2015-16, that total would've been a respectable 18 goal, 51 point season. Even in the lockout-shortened 2012-13 season that would've been 49 points.
RNH truly is on pace for the worst year of his career, unless he turns things around in a hurry. He's not the only one, though. Leon Draisaitl scored just one goal during the Oilers six-game losing streak and is currently on a three-game cold streak. The 21-year-old has been streaky and salvaged his November with an eight-point tally over six games recently. He'll be on for three or four games, then off for the same number.
He needs to be more consistent, especially with Edmonton flip flopping between Draisaitl and RNH for the second-line center job.
Then there's Benoit Pouliot who carries a $4-million price tag and was held pointless all through November. The 30-year-old was expected to fill a top-six role with the Oilers but has found himself in head coach Todd McLellan's doghouse. Pouliot hasn't put up any points since recording two assists against the Washington Capitals on Oct. 26. That's a 14-game cold streak, not including the game's he's been a healthy scratch for.
If Edmonton is going to bounce back in December, these are the guys that are going to have to do it.
Injury Prevention & Bubble Wrap Investments
Whether the Oilers find a miracle for the injury bug or owner Daryl  Katz makes a sound investment in bubble wrap and bubble wrap accessories, something needs to give on the injury front. So far Edmonton has lost 119 man games to injury this year, and we're only two months into the season. By the time April rolls around they're on pace for 357 man games lost, if everyone keeps dropping like flies and this pace keeps up.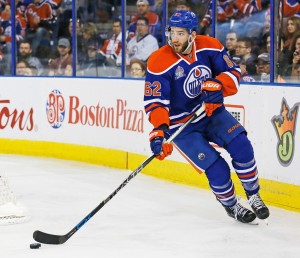 The backend has been hammered with Brandon Davidson and Eric Gryba still on long-term injured reserve. Kris Russell, Matt Hendricks, and Drake Caggiula recently came back from injury and the team currently doesn't have a significant core player on the shelf. Now that players are back, it's about icing the best roster and keeping that roster healthy. Bubblewrap RNH's hotel room, make sure no one comes around Connor unless they've had their flu shot and hire someone to shovel Cam Talbot's driveway, so he doesn't throw out his back pushing snow next month.
Edmonton plays 14 games in December, and five of them are against Pacific Division rivals. Sure the Oilers played 10 games against 2016 Playoff teams in November, but in December that number will be eight. Overall it's a moderate schedule with a competitive balance, and the Oilers have done favorably well or at least stayed in all, if not most, games against the teams they'll play again in December.
If the Oilers can average a point per game or .500 W%, they'll make up ground for a horrendous November.