The NHL is set to unveil the new Adidas-branded jerseys at the 2017 NHL Draft in Chicago, and the Edmonton Oilers have some changes in store. It's been well known that the Oilers have elected to go with their orange thirds as their home uniforms, but the new Adidas jerseys will have a subtle change in color palette.
Chris Creamer (SportsLogos.net) has been one of the leading sources when it comes to jersey news and said there would be 13 teams (including the Vegas Golden Knights) that will have alterations.
The teams we were told to expect some changes to are the Boston Bruins, Buffalo Sabres, Calgary Flames, Colorado Avalanche, Columbus Blue Jackets, Dallas Stars, Edmonton Oilers, Florida Panthers, Minnesota Wild, Nashville Predators, New Jersey Devils and the Ottawa Senators.

– Chris Creamer, Sports Logos
Oilers Entertainment Group (OEG) CEO and Vice Chairman Bob Nicholson initially broke the news about the change from wearing blue home jerseys to orange ones in 2017-18 and beyond. In an interview with the Edmonton Journal's Terry Jones, Nicholson discussed how there was no better time for a change with the Oilers wanting to celebrate the start of a new era and building a new identity.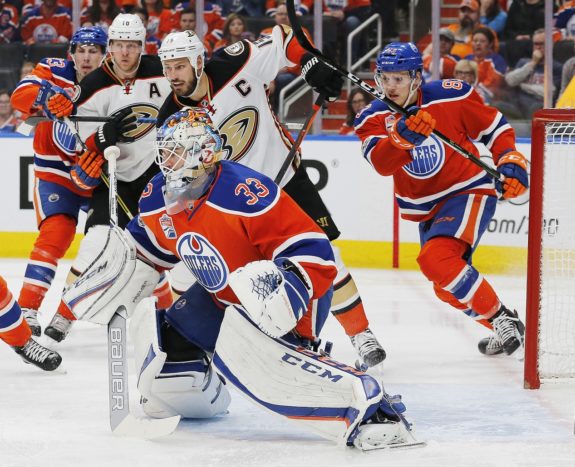 A New Building, New Identity & New Era
As you remember, Edmonton ushered in their Orange Crush marketing campaign for the playoffs and encouraged fans to create a sea of orange in the crowd. The new threads have been a major seller, and some sports apparel stores in the Edmonton area even claimed increases in sales for the new merchandise had exceeded 1,000 percent. A few stores even sold out of the orange jerseys during the playoff run and had them on back order.
"I want to touch and respect the past, but we're in a new building. We're in a new era. We have a new leader in Connor McDavid. We have a team that is building their identity for today. It's great to talk about playoff memories from the past and 2006, but this is a new era."
One of Edmonton's organizational pitfalls has been the reliance on continually drawing memories and stories about those dynasty years in the 1980s. It's overshadowed a majority of the Oilers' last 30 years, but then again, Edmonton hasn't had much to brag about since winning a Stanley Cup in 1990.
When you think back to every iconic moment since then (Todd Marchant's overtime goal in 1997, and the 2006 Cinderella run), the Oilers have had a look that personified each of those respective eras. Even those ugly Reebok jerseys unveiled for 2007-08 remind fans of how horrible the team became during those years.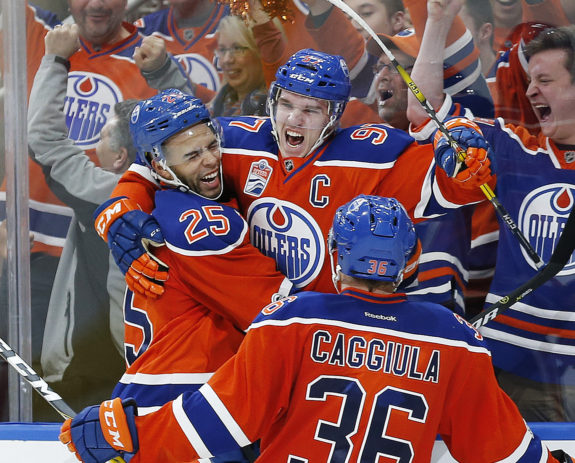 Navy Blue & Orange
For the kids that are too young to remember those glory years or the moments since, going orange is a good thing. They've had to listen to the stories from their parents and even grandparents, but now they'll have an era to relate to.
According to Creamer, the Oilers will also be changing the royal blue colors to a navy blue. Their current orange threads have blue on their helmets, shoulder patches, main body of the horizontal stripes, and pants. Edmonton's road whites have blue on their shoulders and pants as well, with two blue horizontal stripes on the jerseys.
The changes would give the team a more crisp, darker blue look. It's a subtle change, and the casual fan likely won't notice. Expect the color palette changes to happen to both jerseys. For all the fans that bought new ones last month, they'll be out of date in a month or so, and a brand logo won't be the only difference.
As mentioned previously, the NHL will not have any third jerseys for 2016-17. So if you're a fan of the blue jerseys, there's always the possibility the Oilers bring them back when Adidas opens up to designing third jerseys.