Darnell Nurse Sent Back to the OHL
After last nights 5-3 victory over the New York Rangers, the Edmonton Oilers announced they were sending defenseman Darnell Nurse back to the Sault-Ste-Marie Greyhounds of the OHL. Nurse had a strong showing in training camp, and returning him to junior was no easy decision by the Oilers brass. But the 18-year old handled the demotion well.
"I have no regrets on what I did out there on the ice. I gave everything I had. I'm happy with the way I played. It's never fun to get cut, but you learn from it. It's not a great feeling but, like I said, it's the best plan for me and my development and years down the road I am sure I'll thank them. I'm going to go back and dominate my league and hopefully I'll have the opportunity to play in World Juniors". (Edmonton Oilers)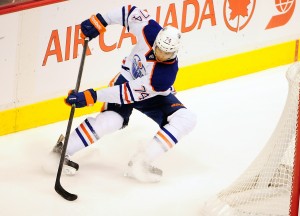 And dominate he will. Nurse displayed a lot of physicality, and an offensive flair. He's an extremely strong skater, and showed a lot of poise with the puck during his brief time in the NHL. Edmonton is starting to build up a lot of depth on defense, and there's no need to rush Nurse to the NHL at this point. There is a lot of reason for optimism surrounding the seventh overall pick.
Center Ice Picture Coming into Focus
There were a few more cuts last night, including defenseman Taylor Fedun, forward Tyler Pitlick and center Anton Lander being sent down to Oklahoma City of the AHL. The team also placed forward Ryan Jones on waivers today. The demotion of Lander pretty much answers the question about who will be the team's four centermen to start the season.
With Taylor Hall anchoring the first line, and Boyd Gordon on the second or third line, Mark Arcobello and Will Acton will man the remaining lines. For Acton, who's father Keith is an assistant coach with the Oilers, played for Dallas Eakins in Toronto, and has impressed thus far at camp. Acton is a big body presence who is strong in the face-off dot. He scored eight goals and 19 points for the Marlies last season, so he won't be counted upon for his offense, but he will likely be a go-to penalty killer.
Mark Arcobello is another great story for the Oilers. The veteran of just one NHL game was hard-pressed to make the team, but numerous injuries have paved the way for Arcobello to start the year in Edmonton. He's a smaller player, but he's feisty in terms of puck retrieval and displayed some chemistry with David Perron and Jordan Eberle. He fed a nice pass to Perron for a goal in last night's game, earning him the second star.
Former Oiler Eric Belanger Announces Retirement
Éric Belanger is leaving the KHL. He's retiring from hockey after 820 games in the NHL. He's 35 years old. Great guy.

— Renaud Lavoie (@LavoieRenaud) September 25, 2013
Eric Belanger was a huge pick-up for the Oilers a few years ago, but he was eventually bought-out by the team, and signed a contract with the KHL this past summer. After scoring no points in seven games, and citing home-sickness, Belanger has come back to North America and is set to formally announce his retirement.
Belanger has always been a strong face-off guy, and was a big help for the Oilers in that department. His offensive output with the team was very low, scoring just four goals and 19 points in 104 games for Edmonton.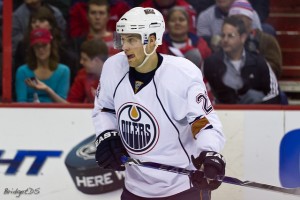 Preseason Round-up
While there should never be too much stock placed into preseason games, the Oilers have won their last four in a row after dropping the first two despite facing various injuries to key players. The team has one more exhibition contest, Friday night against the Dallas Stars.
Some thoughts from head Coach Dallas Eakins
On the team's overall play: "(Sitting back with a lead) kills me… makes me crazy… I find the best way to hold a lead is to score another goal."
On Mark Arcobello: "He's making some plays… He's had to play a lot and I feel like he's responded well."
On the demotion of Linus Omark: "He tried to do too much… He put it on himself and you can't do that in this league. We didn't see enough for him to unseat someone in the forward group." (Oilers Twitter)
Marcy, a former hockey player, is a hockey correspondent on CTV News and TSN radio. She began her career as a Sports Journalist in 2009 and has been part of The Hockey Writers since 2010, where she is currently a senior writer and editor.