Boston College
Despite losing one of the top six scorers in the country in Alex Carpenter, the Eagles should boast a dominant offense, which really speaks to the strength of their forward group. Haley Skarupa and Emily Field will be the offensive catalysts; sophomore Dana Trivigno looks ready to step into a more prominent role; and Melissa Bizzari and Taylor Wasylk should be able to provide secondary scoring. They're also bringing in a great crop of freshmen forwards in Kristyn Capizzano, Haley McLean, Andie Anastos, and Stephanie Lemieux, daughter of Pittsburgh Penguins legend and owner Mario Lemieux.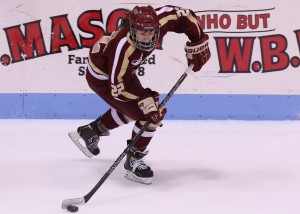 BC's defense likely regresses a bit with the graduation of Blake Bolden and Dru Burns. Emily Pfalzer in particular will be looked at to help replace the production of Bolden. Sophomores Kaliya Johnson and Lexi Bender should be able to up their games after solid rookie years; veterans Meagan Mangene and Jackie Young bring plenty of experience to the table and give the Eagles depth on the blue line. Corinne Boyles, who has developed into a very good goaltender over the last year or so, will be returning, and that should help Boston College with some potential issues defensively.
Key Player: Emily Pfalzer
The highly-skilled offensive defenseman will be counted on to lead this defensive corps at both ends of the ice; if she can help the Eagles successfully adjust after their defensive losses, they'll be in business.
Outlook
They're losing significant players at both skater positions but there are enough young, talented players on this roster for the team to adjust properly. Boston College is the favorite to win the conference and with great skill and depth both offensively and defensively, and very solid goaltending, that's exactly what I expect from the Eagles.
Boston University
Easily the biggest loss for the Terriers is going to be forward Marie-Philip Poulin, who's been one of the most valuable players in the country at both ends of the ice throughout her career, making her nearly impossible to replace. They're also losing second- and third-leading scorers from 2012-2013, Jenelle Kohanchuk and Isabel Menard, and top-six forward Jill Cardella. But Sarah Lefort, Kayla Tutino, and Louise Warren are all legitimate threats, and sophomore Rebecca Russo should be able to produce a little more this season. Incoming freshmen Maddie Elia and Samantha Sunderland should also contribute to the top-nine.
It would be reasonable, at the very least, to expect issues for BU on the back-end. Number one defenseman Shannon Doyle will miss the season with a torn labrum, leaving the Terriers with little depth and almost no fluent puck-moving ability on the blue line. Shannon Stoneburgh and Kaleigh Fratkin will have to step up, but there's really not much experience behind them. Rookie Sarah Steele may be able to fill a top-four spot right away, but headaches defensively are inevitable. Luckily, senior Kerrin Sperry has solidified herself as a very reliable goaltender, and she'll without a doubt be counted on to turn out quality performances in net.
Key Player: Kerrin Sperry
She's proven that she can be consistently good, and way better than that when need be, and the Terriers will need that from her this year with holes all over the defense.
Outlook
Boston University has found a way to get to the national championship game in two of the last three seasons, and though there are going to be many adjustments to be made, I think they'll be good enough to finish second in the conference. It wouldn't be hard, however, to imagine them falling to third or even fourth if they have too much trouble getting things sorted out, especially on defense.
Connecticut
Up front, the Huskies have two decent scorers in Kayla Campero and Michela Cava, but the production dries up after that. They certainly don't have any really dynamic forwards, so goal-scoring will more than likely be an issue for them. They may get some help from their incoming class, specifically from Viivi Vaattovaara, who could surprise as a skill player.
Preventing goals will also pose some problems for UConn. They don't really have one stand-out defenseman, and it's going to be tough for the unit as a whole to match up against most teams. Sophomore goaltender Elaine Chuli has some potential, but I'm not sure she's capable of consistently keeping the Huskies in games.
Key Player: Michela Cava
She led the team in goals as a freshman last season and will have to take control again for the offense to be somewhat successful.
Outlook
Connecticut just doesn't have the talent at any position to compete with most of the teams in the conference. I'd expect another last place finish for the Huskies.
Maine
The Black Bears are probably going to have some scoring woes this season with the graduation of Brittany Dougherty. Jennifer Moore, Audra Richards, and Kayla Kaluzny are all mid-level scorers, but there's not much of a supporting cast behind them. But they're bringing in a nice freshman class with Karissa Kirkup, Eve Boissonneault, and Emilie Brigham, and they should be able to get some production out of those three.
Maine does have some quality on defense, though they lack in depth there too and will have to deal with the loss of Chloe Tinkler. Brooklyn Langlois is a severely underrated player, and incoming freshman Kristin Gilmour definitely has potential. Fellow rookie Jessica Valloton could also contribute right away. They've unfortunately got a huge hole in net, however, after the graduation of Brittany Ott. Meghann Treacy looks like the probable first-string goalie as of right now, but there are going to be some bumps in the road for the Black Bears in that regard.
Key Player: Brooklyn Langlois
She's a great defensive player despite being only a sophomore and will have to step up in a big way this year and really anchor Maine's blue line.
Outlook
There are too many issues up front and in goal here to ignore; despite having some talent on the back-end they just don't really have the depth there to be a truly competitive blue line. They should be better than Connecticut, at least, and have a chance at maybe moving up one spot in the standings to sixth, but I would expect them to remain in seventh.
New Hampshire
New Hampshire is losing two of their top three scorers in Kristina Lavoie and Kristine Horn, but they still have some veteran scorers in Hannah Armstrong, Jessica Hitchcock, and Arielle O'Neill, as well as sophomore Sara Carlson. Between those four players, they should be able to put together a decent top-six and a pretty competitive group of forwards overall.
Sophomore defenseman Alexis Crossley is actually the team's leading scorer, and her offensive abilities and mobility will without a doubt come in handy this year. Classmate Megan Armstrong also had a pretty good freshman season and will likely be able to step up for the Wildcats. Junior goaltender Jenn Gilligan will have to improve a bit on her 2012-2013 numbers (2.29 goals against average, .909 save percentage) in order to help out a fairly young defensive corps.
Key Player: Jenn Gilligan
Her play this year will have an effect on the confidence of the team as a whole, which will definitely play a part in how much they can achieve.
Outlook
With less offensive depth and teams below them improving, I see New Hampshire slipping a bit in the standings this year. I expect them to finish either fifth or sixth, depending on how good Gilligan is and how strong the other teams in the conference are.
Northeastern
The Huskies are suffering undeniably huge losses up front, with super star Kendall Coyne off with the U.S. national team and Casey Pickett and Rachel Llanes now graduated. That leaves Brittany Esposito and Kelly Wallace as the team's returning top scorers, and though good second-line players, I'm not sure they'll be as comfortable in leading roles. Sophomore Paige Savage, however, could be ready to make the jump to true top-line producer, and Katie MacSorley, Claire Santostefano, and Lucie Povova should be able to provide depth scoring.
Northeastern's defensemen tend to be pretty involved offensively, a trait that suits the fast-paced attacking style the team likes to play. Look for Maggie DiMasi and Colleen Murphy to lead the transition game from the blue line; sophomore Zoe Hickel also looks ready to take on more of those responsibilities. The Huskies also have two very solid defenders in Sonia St. Martin and Jordan Hampton, who as just a sophomore has plenty of untapped potential. Goaltender Chloe Desjardins proved at the end of last season that she can be the team's go-to in net, but her overall consistency will have to improve this year.
Key Player: Jordan Hampton
If Hampton can establish herself as a mainstay in the top-four as a strong defensive presence, that Northeastern defense as a whole will be in very good shape, which will help the team tons.
Outlook
Even with Savage likely to produce more I just can't see the Huskies replacing all of their scoring from last season, and that will really hurt them. The speed throughout their line-up makes them a tough team to skate with, but I don't see them being as good as they were last year. I expect them to fall to fourth in the conference, but there's enough talent left on the roster to keep them from dropping any further.
Huskies are on the ice for their second day of practice. Exhibition game vs. McGill on Sunday at 2 p.m. #GoNU pic.twitter.com/uhfdeoA24O

— Northeastern Women's Hockey (@GoNUwhockey) September 23, 2013
Providence
Even with the loss of leading scorer Nicole Anderson and top-six forward Jessica Vella, the Friars' offense looks to be in good shape. Sophomore Molly Illikainen will improve production-wise from her rookie total of 30 points in 35 games to help lead the offense; Haley Frade, Corinne Buie, Brooke Simpson, Beth Hanrahan, freshman Cassidy Carels, and transfer Janine Weber are all good top-six options as well.
Between Rebecca Morse, Maggie Pendleton, and Lexi Slattery, Providence will have a very mobile defense, perhaps the best in the conference if they can reach their potential. Lexi Romanchuk also has solid top-four ability, giving the Friars some depth on the back-end. The only big question for the team heading into the year is goaltending. Sarah Bryant eventually earned the starting job over Nina Riley last year, but she was sub-par, with an .882 save percentage and 3.15 goals against average. The defense will have less to adjust to this season, however, which will help limit scoring chances against.
Key Player: Sarah Bryant
Goaltending is the only real hinderance to Providence on paper and if Bryant can come in this season and establish herself as a true, consistent starter, it will help matters greatly.
Outlook
The Friars have a great opportunity this year to improve on last season and jump a few spots in the Hockey East standings. With very good top-six forwards and top-four defensemen, I expect Providence to climb to third, as long as they can get fairly decent goaltending.
Vermont
The Catamounts are in decent shape up front, with juniors Amanda  Pelkey and Brittany Zuback likely to lead the offense again. The graduation of Erin Wente and Emily Walsh as well as the transfer of Meghan Huertas will hurt without a doubt, but they've still got two other top-six forwards in Klara Myren and Kellie Dineen, and freshmen Bridget Baker and Victoria Andreakos could potentially play scoring-line minutes right away.
Vermont's defense isn't going to wow anyone but they have some nice pieces on the blue line, too. Dayna Colang and Gina Repaci both had good freshman seasons statistically, with Repaci leading the defense in scoring with 15 points and Colang putting up 10. They should be even better at both ends of the ice as they mature as players. The Catamounts are also adding a veteran player in Ashley Salerno, who's transferring from Amherst College for her senior year. With Roxanne Douville in net, they should have a good chance to win every night; she's the best goaltender in the conference when it comes to game-stealing abilities.
Key Player: Amanda Pelkey
I expect Pelkey to have a break-out junior season and establish herself as a constant threat for opponents. If she can be that consistently dynamic player, opposing defenses will have their hands full with her, opening things up for Vermont's offense as a whole.
Outlook
I think Pelkey's emergence as a true star in the league, combined with consistency in goal from Douville, help to boost the Catamounts this year. They're also going to be able to ice a full line-up, which they couldn't do in 2012-2013; that in itself will make it easier for them to compete. It's a bit of a stretch, but I see them improving enough to climb to the fifth spot in the standings.
#VCats were all smiles this morning at their 1st official practice, full gallery here – http://t.co/8R1qQyGlLb pic.twitter.com/VlWiwWpQap

— UVM Women's Hockey (@UVMwhockey) September 21, 2013
Predicted Standings
Boston College
Boston University
Providence
Northeastern
Vermont
New Hampshire
Maine
Connecticut
Preseason All-Hockey East First Team
Haley Skarupa, Sophomore, Forward, Boston College
Sarah Lefort, Sophomore, Forward, Boston University
Molly Illikainen, Sophomore, Forward, Providence
Rebecca Morse, Senior, Defense, Providence
Emily Pfalzer, Junior, Defense, Boston College
Roxanne Douville, Senior, Goaltender, Vermont
Preseason All-Hockey East Second Team
Paige Savage, Sophomore, Forward, Northeastern
Amanda Pelkey, Junior, Forward, Vermont
Emily Field, Junior, Forward, Boston College
Alexis Crossley, Sophomore, Defense, New Hampshire
Maggie DiMasi, Senior, Defense, Northeastern
Kerrin Sperry, Senior, Goaltender, Boston University
Preseason Awards
Player of the Year: Haley Skarupa, Boston College
Defenseman of the Year: Rebecca Morse, Providence
Goaltender of the Year: Roxanne Douville, Vermont
Rookie of the Year: Andie Anastos, Boston College