After taking over from Craig MacTavish as general manager of the Edmonton Oilers back in late April, Peter Chiarelli was well aware of the situation he was getting himself into. While he was gifted Connor McDavid at the 2015 NHL Entry Draft, the former Boston Bruins GM has wasted little time in trying to put his stamp on this roster.
Chiarelli went out and tried to address this team's need in-goal by acquiring Cam Talbot from the New York Rangers at the draft for a couple of mid-round picks. He also added another young defenceman into the mix by sending a first and second pick to the New York Islanders in exchange for Griffin Reinhart. And closed his weekend out by bringing in blueliner Eric Gryba, in what was essentially a swap for Martin Marincin…albeit in a roundabout sort of way.
Chiarelli Has Been A Busy Man
Add to that last night's swap with the Arizona Coyotes, that saw Boyd Gordon and Lauri Korpikoski change homes, and suddenly you have roster that has had quite a bit of a makeover over the last four days. With today being the first day of free agency, Chiarelli still has some work to do in order to have this team pointed in the right direction come next October. Not surprisingly, the two biggest areas of concern remain on the backend and at centre.
[Related Article: Is Cody Franson The Answer?] 
When it comes to the Oilers current crop of defencemen, two things stand out above all else. The lack of impactful experienced players and the plethora of depth defenders. While the quartet of Oscar Klefbom, Darnell Nurse, Reinhart and Justin Schultz may one day make up of the core of this blueline, they are nowhere near ready to accept the challenges that comes with playing elevated minutes at an elite level. Too much, too soon is almost never a good idea.
As far the lack of experience goes, only Mark Fayne has the ability to handle a top-four role on a nightly basis. Be it Andrew Ference, Gryba or Nikita Nikitin, none of three has proven to be anything more than bottom pairing options and even that could be viewed as a stretch. When you put those two things together, can anyone honestly expect this backend to survive an 82-game NHL schedule? In my opinion, the answer to that question is rather obvious.
@Oil_Drop based on that description, Spurgeon, Ellis, Ekholm are all home runs.

— Alan Hull (@alanhull) July 1, 2015
With that in mind, Mr. Chiarelli has no choice but to continue to tinker with his backend, be it via trade or the free agent market. If the plan is to go out and try to contend for a playoff spot in the Western Conference, the status quo won't do. Whether we are talking about high-profile free agent's such as Cody Franson and Andrej Sekera or potential trade targets like the ones mentioned above by Alan Hull over at the Copper and Blue, something needs to be done.
Contrary to what the Oilers new GM said in Florida following the draft, no one should feel comfortable about this lineup as it is currently constructed. Training camp is still a ways away, so there is still plenty of time to fix things but let's not sugarcoat things. If for whatever reason, Edmonton is not able to improve their blueline prior to their season opener on October 6th against the St. Louis Blues, this group  would arguably be worse than the one they deployed in 2014-15.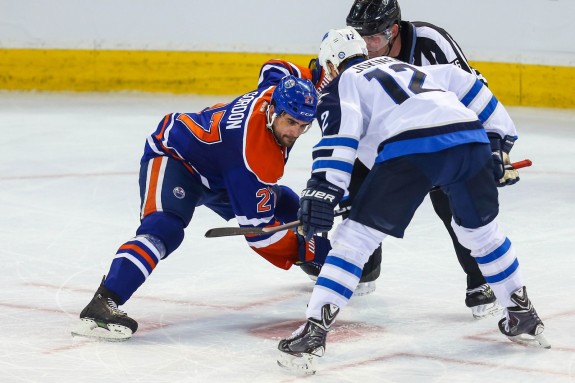 Gordon's Departure Leaves A Hole At Centre
With Gordon no longer part of the equation and the trio of Anton Lander, McDavid and Ryan  Nugent-Hopkins all but guaranteed to make the team out of camp, the need to add another centre is painfully obvious. While Leon Draisaitl will be given a chance to earn a spot inside the top nine, it will not be at centre. Adding a player with McDavid's skill-set will surely help when it comes to how Todd McLellan ultimately decides to dish out ice-time but someone is going to have to take defensive zone draws.
In a perfect word, adding a third line centre would probably be a best case scenario but that could be easier said than done. Eric Fehr of the Washington Capitals would be a good fit but with a 19-goal campaign in his back pocket and a weak free agent class, signing the 2003 first rounder could prove to be difficult. With that being the case, the Oilers may decide to go with Lander as their third line centre and look to bring in a cost-effective veteran to use on their fourth line.
Mike Russo reports that 5 teams have interest in Kyle Brodziak.

— Brennan Klak (@nhlupdate) July 1, 2015
As per usual, the free agent market is littered with useful bottom six forwards. Unfortunately, many a general manager will overpay those players to have them sign on the dotted line and it can become problematic down the road. As useful a player as Gordon is, paying him $3 million to win draws and take an absurd of amount of defensive zone starts is a little steep.
With that in mind, if Edmonton can go out and sign a Kyle Brodziak, Marcel Goc or Mark Letestu to reasonable number and term, that would certainly be an improvement on what they currently have. It may seem like a small piece of the puzzle, but it is a piece that Peter Chiarelli must ensure he acquires over the next few weeks. Do that and find at least one quality defenceman and this  group should be able to hold their own on most nights.  Which would be a step in the right direction.
Rob Soria is the Author of Connor McDavid: Hockey's Next Great One. He has chronicled the Orange and Blue since creating his Oil Drop blog in 2011 and has also had his writings featured over at HometownHockey.ca and Vavel USA, where he has covered the NHL, MLB and ATP Tour. Rob was born, raised and still resides in Edmonton, Alberta and can be reached via twitter @Oil_Drop.