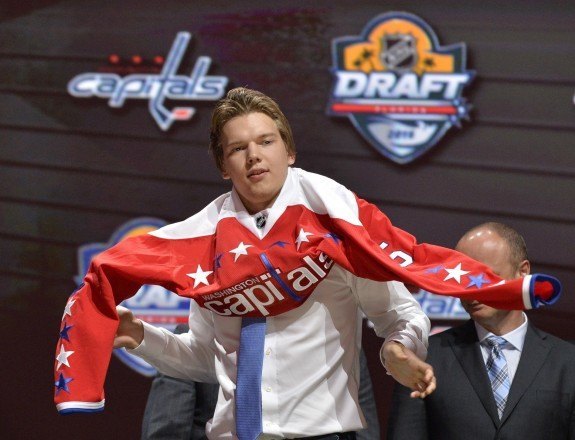 As we get into free agency, the dust is still settling on what just happened in Sunrise, Florida. The Capitals only had five picks to work with coming into the draft, and with maybe a couple of prospects coming into the team full time next season, they had to replenish the prospect pool and make each and every pick count. What General Manager Brian McClellan and his assistant Ross Mahoney did, was quite perplexing. Here is a breakdown of each and every pick and with the use of their career numbers, here is a projection of each draft pick going forward.
22. G Ilya Samsanov – Draft Age: 17.56 yrs old, MHL, 18 games, 91.8% save
Boy, was this one a doozy! Among the number one rules in building a hockey team long term, let alone the rules of analytics, is to never trust goaltending. This graph by Gabriel Desjardins should be etched into every front office personnel's memory if they ever want to understand the nature of that position. It also doesn't help that prospect data throughout the world is nowhere near as advanced as it is at the NHL level. So all those facts alone should prevent you from ever selecting a goaltender in the draft, unless he is a once in a generation player. Even then, you can never ignore that the "once in a generation" goaltender in the NHL right now was a seventh round selection. Add in the fact that Braden Holtby should be signed to a long-term contract by the end of this month and the Capitals traded up to select Vitek Vanicek in last year's draft and this just flat out makes no sense. With the lack of top-tier scoring talent in the prospect pool – other than Jakub Vrana, Washington should have taken another point getter in this portion of the draft. Guys like Nick Merkley, Anthony Beauvillier and Mike-Richards-in-training Travis Konecny were available, as well as one of Capital's analyst Alan May's favorite, Brock Boeser.
Please take the time to read this https://t.co/R6IPhkK2ka

— Alan May (@MayHockeyCSN) June 24, 2015
With that out of the way, and barring any potential conspiracy theories that this selection was only to allow the Capitals to trade either Vanecek, Justin Peters or Philipp Grubauer for a top-six forward this week, let's take a look at how good Samsanov really is. With the little information that is out there, Josh Weissbock at Canucks Army did as good a job as possible to differentiate all the goaltending prospects from North America and Europe. In conclusion, Samsanov definitely came out as, at minimum, one of the best goaltenders that will come out of his peer group. Despite only having one KHL game under his belt, Samsanov's 91.8% save percentage with Metallurg's MHL affiliate and his starting role with Russia at the World Under-18 Championships puts him on the right track. With a KHL contract that lasts until 2018, Washington also has the leverage to allow all their young goalies to develop long term or play with their goaltending depth for the next three years. Still, this was not a move I would have made. Even if "taking the best player" is among another one of those cliches you here all the time, a goaltender's developmental risk almost always outweighs how talented he is.
57. D Jonas Siegenthaler – Draft Age: 17.36 yrs old, NLA, 41 games, 0-3-3
While Washington will have plenty of turnover amongst the forwards at the NHL level, there will also be plenty of change along the blue line positions as well. While Mike Green and Tim Gleason will be leaving for the free agent market, it is looking like Nate Schmidt and Dmitri Orlov will be moving up towards full-time positions at the NHL level. That means many left-handed shots will no longer be in the prospect pool, let alone in Hershey.
Now, Siegenthaler surely is a different type of defenseman compared to Schmidt and Orlov in that he uses his size and is more known for banging bodies than unloading shots. The fact that the 6'2″ 220-pound youngster has played almost a full season in Switzerland's top professional league is an encouraging sign. Also, Siegenthaler has already been a member of Switzerland's National Team at the World Junior level. Despite finishing among the worst in the tournament, Switzerland generated good puck possession and he was a major part of that. Because he played in Europe, Siegenthaler's equivalency numbers were never going to look good at this point in time, even if the NLA has a higher conversion rate than any of the development leagues in North America.
With only Christian Djoos remaining amongst left-handed defensemen in the prospect pool next season, Siegenthaler wasn't the worst player to get in the second round in the draft. That being said, there was another left-handed defenseman that has put up some big numbers before and went a few picks afterwards that I would have rather had Washington take instead. Also, name any NHL draft value chart on the internet and you you notice that Washington traded too much to only move up such a few spots. According to my calculations, the Capitals could have used the 62nd and 113th overall picks to move into the earlier stages of the second round. Afterwards, players like Nick Meloche, Daniel Sprong and Jansen Harkins were available and any one of them would have become one of the best prospects on the team.
143. D Connor Hobbs – Draft Age: 17.70 yrs old, WHL, 41 gms, 2-16-18
173. D Colby Williams – Draft Age: 19.64 yrs old, WHL, 64 gms, 11-30-41
The Capitals finished the draft by taking two defensemen from the Regina Pats, where both Mahoney and head coach Barry Trotz know the lay of the land. Hobbs and Williams are both right-handed shots and join Madison Bowey, Tyler Lewington and Connor Carrick as the other players with that handedness in the prospect pool. Both blueliners don't put up major numbers as both are between 25th-50th in the WHL in any major statistical WHL scoring category. Despite being an over-aged draftee, Williams has progressed to a level where his output is higher than fellow Capitals prospect and WHL player Lewington. With Hobbs slowly developing his skills, especially after being traded from Medicine Hat this regular season, the Capitals can now rely on a younger second or third tier of prospects to develop slowly. Even if they don't make it to the big club, Hobbs and Williams should have a chance to make an impact on the organization the same way Cameron Schilling and Tomas Kundratek and even Patrick Wey did.
Ben covers the Washington Capitals at the hockey writers. He has been blogging about the NHL since March 2013. Follow him @DCSportsDork