He made a great first impression and there's a better-than-good chance he'll be a top-two defenseman when he finally makes his mark in the pros, but for now, Evan Bouchard is being sent back to the OHL's London Knights, where the Edmonton Oilers will build his confidence as an all-around player, have the scouts watch him closely and take another look at his game in the NHL next season.
Kevin Gravel will be recalled from the Condors to fill Bouchard's spot and while some will argue there's not much left to learn in the OHL, those arguments would be wrong and the majority of the fanbase should see this move and realize, the Oilers made the right decision.
The #Oilers have assigned 2018 first-round draft pick, defenceman Evan Bouchard, to the OHL's @GoLondonKnights & recalled defenceman Kevin Gravel from the @Condors. pic.twitter.com/8G5u1Thwa3

— Edmonton Oilers (@EdmontonOilers) November 2, 2018
What Bouchard Is
Yes, Bouchard going back to the OHL was the right move. He may be too good for that league, but there's nothing wrong with dominating, building confidence and bringing that confidence to the NHL where there is a lot to look forward to with this young man. He's big, he has a bomb of a shot from the point, and he's a right-handed puck mover with strong hockey sense and potentially elite vision.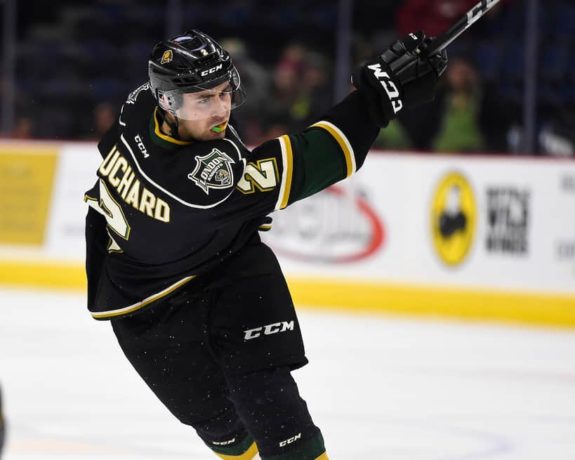 He'll likely compete for a Memorial Cup with a London Knights as the team's leader and building a resume that includes winning is never a bad thing. Depending on how far the Knights go, he'll bring that experience back to the Oilers and everyone will be better for it.
It would have been nice to be able to send him to the AHL, but that's not how the rules work at this time, so Bakersfield wasn't an option.
Related: Oilers Get Much-Needed Help From Unlikely Trio
Bouchard Wasn't Ready
There is an argument that Bouchard could have stayed with Edmonton this season. In seven games, he was 1-0-1 and played a number of minutes, getting opportunities in a number of situations. He wasn't sinking, he wasn't chaotic and he wasn't panicked. He learned a lot, but, at the same time, the Oilers have better options.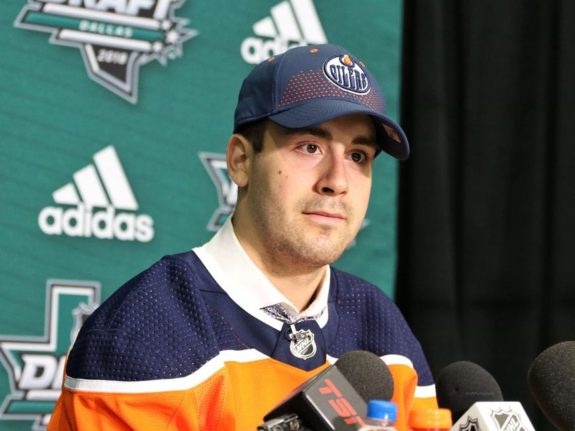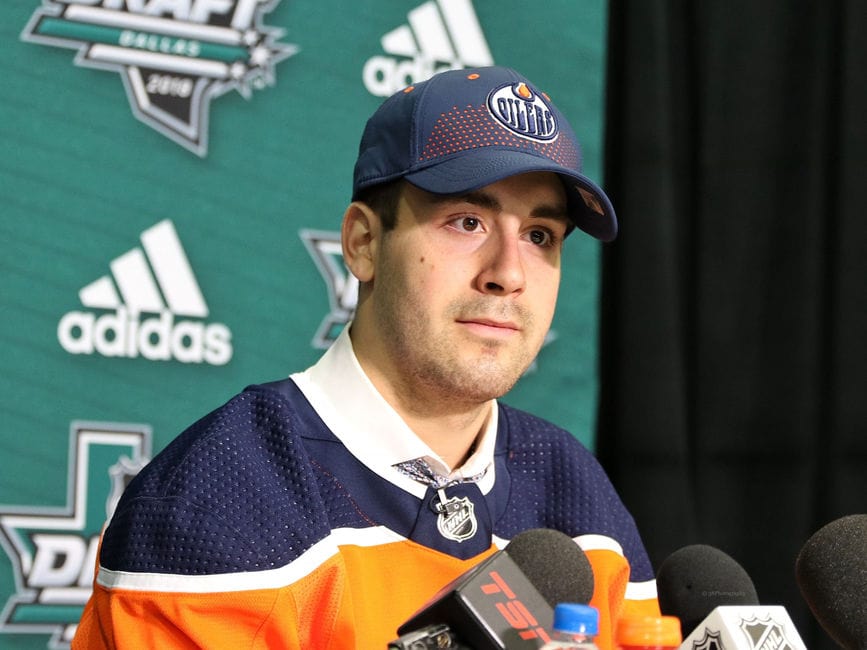 Averaging 12:21 minutes per game, his defensive game reflected the fact that he was only 19 years old. A plus-minus – 5 in his seven games, his showcase was respectable for a young kid, but nothing that wowed you enough to overlook making the smart decision. Had he stuck around a little longer, he might have gotten more time on the power play, but he likely wouldn't have moved up from the third pairing and his offensive chances would have been limited.
He did score his first-ever NHL goal and while he reacted to it like he'd scored it a few hundred times, in reality, he wasn't going to score nearly as much as he did in junior where the 10th overall pick in the 2018 draft recorded 25 goals and 62 assists. He'll go back, build confidence, play more minutes than any other blueliner on the team and come back to Edmonton one year older and one year more experienced.
Those that love this move will suggest players like Gravel and Ethan Bear have every bit as much right to get an opportunity. Both are more NHL ready than Bouchard.
Related: Oilers' Russell is Essential Defensive Piece
More Than a Development Decision
This isn't just the right move by a development standpoint. By sending Bouchard back to London, Edmonton saves a year on Bouchard's entry-level contract as the move was made before the promising prospect played in nine games.
https://twitter.com/SportsnetSpec/status/1058363709804896257
His assignment extends team control over his contract, protects him in the upcoming expansion draft without having to unprotect another contract and saves the Oilers from themselves in some respect. The team has been too quick to rush prospects in the past and this way of thinking finally reflects the organization looking at the long-term value of Bouchard's situation.
Should things fall apart for the Oilers and players like Matt Benning struggle or others sustain injuries, we may look back on this and wish the team had access to Bouchard's skillset. Still, that's a short-term fix for a long-term sacrifice.