Rookie standout Elias Pettersson, veteran center Bo Horvat, and second-year forward Brock Boeser are the straws that stir the drink of the Vancouver Canucks' offense. But aside from the aforementioned trio, Vancouver's attack has been relatively inconsistent. One forward underperforming this season is Nikolay Goldobin, who has shown some flashes of brilliance in his young career but has struggled to find the net so far this season.
Lack of Offensive Productivity
For someone with loads of potential to become a strong top-six forward, Goldobin has not produced at that level this year. The Russian-born right wing has just one goal and three assists through 14 games this year, with three of his points coming against the Calgary Flames in the first two games of the season. Since then, Goldobin has one point in the last 11 games.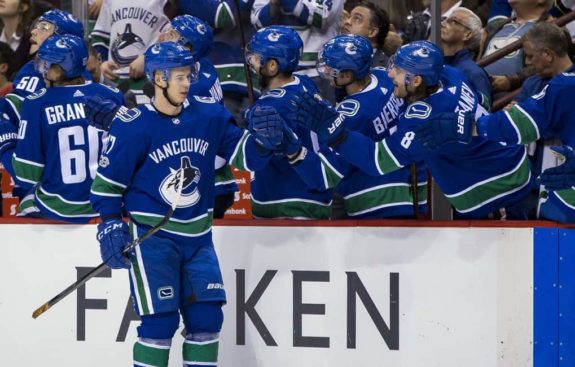 His time on ice was quite low through the first six games of the season, but that has increased lately, which is another reason why his offensive output should be greater.  Over his last seven appearances, Goldobin has at least four games with 16 minutes or more of ice time. The former first-round draft pick has received the opportunities to improve his offensive play but has not been advantageous with the spike in ice-time, the most he's seen since arriving in Vancouver in February of 2017.
And the 23-year-old forward has not shied away from shooting the puck this season, as his 24 shots on goal are tied for second on the team with Boeser. Conventional wisdom says more shots equal a greater chance of scoring, but Goldobin has not capitalized on that just yet.
Flashes of Brilliance
While he has not executed on his high amount of shots, Goldobin's willingness to fire the puck at opposing goalies is still an encouraging sign of what he can become. Over the last few seasons, the Canucks have not been a shot-heavy club, as they have grown hesitant to pull the trigger. Goldobin's tendency to let the puck go is a welcome addition to what has become a stale Vancouver offense in recent years.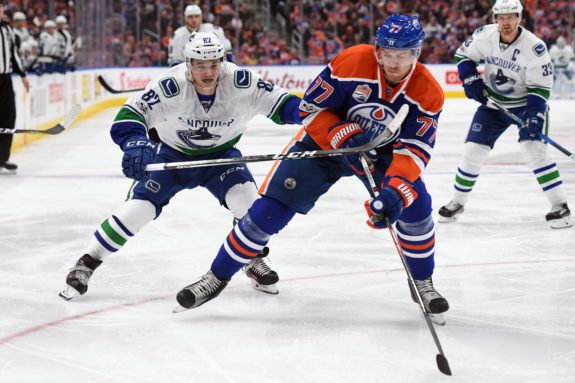 Furthermore, his flashes of great talent and potential have been on display this season. The former San Jose Sharks prospect has skated with electric speed and energy in 2018-19, which can be a difference maker for Vancouver's attack. Fast-skating, high-tempo offenses are the key to success in today's NHL, so for the Canucks to have a young forward with dazzling speed and aggressive shooting is encouraging.
Top Three Forwards Need Help
Pettersson, Horvat, and Boeser are the clear-cut leaders of Vancouver's offense. The three-headed monster up front has the potential to be one of the NHL's finest offensive trios for years to come. All three forwards are dangerous goal-scoring threats who can also set each other up with pinpoint passing. The combination of Pettersson and Boeser's finesse playing style with Horvat's physicality and offensive skill set create a versatile three-player punch.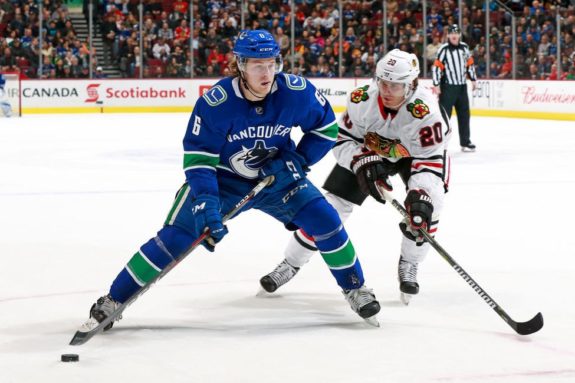 But the trio cannot do it all on their own. There is a clear need for secondary scoring in Vancouver's offense, as it would take less pressure off the top-three forwards and give opposing defenses more weapons to handle. Skaters such as Brandon Sutter, Jake Virtanen, Sven Baertschi and Markus Granlund could be effective alternative scorers if they elevate their offensive play another level.
However, none of those players have the exciting upside of Goldobin. The Russian-born forward has the tools to become a dangerous top-six forward in this league, and that level of play would improve Vancouver's attack immensely. And if Goldobin raises his game up a couple notches, then the Canucks' investment in the former first-rounder will have paid off. But for now, Vancouver hockey fans will have to wait and see.