The Tampa Bay Lightning have signed forward Yanni Gourde to a six-year contract extension worth $31 million, the team announced Friday. Gourde is in the second year of a two-year deal that he signed with the team in 2017. He'll be seeing a sizeable increase in annual salary as his current deal pays him $1 million per season while his new deal will pay him $5.166 million each year.
We have re-signed Yanni Gourde to a six-year contract worth $5.166 million AAV.

📝: https://t.co/xVtsKTCi1p pic.twitter.com/nLNhKK0Wte

— Tampa Bay Lightning (@TBLightning) November 2, 2018
The first three years of Gourde's new contract will come without any form of trade protection. In the final three years of this deal, however, Gourde will get a modified no-trade clause that will kick in for the 2022-23 season. It also put an end to what was a potential contract conundrum between the team and Gourde.
"We are very pleased to have Yanni as a part of the Lightning organization for the foreseeable future," said Lightning general manager Julien BriseBois. "Yanni personifies our team's identity with his speed and relentlessness on the ice and his strong character off of it. He is proof of how far hard work and dedication can take you, and we look forward to him continuing his career in Tampa Bay."
Gourde was undrafted out of the QMJHL despite having very solid numbers in his final two seasons with the Victoriaville Tigres. In 2010-11, Gourde scored 26 goals and 68 points in 68 games before adding another four goals and 10 points in nine postseason games. It wasn't until the 2011-12 season, though, that scouts would really see what he was capable of when he scored 37 goals and 124 points in 68 games.
Gourde's Hard Work Paid Off
Originally joining the Worcester Sharks in his first AHL stint from 2011-12 until 2013-14, he would be acquired by the Lightning in 2014 and join their AHL affiliate the Syracuse Crunch. From there, he worked his way up the ranks and in 2017-18 he was able to break out in a big way as a rookie.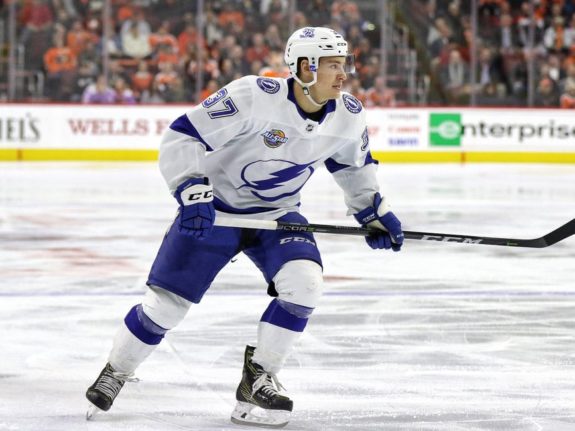 In 82 games in his first full NHL season, Gourde scored 25 goals and 64 points in 82 games. He became yet another surprise prospect that was developed correctly in the Lightning's system, joining the likes of Nikita Kucherov, Ondrej Palat, Tyler Johnson, Brayden Point and others.
Proving that his success wasn't a fluke, Gourde has been just as excellent t his season as he's already scored four goals and 12 points in 12 games and has looked every bit the part of a top-six forward as he's filled in admirably for Palat who is currently injured. In addition to time on the team's second-line alongside Point and Johnson, Gourde has also skated on the team's second power-play unit with his two linemates, as well as Mikhail Sergachev and Adam Erne rounding out the unit.
Related: Steve Yzerman Steps Down as Lightning General Manager
This deal is a long-term commitment but it's also one that Gourde has earned for all of the time he put in at the AHL level and for the excellence he's shown at the NHL level when given an opportunity. It's also a good indication that the Lightning are in good hands with BriseBois now that Steve Yzerman has stepped down from his post as general manager.