While the Edmonton Oilers made headlines sending their top pick from the 2018 NHL Draft, Evan Bouchard, back to the OHL's London Knights, there's another situation that could be coming to crossroads point soon as well. The Oilers made the right call with Bouchard after he averaged just 12:21 in ice-time (TOI) in seven appearances and was one of the least used players on the backend.
Jesse Puljujarvi, however, is one of Edmonton's least used forwards averaging just 12:17 in ice-time in eight appearances. He was also a healthy scratch through four straight games before getting back into the lineup on Nov. 1 versus the Chicago Blackhawks. In that 4-0 win, the trend of low ice-time continued with Puljujarvi playing the least amount of minutes among the Oilers' forward group with just 11:04.
Edmonton Oilers Trio of First Round Picks

Player
GP
G
A
PTS
TOI
PP TOI
PK TOI

Evan Bouchard (RD)

7

1

0

1

12:21

1:27

0:05

Jesse Puljujarvi (RW)

8

1

0

1

12:17

1:08

0:00

Kailer Yamamoto (RW)

11

1

1

2

14:40

1:06

0:37
While another youngster, Kailer Yamamoto (a healthy scratch versus Chicago), has drawn praise for doing all the right things, he hasn't been doing much in terms of the scoresheet either, just like Puljujarvi. Yet, Oilers head coach Todd McLellan has given their 2017 first-rounder more TOI (fifth amongst forwards) and more opportunities in the top-six than his 2016 first-rounder (11th amongst forwards).
Puljujarvi Not Earning McLellan's Trust
Maybe it's a double standard, but at the same time, Puljujarvi's play hasn't given McLellan much room for leniency. He's essentially been a permanent resident in McLellan's doghouse for much of his time in the organization. Through the player's body language and the coach's decisions, there's a clear disconnect, and lack of trust in that relationship.
Puljujarvi's managed just one goal in eight games, and has had a rough time with his defensive zone coverage and learning how to play without the puck at the NHL level. As the Edmonton Journal's Jim Matheson points out, Yamamoto is seemingly getting opportunities in the lineup over Puljujarvi because of his ability to think the game, his play away from the puck, and his abilities to kill penalties.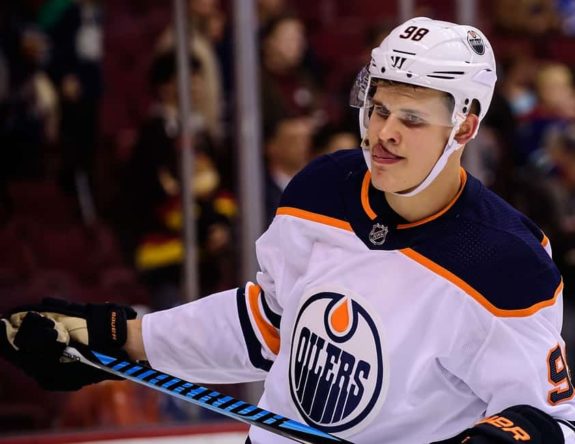 In comparison, Puljujarvi has yet to reach that level to think the game at the NHL level the way Yamamoto does. Add in the fact he's been caught not moving his feet, gliding, and slow off his first few strides, it's definitely caused some hesitation to promote him within the lineup and give him more opportunities. Remember, it's a pivotal year for McLellan job-wise.
If the Oilers' bench boss can't have faith in a player to perform, he's going to go with other options. That's why the aforementioned Yamamoto, Alex Chiasson, and Tobias Rieder are getting time in Edmonton's top six. That said, McLellan's been treating a 20-year-old player to be fearful of making mistakes and fear the repercussions by getting stapled to the bench.
Oilers "Not Looking to Trade Puljujarvi"
While the organization has been towing the company line that they're not looking to trade the former fourth overall pick, there's some obvious tension brewing beneath the surface. The Oilers are expecting Puljujarvi to step up and cement his spot in the lineup as a top-six winger. It's a big reason why (along with a lack of cap space) why Chiarelli didn't go out and sign a veteran top-six right wing option.
Related: Oilers' Todd McLellan on Borrowed Time
It's one of those situations where Edmonton's braintrust want Puljujarvi to play, but he's not ready to be a consistent top-six option. In McLellan's pre-game press conference on Oct. 30, he deflected a question early about concerns about Puljujarvi's confidence and admitted it wasn't ideal. From McLellan's perspective, he's looking out for the group as a whole instead of looking to Puljujarvi as an individual.
When he has played, he's been given third-line minutes alongside Ryan Strome in an effort to get him away from those heavy top four defense matchups against the opposition. The thought process in that is that he'll produce more while getting a majority of his minutes away from those difficult matchups and resulting in favorable five on five (5v5) minutes and better production from the forward.
Obviously, that hasn't worked out as planned. All parties involved might just have to come to the realization this project is going to take a lot more time than expected. While fans might've been hoping for immediate results from the 6-foot-4 forward with one of the best shot releases in the organization, he might still be another year or two away from reaching that potential.
The Pressure of Living up to Draft Expectations
Patience, it's a word that drives Oiler fans nuts because the organization has preached that for the better part of two decades. It's a tough situation for the now 20-year-old after being one of the top three consensus picks heading into the 2016 NHL Draft alongside Auston Matthews and Patrik Laine.
Related: Oilers Need to Let Jesse Puljujarvi Develop
It's added more to the argument about why Columbus Blue Jackets GM Jarmo Kekalainen passed on Puljujarvi and took a center in Pierre-Luc Dubois instead. The Columbus pick has already found some success with a 20 goal, 48 point season in 2017-18. He's also off to a great start centering the Jackets' top-line with eight points in 12 games.
Then there's the conversation former Calgary Flames president Brian Burke had with Bob Stauffer on Oilers Now recently. Burke talked about having concerns on whether Puljujarvi would even play in the NHL after seeing him in the AHL two years ago. Burke would also mention how much the Flames loved Puljujarvi and they would've taken him if he was available.
So it wasn't as if just the Oilers had this pick wrong. Burke also drew to the fact Markus Naslund, Daniel and Henrik Sedin weren't instant sensations for the Vancouver Canucks when he was their GM. Naslund had his first 20-goal season when he was a 22-year-old, but regressed in the next two seasons. It wasn't until Naslund was a 25-year-old that he emerged as a legit NHL star with a 66 point season.
Daniel Sedin didn't have his first 50-point season until he was a 23-year-old, while Henrik didn't do it until he burst onto the scene with 76-points when he was a 25-year-old. All three would go on to have incredible careers and were key cogs for those Burke-led Canuck teams in the early 2000's.
Puljujarvi's Uncertain Future with Oilers
So of those top ten picks from 2016; Matthews, Laine, Dubois, Matthew Tkachuk, and Clayton Keller have found early success. That said there's a handful of others that haven't just like Puljujarvi. Olli Juolevi has yet to play an NHL game, while Alexander Nylander has played just seven NHL games to date. The options are simple now; wait for him to develop or trading him while he still holds value.
Before the Oilers make another decision they might regret, they should pause and draw back to the Canucks for another example. The parallels in the story between Puljujarvi and Vancouver Canucks 22-year-old Jake Virtanen are quite similar. Virtanen's development curve and handling have also drawn criticism, he's also been in the coach's doghouse, and didn't immediately live up to draft expectations.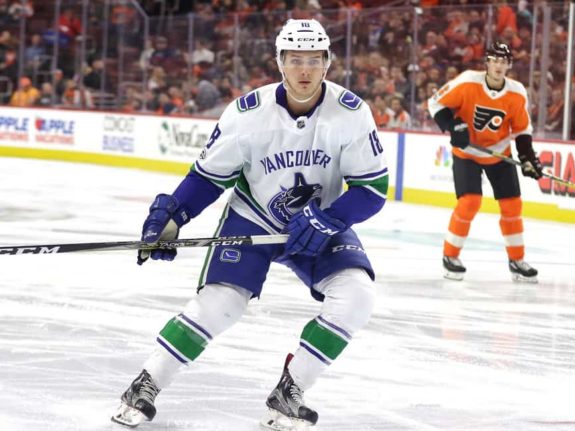 Virtanen, a sixth overall pick in 2014, was a local Canucks product who failed to make the club as an 18-year-old, while it was heavily questioned why the Oilers kept Puljujarvi around despite his obvious struggles as a rookie before going down to the farm at the near halfway point of the year. As a 19-year-old, Virtanen had just 13 points in 55 games (a 0.24 points-per-game).
At the same age, Puljujarvi's 20 points in 65 games equated to 0.31 points-per-game (PTS/GP). As a 20-year-old, Virtanen potted 19 points in 65 games (0.29 PTS/GP), while Puljujarvi has scored just one point in seven games (0.14 PTS/GP). It's taken Virtanen until this season (as a 22-year-old) to find some success. He's already scored five goals and seven points in 14 games, and that puts him on pace for roughly 41 points this season (including a 20-goal season).
Should the Oilers Wait or Trade Puljujarvi?
The comparables don't end there. Anthony Mantha had his first 20-goal season as a 23-year-old last season for the Detroit Red Wings. As a 20-year-old Timo Meier (9th in 2015), split his season between the NHL and AHL (just six points in 34 NHL games). Meier had his first 20-goal season as a 21-year-old for the San Jose Sharks last season.
Kevin Fiala (11th in 2014) potted his first 20-goal season as a 21-year-old. Kasperi Kapanen (22nd in 2014) is finally looking like the real deal this year as a 22-year-old. The point is, highly touted players don't instantly become successful when they're plugged into an NHL lineup. It takes time, and for the Oilers, they need to stop trying to fit a square peg in a round hole.
For every Mantha, Meier, Fiala, or Kapanen, there's a Michael Dal Colle, Nail Yakupov, Alexander Burmistrov, or a Pavel Brendl that don't pan out. The question now is if the Oilers feel he's in the camp of Mantha and company, or if he's more likely to fall in line with Dal Colle and that group. There's still time to figure it out, but the best thing right now is to send Puljujarvi to the AHL's Bakersfield Condors.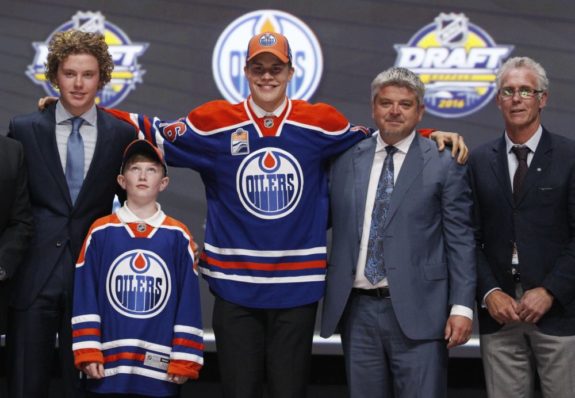 He'd be playing every game, be getting one-on-one time that McLellan hasn't been able to afford him, and playing top-line minutes at 5v5 and the PP. However, if Edmonton feels he's in that group alongside Dal Colle, trading him today when his value is at the highest it's likely going to be will net Edmonton the highest return. Remember what happened when the Oilers waited to pull the trigger on Yakupov?
If the Oilers made that move sooner, they likely could've traded Yakupov for a better return than an ECHL'er in Zach Pochiro and a third-round pick. The reality today is that Puljujarvi is not NHL ready. He needs more time to develop, and if the Oilers want to right a wrong and not trade him, they'll send Puljujarvi down to the AHL to work on his fundamentals and regain his confidence.
More importantly, they'd be getting him away from a coach that is not comfortable playing him. Do you agree or disagree with this analysis? What would you do with Puljujarvi? Let us know in the comment section below.