Is Kailer Yamamoto too small and too susceptible to big hits to be effective long-term for the Edmonton Oilers? It's a valid question that comes following a 6-4 victory where the Oilers defeated the Seattle Kraken and Yamamoto scored but got hit repeatedly and bumped around like a pinball in a machine full of quarters. It's a regular narrative for the forward who is small, but unafraid and goes into the hard areas on a repeated basis. Fans love him for it, but there's a growing concern about his ability to withstand that kind of punishment.
Should There Be Serious Concern Over Yamamoto's Health?
Just this weekend, one scribe suggested the concern over Yamamoto's health is at a point where he's not necessarily cheering for the player to be more productive, but he's found himself cheering for Yamamoto just to be healthy. Kurt Leavins of the Edmonton Journal wrote the following:
You see, Yamamoto has not been good for a while, now. And it has gotten to the point where I am genuinely worried about him. We are all aware of the "upper body" injuries Yamamoto has suffered. When I see any player endure those and when they return they simply do not look like themselves, I get concerned that the injury is still with him. That they are no longer the same player they once were. And Yamamoto has not looked like himself, with just 9 goals and 18 points while being limited to only 46 games this season. That is why I am worried. I do not want that for this young man. Forget on a hockey level, but on a human level.

source – 'The human side of unlocking Edmonton Oilers winger Kailer Yamamoto: 9 Things' – Kurt Leavins – Edmonton Journal – 03/19.2023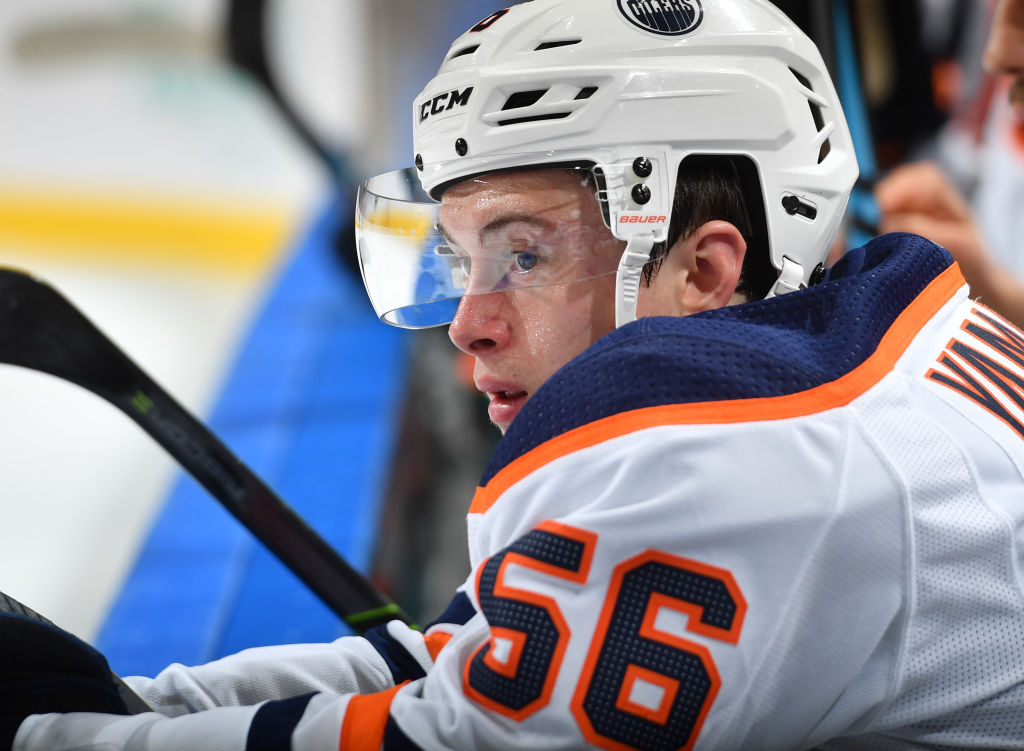 I have to admit, I often catch myself thinking some of the same things Leavins describes. I see Yamamoto take a big hit and I wonder if he's going to get up. I see him make a face as if to suggest he narrowly escaped being run over by a freight train (which a lot of players are to him) and I wonder if the next one will be the one that doesn't miss him. It's a terrible feeling, especially when you know he's not ever going to change his game — which you don't want because that's one of the things that makes him unique.
Related: Oilers' Biggest Stats From 6-4 Road Win Against Kraken
The NHL is a league where smaller players can excel. But, most smaller players don't play that in-your-face style Yamamoto does.
Can He Make It Through the Playoffs?
Yamamoto's season has already been much shorter than most of his teammates. Limited to 46 games, he's often sidelined with injuries and the physicality of the games is only going to increase. Once the playoffs get underway, Yamamoto will be like every other player in the postseason, a target waiting to be hit. The only difference is his size and willingness to put himself in uneasy situations. Bumps and bruises and injuries happen. So too, NHL players can wow you with their ability to play through pain. But is Yamamoto ready to take that on? Should he be asked to?
---
Latest News & Highlights
---
Leavins also wrote about Yamamoto's season, "The effort is there, just not the results (at least not until Saturday). And Yamamoto's coach will understand that just a year ago this was a 20-goal scorer in a league where it is damn hard to do that." As such, there will be a willingness — or at least a stubbornness — not to sit him and run with a bigger body like Klim Kostin. Is that the right call? If Yamamoto gets hot, it probably won't matter. If he doesn't perhaps Woodcroft should seriously think about going with the bigger body.
Is Yamamoto The Right Fit Long-Term?
Outside of the playoffs, the Oilers will have to make a decision when it comes to Yamamoto. He's got one final season on a contract that pays him $3.1 million and some tough roster decisions are coming. GM Ken Holland needs to find useful, inexpensive players who can offer production and legitimate questions about Yamamoto's offensive regression and health concerns should be part of the conversation.
There was speculation Yamamoto might have been among the tradeable names if the Oilers could have done more at this season's NHL Trade Deadline. That question will need to be asked again this off-season. Is Yamamoto worth $3.1 million? More than that, can he stay healthy enough to be productive and worth the investment? If there's continued concern that he can play a full season or he goes down again before this season is out, it might be time to move on. It won't be because the Oilers don't like the player. It will be because there is doubt they can count on him being available and healthy enough when they need the production.
---
---