With the NHL regular season winding down, the Edmonton Oilers are gearing up for the offseason. With 10 games remaining, the team is auditioning numerous players in different roles trying to see what they have internally. Ryan Nugent-Hopkins has been moved to the left wing spot on the Oilers' top line next to Connor McDavid. There's been a lot of debate as the season has gone on, and plenty was made out of general manager Peter Chiarelli's comments back in February.
Chiarelli admitted that having $27 million tied up in three centers (McDavid, RNH, and Leon Draisaitl) might not make sense. That opened up more speculation that Chiarelli is shopping RNH. However, one part that's been overlooked is Chiarelli stating that doesn't mean he's going to trade a center.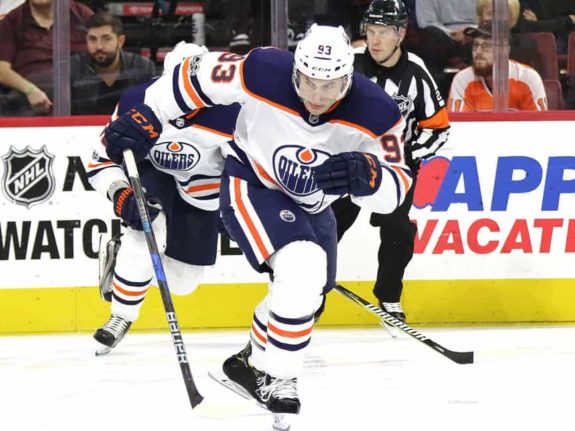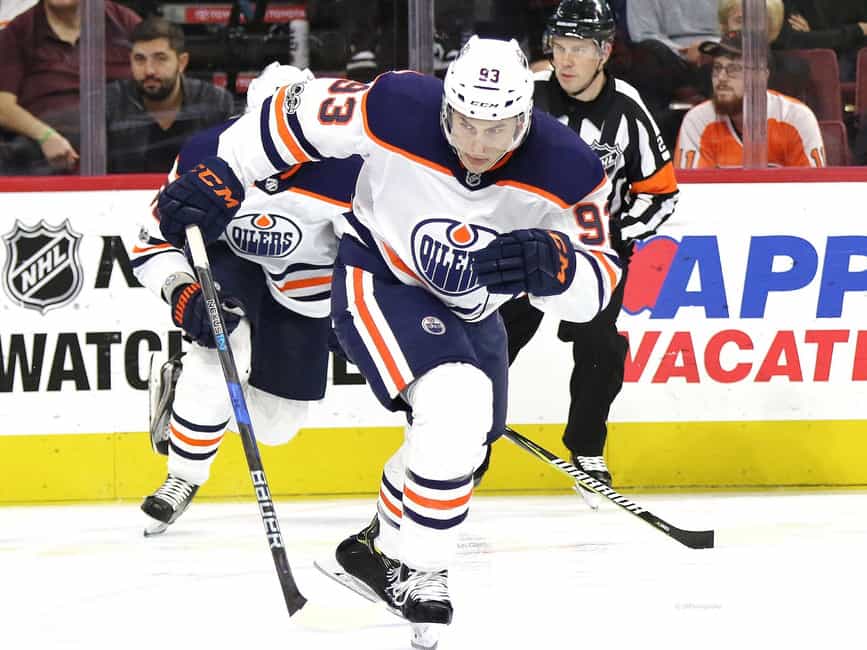 Chiarelli said he didn't have an answer (at the time) about moving RNH to the wing, but he had played there in the past. During his junior days with the WHL's Red Deer Rebels, and most recently at the 2016 World Cup of Hockey with Team North America, RNH did play some wing. Since returning from injury on March 3, RNH has played five of those eight games at left wing.
Related: Oilers Forwards – Trade Value
RNH has registered three goals and five points in five games with McDavid. Now let's not get ahead of ourselves, it's a small, but encouraging sample size. The trade rumors and speculation will continue well into the offseason. But the Oilers would have another case of sellers remorse if they were to trade RNH this summer.
Oilers Can Move Nugent-Hopkins to LW Permanently
Edmonton's center depth is an organizational strength. The Oilers can manage without RNH playing center, and having him permanently fixated on the wing. Next season's center depth may likely be McDavid, Leon Draisiatl, Ryan Strome, and Jujhar Khaira. McDavid and Draisaitl have both proven they can drive their own lines.
EARLY PROJECTIONS OILERS 2018-19 FORWARD DEPTH
1 LW Ryan Nugent-Hopkins
1 C Connor McDavid
1 RW Kailer Yamamoto
2 LW Milan Lucic
2 C Leon Draisiatl
2 RW Jesse Puljujarvi
3 LW Pontus Aberg
3 C Ryan Strome
3 RW Anton Slepyshev
4 LW Drake Caggiula
4 C Jujhar Khaira
4 RW Zack Kassian
As much as they like playing together, for the betterment of the team's depth, they should play on separate lines while five-on-five. Todd McLellan has already adopted an idea from Pittsburgh Penguins' head coach Mike Sullivan. Sullivan deploys his two biggest stars, Sidney Crosby and Evgeni Malkin, on separate lines, and reunites them for the power play.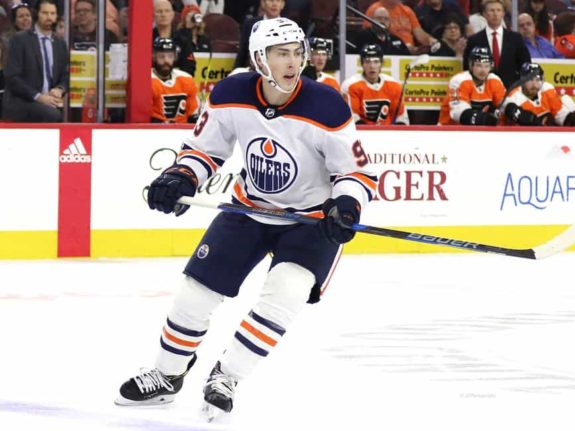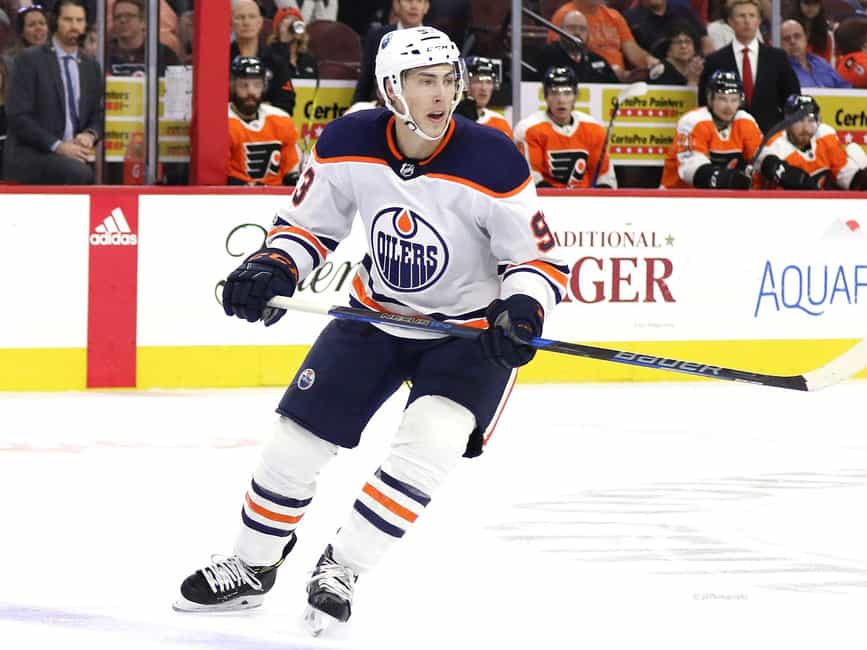 McLellan is using the same strategy with McDavid and Draisaitl right now. Ryan Strome has found some comfort as the Oilers third-line center. Although he's been pointless in his last six games, Strome has been playing some of the most responsible hockey of the season over the past month. Jujhar Khaira has asserted himself well this year and was part of the reason Mark Letestu became expendable.
From a depth perspective, there's always going to be concern about stealing from Peter to pay Paul. However, that's not the case here. If this is the plan heading into 2018-19, the Oilers should be sufficient at center.
Thoughts on the Hoffman-for-RNH Rumours
There's one name that constantly comes up when talking about Edmonton's search for McDavid's winger. Ottawa Senators forward Mike Hoffman has had his name in the rumor mill all season. The 28-year-old has two seasons remaining at $5.187 million and should finish the year with 25 goals and 58 points in 82 games if he stays healthy. If RNH played a full season, like Hoffman, his numbers would be 31 goals and 59 points.
A lot of folks talk about a one for one deal (a Chiarelli special for Oiler fans), with both RNH and Hoffman trading places. It's one scenario that might work for both sides. Hoffman fits a need for speed and scoring in Edmonton's lineup, and RNH fits a need for a centerman for Ottawa.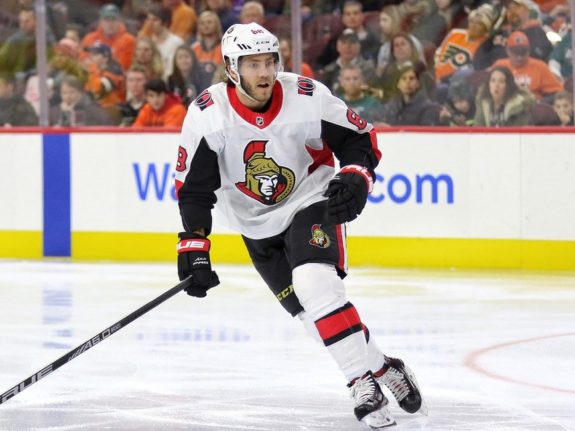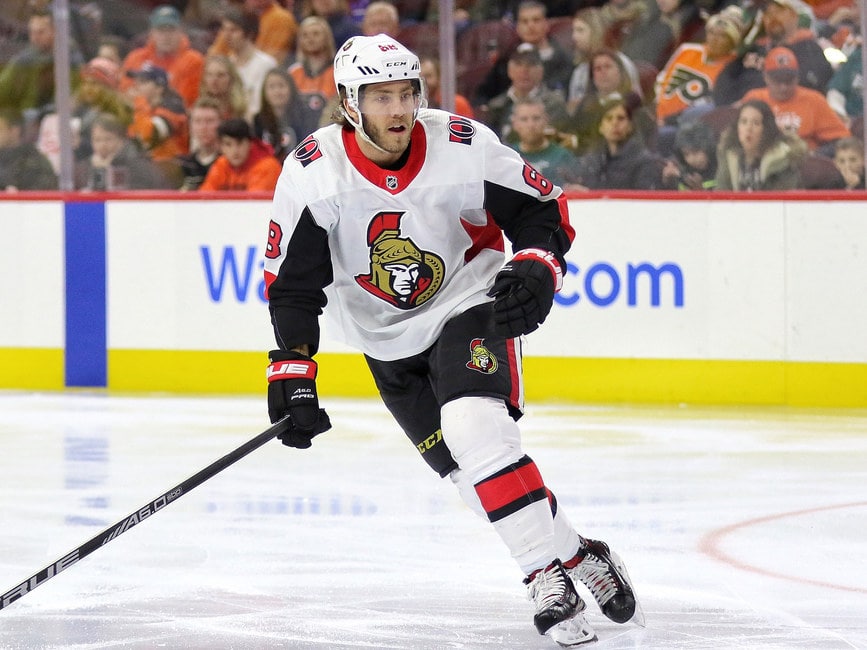 This season, however, Hoffman's also been shooting below his career average shooting percentage. There's some reason to think that if Hoffman's numbers improved to his usual shooting percentage he would've been on pace for 29 goals this year. The caveat is that Hoffman is an unrestricted free agent in two years while RNH doesn't become eligible for free agency for three seasons.
Related: Oilers Goalies & Defense – Trade Value
Although the Oilers would save $813,000 in cap space by doing this one for one deal, Hoffman is closer to the end of his prime years. RNH is still only 24-years-old, so Edmonton can still get another six years of his prime. In reality, RNH likely hasn't even hit his peak years yet. Knowing all that, do you still make that one-for-one trade?
Oilers Would Likely Lose Any RNH Trade
Edmonton got undervalued in their returns for Taylor Hall and Jordan Eberle. The deals haven't looked great, and now Chiarelli knows there's a lot of pressure to make any RNH deal a home run. Edmonton can't lose another player of this caliber for the returns they got for Hall and Eberle.
The only way the Oilers and Chiarelli win an RNH deal is if the package were to bring back a No. 1 defenseman or a top-line goal scorer for McDavid. To sell this to the fan base, Chiarelli needs to make a move that's seen as a clear upgrade, and not a lateral or step backward. When you think about what RNH brings to the table, are there any clear options out there that are an upgrade?
RNH brings speed and solid two-way play to the table. He's still very young, so believe it or not, even when he was playing with Hall and Eberle, the Oilers still haven't seen all RNH has to offer offensively. He was still in the infancy of his NHL career. RNH hasn't had any real consistent scoring wingers this season, so this year he's having could be better than it is.
Trading Nugent-Hopkins Would Be Regrettable
If you watch back on a few of the games with RNH playing alongside McDavid you'll notice a few things. For one, RNH can flat-out skate, there's not a lot of those guys around the league that can keep up with McDavid. He's also got an astute hockey mind, you rarely see him out of position, and offensively he always finds time and space. Another aspect that helps McDavid is that RNH covers defensively for McDavid.
This allows the Oilers' phenom to take more chances offensively knowing he's not going to burn his team with an odd-man rush coming back the other way. Like Chiarelli said, it likely doesn't look great anymore to have three centers tied up in $27 million. But $27 million tied up in your three best players all playing in your top six? That doesn't look too bad.
Related: NHL Trade Rumours – Nugent-Hopkins, Kovalchuk & More
As far as the rest of Edmonton's top six goes, Kailer Yamamoto has been on a tear in junior and looks like a lock for the Oilers next year. Jesse Puljujarvi is improving, and he could end up in a top-six role next season (open for debate still). If both pan out, the Oilers top six might not look too bad next season. Either way, the Oilers shouldn't trade RNH. It's too short-sighted, there's too much untapped potential, and the Oilers have been burned for making crass decisions in the past.
Do you agree or disagree? Let me know your thoughts in the comment section below. Would you trade RNH if you were in Edmonton's GM chair? If so, for who?